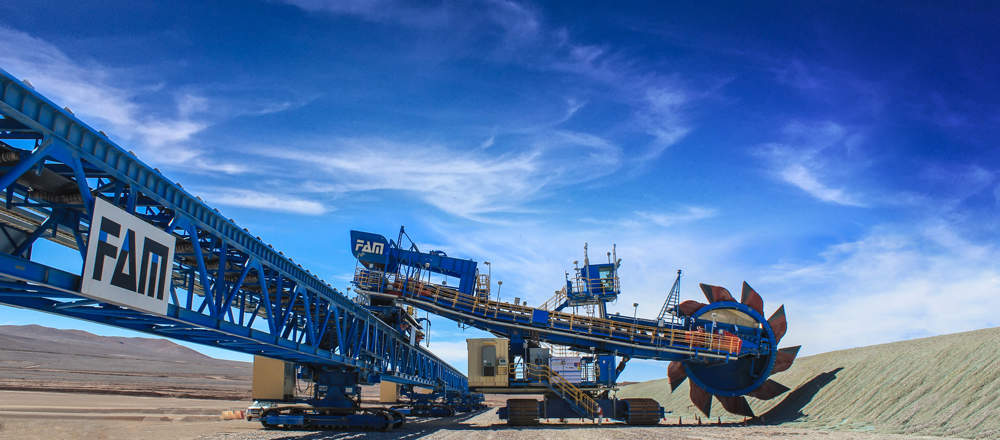 FAM GmbH plans, designs and manufactures turnkey equipment for the mining, construction and chemicals industries.
Our solutions are developed to extract, produce, load and store bulk materials across a wide range of applications.
Bulk materials handling solution for the mining sector
FAM delivers core systems for bulk handling plants in an array of industrial sectors, including mining, power generation, metallurgy, construction and port handling.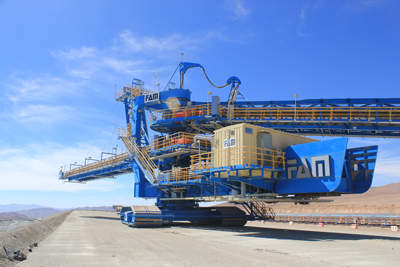 FAM's 5,030t/h bucket wheel excavator processes leached copper ore for Escondida-OLAP, Chile.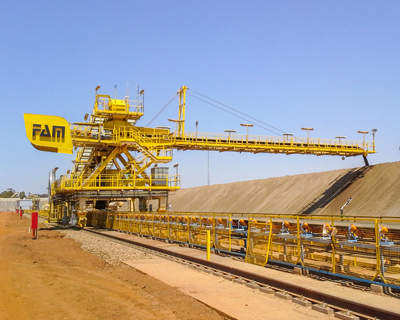 Our 450t/h stacker was used to handle niobium ore for the Boa Vista Fresh Rock Project, Brazil.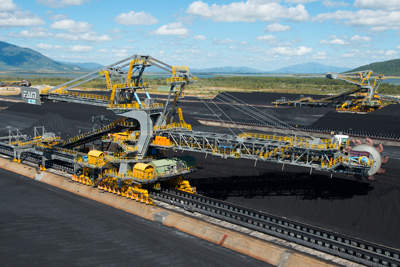 With an 8,000t/h capacity, our stacker-reclaimer was used in a hard coal project in Queensland, Australia.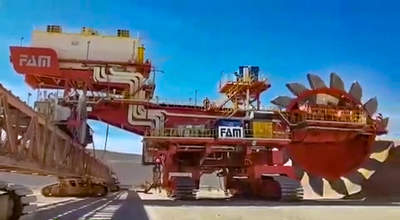 Our bucket wheel excavator is available in capacities of 9,666m³/h and 14,500t/h.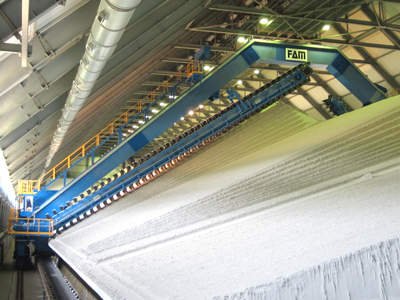 Featuring a capacity of 550t/h, FAM's portal scrapers effectively process sand.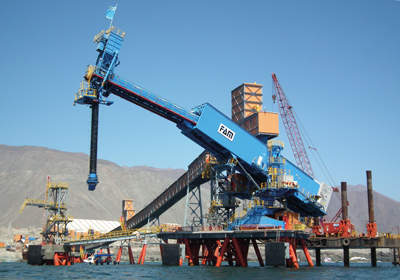 A 1,000t/h ship loader handles copper concentrate for Minera Esperanza, Chile.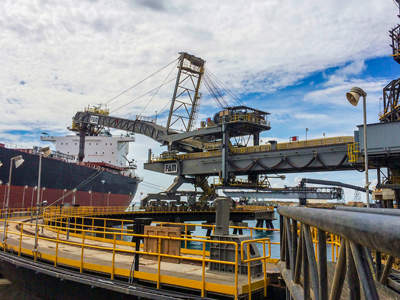 A 6,600t/h radial shiploader is used to transport coal in Colombia.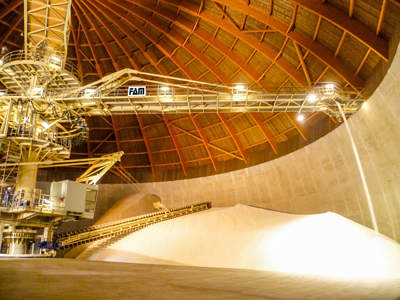 A circular stacker-reclaimer handles urea.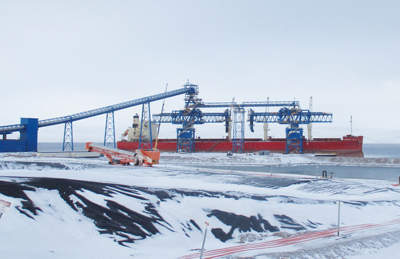 Stationary ship loaders can process 6,000t/h of minerals.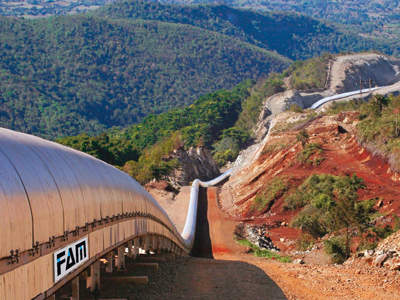 We supply long-distance conveyors to handle materials such as nickel ore.
Our personnel references plants in more than 80 countries worldwide.
FAM's portfolio comprises large equipment and individual machines such as:
Bucket wheel excavators
Spreaders and stackers
Conveyor bridges on crawlers
Full-portal and semi-portal scrapers
Reclaimers: bridge-type, bucket wheel or stacker
Ship loaders / unloaders
Crushers and mills
Material processing equipment and machines
FAM Group develops bespoke plants for mining, conveying, processing and handling of minerals, raw materials and goods.
The scope of our solutions includes consultancy, project management, engineering, design, fabrication, commissioning, quality management and assurance, repair, refurbishment and aftersales services.
Plant service consulting solutions
FAM successfully plans, designs and manufactures turnkey equipment for extracting, producing, loading and storing raw materials and minerals.
We combine our experience in series and customised production processes, as well as offer a complete range of manufacturing, engineering and aftersales support services, including:
Consulting
Erection
Maintenance and repair
Modernisation
Training
Spare parts
Our skilled engineers provide customer-oriented consulting services for any materials handling system worldwide.
We provide recommendations for efficient operation and optimisation of machines and plants to reduce energy, spare parts, consumables and personnel costs.
Consulting services are also available to increase the availability of preventive maintenance solutions and improved materials and processes.
About FAM
FAM is an independent manufacturer of material handling systems.
Headquartered in Magdeburg, Germany, the FAM Group has its main subsidiaries in Brazil, Chile, Peru, Africa, China, Canada, Russia and India and various representation offices globally. Approximately 1,400 employees work for the FAM Group around the globe for planning, project execution, designing, manufacturing, assembly and commissioning, as well as servicing and rehabilitation of bulk material handling systems.
FAM efficiently combines its know-how of serial and custom-specific production. In addition to engineering services, the company offers a complete range of manufacturing services, as well as after-sales service. For more than 100 years, FAM incorporates in its global solutions professional competence, engineering know-how and top-level project management.
FAM is a worldwide leading company for the design, supply and maintenance of equipment like Bucket Wheel Reclaimers, Movable Bridges, Stackers, Conveyors, Feeders, Mills, Crushers, Shiploaders and Unloaders.