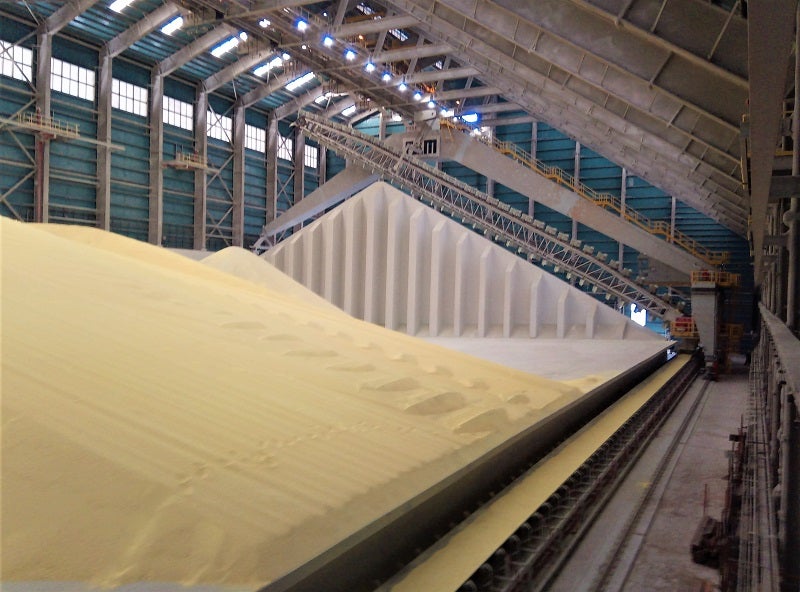 The FAM Group supplied stockyard systems on behalf of M.R.Al Khathlan Co., Saudi Arabia for handling sulphur granulates at the Saudi Arabian Oil Company's (Saudi Aramco) plant.
The chemical industry is one of the most important industries. The project at the Al Jubail Industrial Port (KFIP) site involves expanding the capacities of the Berri Gas Plant refinery and upgrading downstream processes. FAM's plant handling systems, which were planned, designed, delivered and commissioned, consists of several stationary belt conveyors with a tripper car and a semi-portal scraper KH 2200.61 with a reclaiming capacity of 2,000t/h.
The sulphur pellets are transferred from the existing plant with the FAM belt conveyors and a new pelletizer on to the new tripper car at the hall ridge, which forms a sulphur stockpile in the new sulphur storage building by discharging it from above. When the sulphur pellets are to be exported, they are removed from the storage facility by the new FAM semi-portal scraper and transported to the interface with the existing ship loading system via belt conveyors.