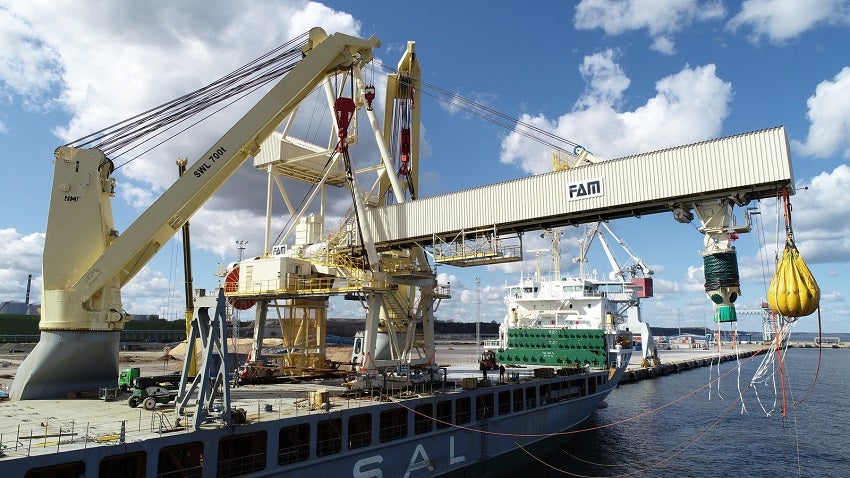 The global volume of handling activities is rapidly growing, as does the demand for appropriate modern port facilities. Currently, FAM is involved in numerous projects which aim to make the port handling processes all over the world even faster and more efficient.
On behalf of JSC Baltic Bulk Terminal, Russia, FAM supplied one more shiploader of the type SL 1500.27 EXL, including two tripper cars for handling of fertilizers in the port of St. Petersburg. The new FAM shiploader will be used to load vessels of sizes between 3,000 and 60,000 DWT with potash, nitrogen and phosphate fertilizers at a conveying rate of 1,500 t/h, and it will serve as a reliable basis for the expansion of the port terminal capacity.
This is already the third shiploader of the same type supplied by FAM for the port facility of Baltic Bulk Terminal. The handling complex built entirely by FAM started its operation in 2004 and encompassed initially two shiploaders, four portal scrapers, two tripper cars and numerous belt conveyors.
This time the customer was looking for the best possibility to have their ship loader delivered to the site of operation completely assembled and ready for production in order to minimize the technological downtown during the machine integration into the port infrastructure. For this situation, FAM had the right solution.
Prior to shipping to the home port, the shiploader was completely assembled and partially commissioned in Estonia, then it was prepared for sea transportation, placed and secured on a heavy-duty vessel and shipped to Russia, where it was set directly on rails on the jetty at the port of Saint Petersburg.
The advantages of such an approach are obvious: the equipment can be commissioned and put into operation within a very short period of time, and it efficiently operates in the planned mode according to the contractually agreed technical specifications.
Material handling connects the entire world. The FAM Group provides its globally active customers with a wealth of knowledge, extensive experience, and high quality.