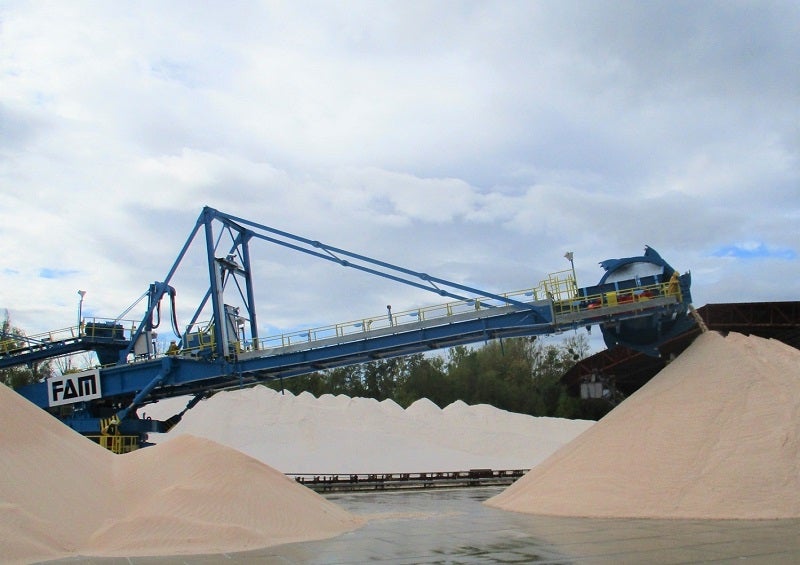 On behalf of Martinswerk GmbH, FAM designed, manufactured, assembled and commissioned a bucket wheel stacker-reclaimer with a tripper car STR 500/300.26 SVHK for stockyard operations at Bergheim facility, Germany.
Martinswerk, a company of J. M. Huber Corporation, is one of the world´s leading suppliers of special chemical products based on aluminium hydroxides and aluminium oxides. Installation of the FAM combined machine was part of the extensive project aimed at increasing production capacities of fine precipitated aluminium hydroxide in order to meet the growing demand for halogen-free flame retardants in Europe, India and Asia. The environmental aspects and the sustainability enhancement of the facility played a very important role as well.
The stacker-reclaimer combines both functions of stockpiling and reclaiming, and has proven its excellence especially in stockyards where simultaneous stacking and reclaiming are not required. The new FAM machine at the Martinswerk aluminium hydroxide stockyard was designed for a conveying capacity of 500 t/h for stockpiling and 300 t/h for discharge.
The stacker-reclaimer consists of a slewable superstructure and a rail-mounted base. The bucket wheel boom is hinge-mounted on the superstructure and held by tie rods. The bucket wheel boom is raised and lowered by means of hydraulic cylinders. The machine works as a stacker when the boom conveyor transports the material towards the boom head and discharges it on a stockpile. Similar to a regular stacker, the stacker-reclaimer is fed via an upstream tripper car. The bucket wheel remains in its rest position while the stockpile is being filled.
For stockpile unloading, the material is picked up by the bucket wheel, moved along the reversible boom conveyor to the machine´s centre of rotation and dumped into the central chute, from where the material is transferred to a discharge conveyor running between the rails of the reclaimer.
An additional mode of operation requested by the customer is through a transfer of the material unloaded from railway cars directly to the silos of the factory. In this case, the bucket wheel boom is located directly above the main stationary conveyor and transfers the material fed from the tripper car via the boom conveyor back to the main stationary conveyor.
In close cooperation with the customer, the project was completed on schedule. The FAM scope of supply included designing, manufacturing, delivery, assembly supervision and commissioning of all mechanical components, electrical systems and control technology.