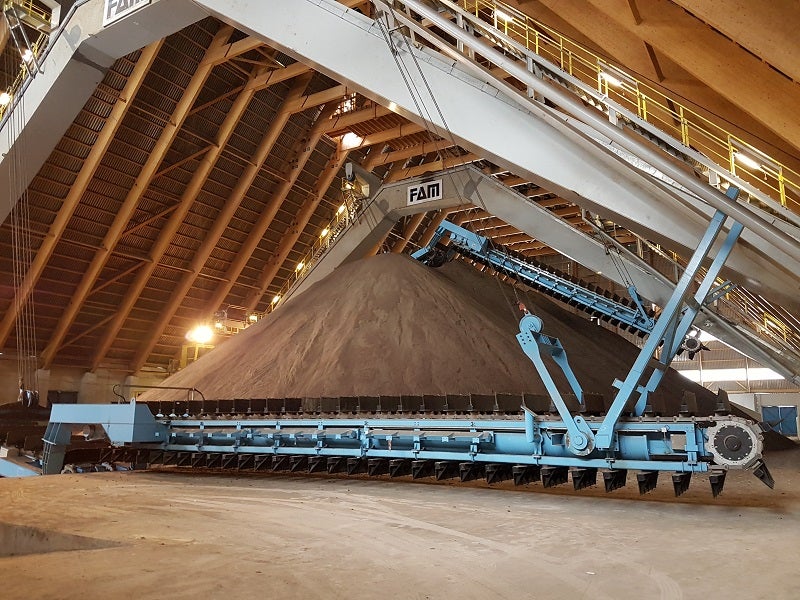 On behalf of EuroChem-Usolsky Potash Complex LLC, a subsidiary of EuroChem Group AG, the biggest manufacturer of nitrogen and potassium mineral fertilizers in Russia, FAM supplied seven portal scrapers of the type KP 1100.55,7 for the new potash plant Usolye.
By adding potash, international EuroChem Group AG will further expand their product assortment and become one of only three companies in the world to produce fertilizers that contain all three primary nutrient elements, t. i., nitrogen, potash and phosphates.
The traditional deposit Verkhnekamskoe in Perm region with 2.3 billion tons of ore and an average potassium chloride content of 30.8% is one of the largest potash ore reserves worldwide. With a planned extraction of 3.7 million tons per year, EuroChem aims to develop production for 60+ more years.
The FAM portal scrapers will be installed in various stockyards and utilized for handling both ore and the end product with a conveying capacity of 1,100 tph per machine.
Realization of this comprehensive project will enable EuroChem Group AG to increase extraction, handling and processing of potassium chloride and therefore place the company among the top five global fertilizers manufacturers.
The scope of delivery included project design, manufacturing, delivery, assembly and commissioning of all mechanical components, electrical systems and control technology.