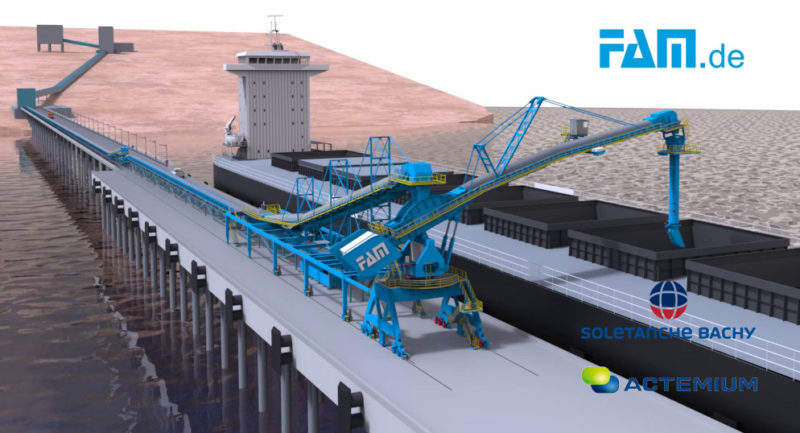 FAM Magdeburger Förderanlagen und Baumaschinen is a medium-sized company based in the German city of Magdeburg. With its historical roots stretching far back into the 19th century, the company has a long heritage as a manufacturer of handling and conveying systems. A few years ago FAM, one of the leading suppliers of durable mining, handling and conveying systems, faced the tough challenge of augmenting its existing activities with new types of plants, systems and services, developing new business segments, sharpening its competitive edge, and distinguishing itself by virtue of its own reliable products from the competitors on the world markets.
When selecting and designing a shiploader, the quality and properties of the bulk material, local conditions, performance parameters, and environmental requirements play a decisive role. With these aspects in mind, FAM engineers determine the most effective and cost-efficient handling method while minimizing operational and maintenance requirements. The loading system must fit in the port infrastructure and match current and future vessel sizes.
That's why FAM has developed a variety of different loading systems in addition to standard mobile shiploaders mounted on rails.
Radially traveling shiploaders, also referred to as radial quadrant shiploaders, have a different design. They are used in seaports with a water depth that does not allow to accommodate ships with a large draft. These shiploaders are secured offshore and connected to the mainland via conveyor bridges. They have an anchor point around which they can pivot. At the same time, the boom, which can be raised and lowered, and its loading system, e.g., a telescopic chute, can also be moved. This flexibility allows the tip of the boom to reach all loading hatches of the vessel without having to shift it.
Especially in cases when infrastructural conditions do not allow for the use of rail-bound shiploaders traveling along the jetty or radially traveling systems, new concepts must be developed. One of such solutions, which FAM has already implemented several times, is a stationary shiploader. Ships can be loaded by two slewable and movable booms equipped with feeding chutes that can be raised and lowered.
Assembly conditions for systems located in the open sea always present a special challenge. For this project, pre-assembled large components were transported and installed using self-loading and unloading heavy-lift ships. For this purpose, two deck cranes with a load capacity of 1,000 tons each, installed on a vessel, came to use. Such transportation and assembly conditions require comprehensive and detailed planning and preparation carried out by FAM Engineering in cooperation with logistics companies. Such system design has proven to be a success also in other projects, for example, in seaport facilities of Latvia and Canada.
Naturally, clients prefer to have their shiploaders delivered to site of operation completely assembled and ready for production. For such situations, FAM has the right solution when equipment is assembled prior to shipping in the home port, prepared for sea transportation, and placed and secured on a heavy-lift vessel. Figures also show the FAM shiploader type SL8800.25EK for handling iron ore at a rate of 8,800tph in Port Cartier, Canada. The FAM equipment was assembled in Bremen, Germany, shipped to Canada by a heavy-lift ship, and placed directly on rails on the jetty in Port Cartier. The advantages of such an approach are obvious: within a very short period of time the equipment can be commissioned and put into operation according to contractually agreed technical parameters.
The global volume of handling activities is growing rapidly as does the demand for appropriate modern port facilities.
Currently, FAM is involved in numerous projects which aim to make the port handling processes even faster and more efficient all over the world. One of the FAM most remarkable projects was a complete handling system for the port of Onne in Nigeria, where an FAM shiploader was recently installed at the top of a technology chain for loading urea at a rate of 900tph.
As part of a strategic partnership, FAM also offers a globally unified solution for building modular jetties in bulk cargo terminals through knowledgeable and experienced industrial companies. These companies contribute their port and logistical expertise and, more importantly, also an opportunity to integrate the forthcoming projects into the existing logistics networks of the customers.
In this way, the current constraints on the development of transport and port capacities, which mainly concern export and import of raw materials, can be remedied in a short time by the extensive know-how of the companies. It will facilitate the transshipment processes which will lead to the trade balance improvement and creation of new jobs in the regions.
Material handling connects the entire world. The FAM Group provides its globally active customers with a wealth of knowledge, extensive experience, and high quality. The most current examples of such a successful cooperation include a port facility with an FAM shiploader type SL1200.31.D.H for handling urea in Turkmenistan and an order of a third FAM shiploader type SL1500.27EXL for handling fertilizers by JSC 'Baltic Bulk Terminal', an operator of the port terminal in Saint Petersburg, Russia.