Motion Metrics specializes in advanced monitoring solutions to improve safety, efficiency, and productivity in mining.
With over 15 years of experience perfecting rugged machine vision and sensor-based solutions, we apply artificial intelligence and deep learning techniques to deliver exceptional results.
Monitoring solutions for mine sites
Motion Metrics offers innovative solutions with a focus on safety and cost-effectiveness. Its products perform missing tooth detection, tooth wear monitoring, rock fragmentation analysis, payload monitoring, and proximity detection to prevent site accidents, minimize machine downtime and ensure mine efficiency.
Motion Metrics products include ShovelMetrics™, LoaderMetrics™, PortaMetrics™, and BeltMetrics™ – suite of advanced monitoring solutions that mining operations can use to optimize productivity from mine to mill. All of these solutions are designed to seamlessly integrate with MetricsManager™ Pro, a centralized web-based platform that aggregates and analyzes data from installed Motion Metrics systems.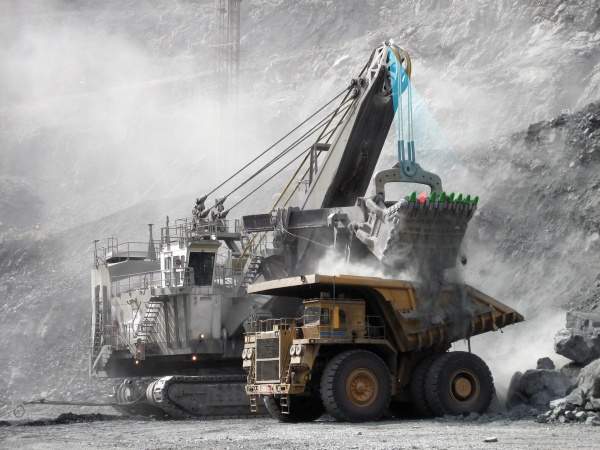 ShovelMetrics™ provides real-time missing tooth and tooth wear monitoring.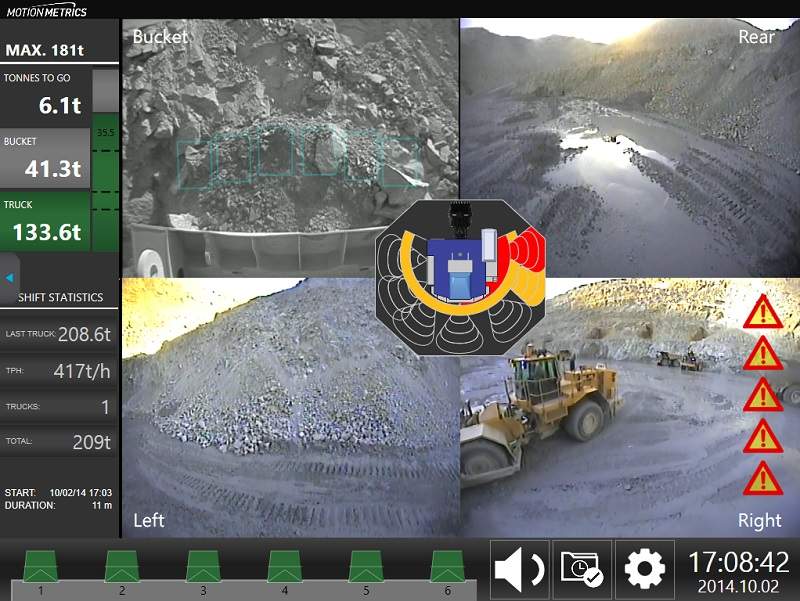 The ShovelMetrics™ interface enables missing tooth detection, fragmentation analysis, proximity detection and payload monitoring.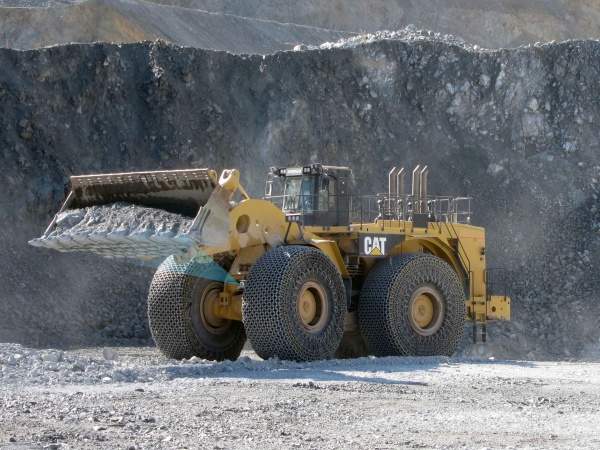 LoaderMetrics™ provides missing tooth detection for all loader types.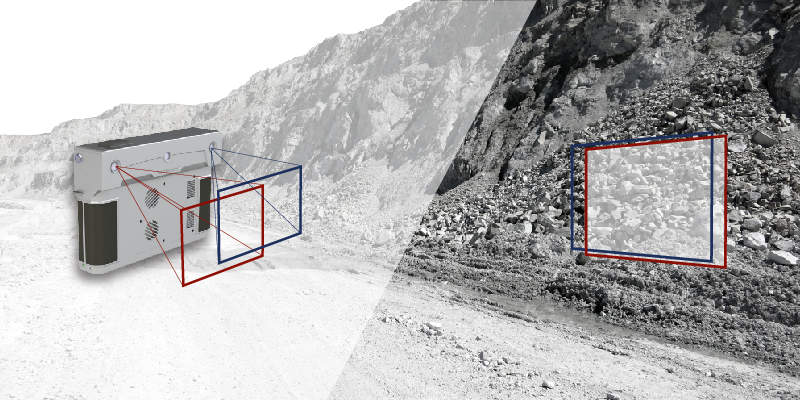 Get fragmentation analysis of any scene in a matter of seconds with PortaMetrics™.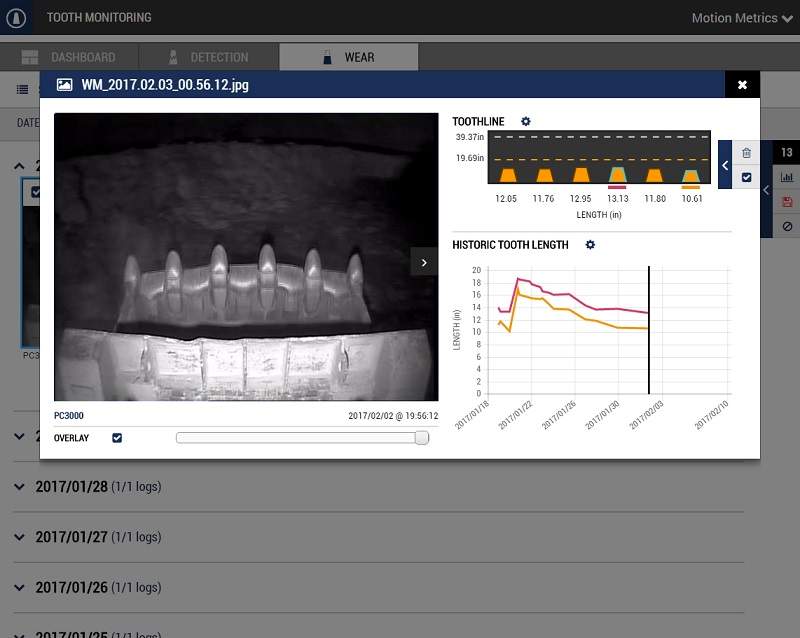 MetricsManager™ Pro gives you access to information collected by our machine monitoring systems, such as ShovelMetrics™ tooth wear reports.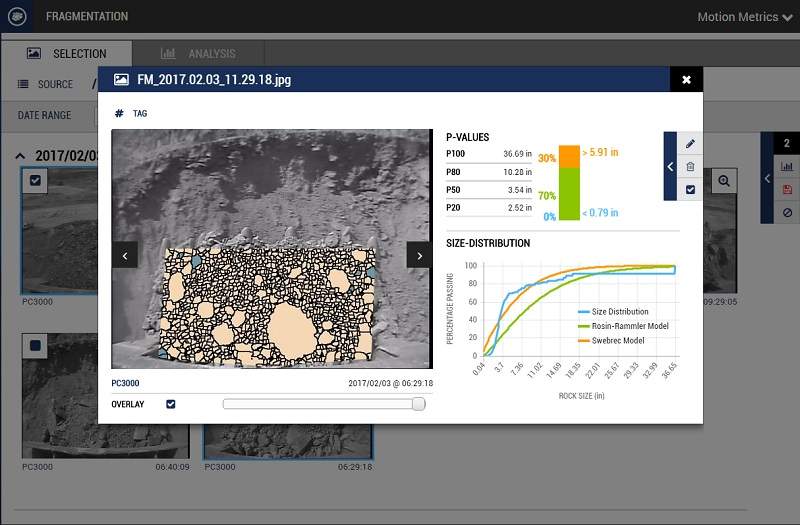 With MetricsManager™ Pro you can access critical fragmentation analysis reports from ShovelMetrics™ and PortaMetrics™.
Shovel and loader monitoring solutions
Our flagship product is ShovelMetrics™, a complete monitoring solution for shovels and excavators that uses the latest in machine learning and computer vision to provide missing tooth detection, tooth wear monitoring, fragmentation analysis, payload monitoring and proximity detection.
LoaderMetrics™ also monitors bucket teeth using thermal imaging technology and machine learning algorithms in addition to providing proximity detection.
ShovelMetrics™ and LoaderMetrics™ are designed to maximize the amount of useful data collected by mining machinery while minimizing workplace hazards, equipment damage, and machine downtime.
Fragmentation analysis tools
PortaMetrics™ is a ruggedized handheld fragmentation analysis tool that uses stereo imaging and machine learning algorithms to deliver fast and accurate rock size distribution data without the need for any reference scaling object.
PortaMetrics™ enables mine personnel to safely capture, process, and manually alter images of any bench face, stockpile, or quarry.
BeltMetrics™ is a ruggedized fragmentation analysis solution designed to analyze fragmentation on mining conveyor belts without interrupting production. Like PortaMetrics™, BeltMetrics™ uses a rugged stereo camera and machine learning algorithms to ensure that every visible rock is scaled and measured accurately.
Cloud-enabled integration
All our monitoring solutions are designed to integrate with MetricsManager™ Pro.
This Cloud-based web application provides a single centralized platform to access all Motion Metrics system data. Customizable dashboards allow mine personnel and support specialists to easily monitor the health of each Motion Metrics device.
With laptop, tablet, and smartphone compatibility, detailed equipment productivity reports can be easily generated.
MetricsManager™ Pro provides real-time equipment status updates, tooth wear prediction reports, shovel productivity reports, and bucket-based rock fragmentation analysis.
About Motion Metrics
At Motion Metrics, we back all our solutions by providing comprehensive customer support and we take pride in the ongoing relationships we maintain with our clients.
Our engineers travel worldwide to perform everything from on-site installation and commissioning, to training, to scheduled maintenance and performance reports.