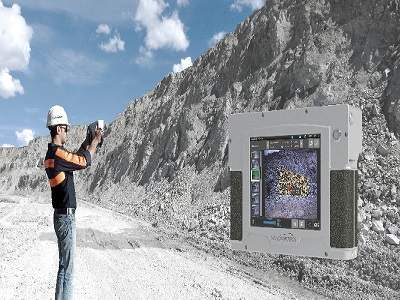 PortaMetrics™ is a patented point and shoot portable tablet that provides fragmentation analysis of your desired scene without the need for any reference scaling objects.
Fragmentation analysis in seconds
PortaMetrics™ instantly generates reports that include rock size distribution graphs, size range statistics, slope measurements, and more. Integrated GPS associates captured images with specific blasts while MetricsManager™ Pro connectivity allows fragmentation results to be shared remotely.
PortaMetrics™ moves safety to the forefront of mining operations by accurately calculating rock fragmentation from a distance. Utilizing stereo imaging, mine personnel no longer need to approach the bench face or climb it to place scaling objects.
With three high-resolution cameras, users can easily select their region of interest, capture an image, and display results instantly on an intuitive graphical user interface.
PortaMetrics™ includes manual correction capabilities to fine-tune images and make adjustments if necessary. Mine personnel no longer need to return to the office and upload images to computer software to obtain fragmentation results