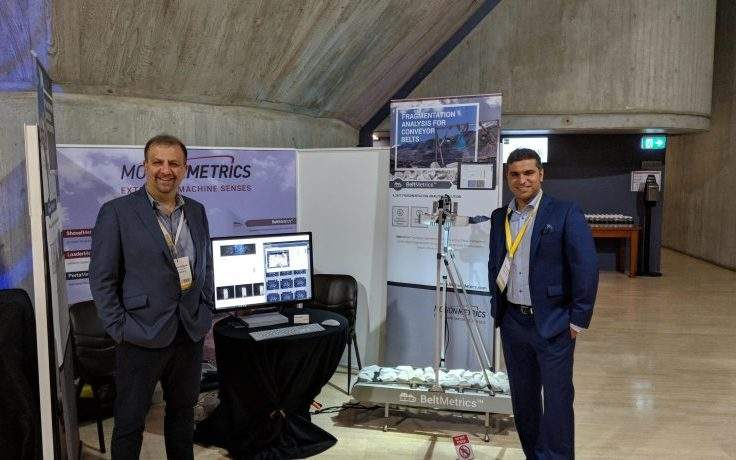 Motion Metrics CEO Dr Shahram Tafazoli showcased our revolutionary fragmentation analysis solutions in a presentation at the Future of Mining Conference in Sydney, Australia. Dr Tafazoli also unveiled future directions for the company.
The conference was organized by Australia's Mining Monthly and Mining Magazine editorial teams and brought together more than 400 senior mining executives to debate the existing mining landscape and chart its future.  The event comprised two days of editorially curated content, and 49% of attendees were director level or above.  One of the key topics for inquiry was growth and innovation, a theme to which Motion Metrics' products are a natural fit.
In his speech, Dr Tafazoli explains the importance of sensing rock fragmentation.  "Comminution – the grinding and crushing of ore – is the most energy-intensive step in mining," he says.  This process accounts for 40% of the total energy used in mineral processing, as well as 4% of the world's total electrical energy consumption.
"Ore grades in Australia continue to decline, requiring more energy to move and treat additional waste material.  To optimize comminution, we need to sense rock sizes in various stages of mining."
To optimize blasting efforts, it is important to measure particle size distribution along the entire comminution circuit.  Motion Metrics has developed three fragmentation analysis solutions – ShovelMetrics™, PortaMetrics™, and BeltMetrics™ – to meet this objective in a safer, more efficient way than previously possible with traditional tools like sieve analysis and manual image segmentation.  In his Future of Mining Presentation, Dr Tafazoli explains the technology behind these novel solutions.
"The way we do it with PortaMetrics™ is we do stereo imaging.  And so essentially you can hold the device, take a picture, and in a few seconds, you have fragmentation data."
BeltMetrics™ uses the same approach – stereo imaging – but monitors particle size distribution continually on conveyor belts.  Our third fragmentation analysis solution, ShovelMetrics™, instead uses the known size of the shovel bucket to accurately scale the rocks.
Dr Tafazoli also shared exciting plans to bring the company's fragmentation analysis technology to the asteroid mining industry.  Asteroid sampling missions need to measure particle size to identify rocks that are the right size for sampling – a task that our AI-based segmentation algorithm can do much more efficiently than existing methods.
Motion Metrics is opening an office in Perth to support existing customers and earn new business.  If you'd like to learn more about the solutions and services we offer our clients down under, please contact us.