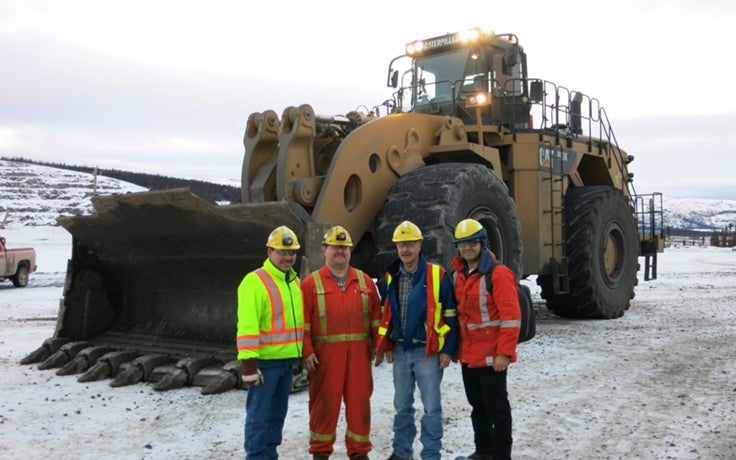 Motion Metrics successfully trialed a LoaderMetrics system at Vale's Voisey's Bay Nickel Mine in Labrador, Canada.
We are excited to announce that we have met Vale's requirements and can declare the trial complete. Our system was installed and commissioned on a CAT 993K loader in November 2016. Since then, the LoaderMetrics system has continuously monitored the loader bucket, keeping track of the health of the bucket teeth. If a tooth is detected missing, the system automatically alerts both the operator and mine management, allowing them to halt production and find the missing tooth before it can jam the crusher or damage downstream equipment such as a conveyor belt.
LoaderMetrics has already been installed on different types of loaders worldwide, but the harsh conditions of the Voisey's Bay mine presented some new challenges. While we had previously installed ShovelMetrics™ in similar conditions elsewhere in Canada and in northern Sweden, this is the first time LoaderMetrics, with its unique technology and lens cleaning system, was set to operate in extreme subarctic winter conditions including temperatures of -40°C. In addition, this was the first time we installed a system on a CAT 993K loader.
We take pride in customising solutions for each of our clients. With Voisey's Bay Mine, this meant modifying the LoaderMetrics lens cleaning system (LCS) by putting the air compressor into a heated enclosure to keep the system at a reasonable temperature. The proper function of the LCS was critical to the system's success. Automatic lens cleaning minimises the negative effects that extreme weather can have on the overall performance of our missing tooth detection system.
After seven months of operation, we are proud to declare the trial a success. Thanks to continuous coast-to-coast cooperation between our Vancouver headquarters and the amazing team (Kevin Gear, Mark Voisey, and Stan McCarthy) at the Voisey's Bay mine, we have been able to develop a solution uniquely tailored to tough northern conditions. The solutions developed during this trial will serve the Voisey's Bay mine for years to come and will be used by Motion Metrics in future installations.