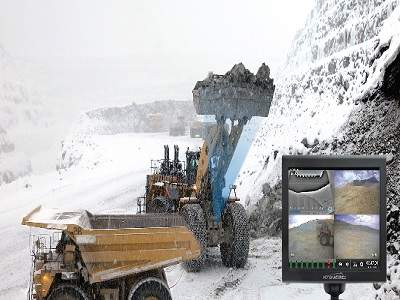 LoaderMetrics™ is a missing tooth detection and blind spot reduction system for all loader types. It has been designed to the highest shock and vibration standards and uses thermal imaging technology to overcome poor lighting and weather conditions.
LoaderMetrics™ includes:
The LoaderMetrics™ system uses a thermal camera to monitor bucket teeth and detect when a tooth goes missing. The system uses advanced machine vision techniques and artificial intelligence algorithms to continuously track the status of each tooth. The in-cab monitor provides real-time tooth status updates and typically warns the operator of a missing tooth within two minutes.
Three colour surveillance cameras at the left, right, and rear of the loader help prevent dangerous collisions and costly equipment damage by providing the operator with greater visibility. Using the 8.4in in-cab touchscreen, operators can monitor surrounding collision zones and avoid potential incidents.
Missing tooth detection performance can be affected by dust, dirt, mud, road grime, and mist accumulating on the bucket camera. Motion Metrics offers a non-abrasive lens cleaning system (LCS) keeping the camera clear of debris, reducing the likelihood of scratches and improving the longevity of the lens.