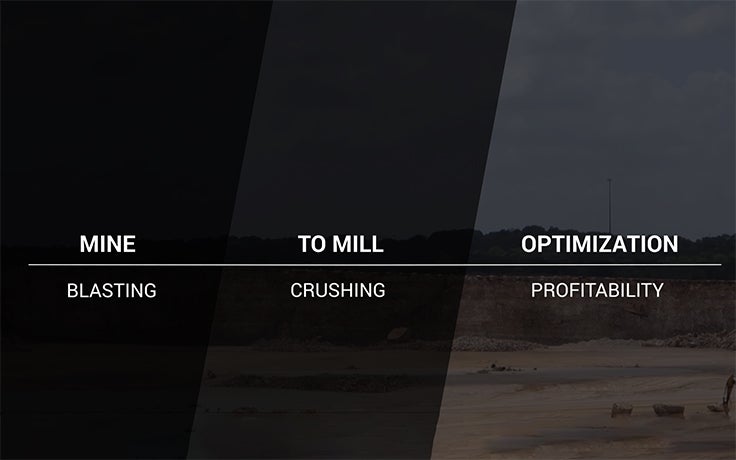 Fast and accurate particle size analysis is a critical component of any mine-to-mill optimization project, so we've developed advanced solutions for the pit and the plant.  Recently, we released a new video to show mines how we can help them achieve their optimization objectives.
A well-designed mine-to-mill optimization project can achieve productivity gains in the range of 10-20% with minor operational changes or cost impacts. But establishing baseline performance and optimizing feed size requires continual analysis at various stages in the size reduction process.
We offer a complete suite of particle size analysis solutions that helps mines measure this critical metric as part of an effective mine-to-mill approach.  ShovelMetrics™, BeltMetrics™, and PortaMetrics™ provide coverage for mining shovels, conveyor belts, and scenarios that demand portable solutions. Used in conjunction with our centralized data analysis platform MetricsManager™ Pro, these smart tools grant mines insight into the effectiveness of their blasting, crushing, and grinding operations.
ShovelMetrics™ is an in-shovel particle size analysis solution that can help mines adjust their blast parameters for optimal productivity and efficiency. The image-based system captures images of the full shovel bucket, then segments the images using machine learning algorithms.
Although ShovelMetrics™ provides rich information, there are some scenarios where a mine needs additional coverage. For example, a mine may want to evaluate the particle size distribution of a salvage pile or a stockpile being loaded by small excavators where these fixed systems haven't been installed.
To address these scenarios, we developed PortaMetrics™ – a ruggedized, handheld particle size analysis tool that uses stereo imaging to eliminate the need for reference scaling objects. PortaMetrics™ is a safer and more accurate alternative to traditional image-based particle size analysis methods that require the operator to place and remove a scaling object while exposed to falling rock from the bench face.
Particle size analysis shouldn't stop at the muck pile – it should also be assessed continually downstream. We developed our newest solution, BeltMetrics™, to continually analyze particle size along any conveyor belt.  Like PortaMetrics™, this solution uses machine learning algorithms and 3D imaging to provide fast and accurate data without a reference scaling object. BeltMetrics™ can also detect when the belt is empty, alerting mine staff to blocked screens or chutes.
A complete particle size analysis solution that is convenient, consistent, and accurate is a requirement for successful mine-to-mill optimization. When integrated with our centralized data analysis platform MetricsManager™ Pro, ShovelMetrics™, PortaMetrics™, and BeltMetrics™ provide comprehensive coverage from the pit to the plant.