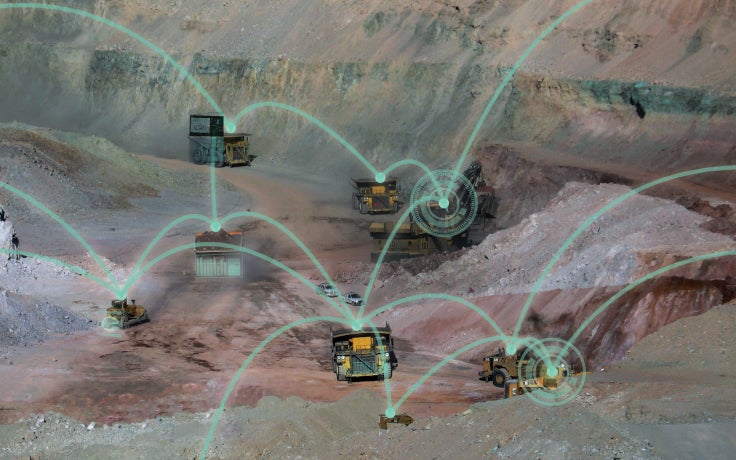 An Accenture study identified technological transformation as a significant growth strategy for mining companies – 92% of mining executives plan to increase investment in technology over the next three years, and more than a quarter expect those increases to be significant.
According to a KPMG survey, the highest level of investment is occurring in data and analytics tools (53%), autonomous vehicles (30%), and robotic process automation (29%).
In this article, we'll talk about a few of the digital initiatives taking place in mines around the world and explain how mines can unlock the full potential of these technologies.
Blast better
Blast optimization is integral to the mine-to-mill optimization process – blasting is ten times more expensive than milling.   At Motion Metrics, we offer two ways to analyze your blast – one is an in-shovel particle size analysis solution and the other is a handheld, point-and-shoot device.
Both solutions use deep learning algorithms to provide fast and accurate particle size distributions without a scaling object, but they have different applications.  An in-shovel solution will provide a higher sample rate for regular coverage whereas a handheld solution provides flexibility.
We also offer a particle size analysis solution for conveyor belts that uses stereo imaging and deep learning to provide 24/7 monitoring.  This can also detect when the conveyor belt is empty, alerting personnel to blocked screens or chutes.  Pairing conveyor belt analysis with in-shovel and portable solutions provides blasting, crushing, and grinding insights that mines need to continually optimize. Collected data could even be used to automate workflows – for example, adjusting the crusher gap automatically.
Hands-off haulage
Although autonomous vehicles have had early success on site, mines don't need to fully automate their haulage systems to see big benefits from technology.
A Congolese copper mine hired a team of data scientists to quantify the impact of operator behaviour on fuel consumption. Using low-cost spatial trackers and drones to track truck dispatching and vehicle movements, the scientists used specialized statistical software and deep neural networks to determine how operators were driving their haul trucks.  With this information, the scientists could limit peak speeds, reduce short stops and restarts, and avoid abrupt braking and strong accelerations, resulting a 7% reduction in fuel consumption in eight weeks.
Power up your processing plant
To improve workflows, several companies are developing mineral sorting equipment that use a variety of technologies to identify mineral properties and optimize processing.
At a mid-sized copper smelter, for example, engineers had tried for years to optimize yield.  The smelter hired a team of data scientists to build a neural network to analyze years of historical data and found the cause of the declining yields.  From there, they implemented a new set of operating guidelines and achieved a 2% yield improvement that required no capital expenditure.
In addition, McKinsey and Company found that, by uncovering hidden relationships between second and third-order variables, plants can improve their yields of gold, nickel, phosphate and other processed materials by 3% to 10% within months.
Master your maintenance schedule
At Motion Metrics, we use machine learning to help mines implement predictive maintenance.  Our smart solutions provide tooth wear monitoring for all mining shovels and excavators so that change-outs can be predicted and scheduled without the need for manual measurements.
Excessively worn shovel teeth pose problems to mines.  They require increased cutting forces to penetrate material and result in lower overall productivity and increased energy consumption while causing premature wear.  Operating with worn, inefficient teeth also increases the risk of breakage and missing teeth can jam crushers.
Unplanned change-outs are far more expensive than scheduled ones. According to an earlier study, direct and indirect costs due to changing a set of teeth are $3,000 and $38,000 respectively.  Together, the extra costs and lost opportunity total $41,000 per incident.
Although unplanned change-outs are sometimes unavoidable, they can be significantly reduced with a tooth wear monitoring solution.
Get serious about safety
Experts predict that using smart sensors on-site could translate to savings of $34 billion by improving equipment utilization, reducing equipment failures and downtime, and facilitating predictive maintenance.  The World Economic Forum predicts that digitization could prevent 44,000 injuries and save 1,000 lives over the next decade.
Automation is the most obvious way to keep mine workers out of harm's way.  In the long term, researchers estimate that automating operations can reduce the number of people working in dangerous areas by more than 50%.  There are many short-term applications for modern technology on-site that don't interrupt existing workflows or change jobs.
Similarly, artificial intelligence (AI) can be used proactively to detect on-site hazards.  Imagine preinstalled monitoring stations that inspect the worksite ahead of mine personnel using robots, sensors, and AI. These systems could trigger alarms, warn workers and close the affected area to prevent further expansion of detected hazards.
We're also working on preventative safety solutions.  Our flagship missing tooth detection solutions for shovels and loaders have been deployed to mine sites around the world for more than 15 years.
Shovel and loader teeth are prone to breaking off during operation.  Missing teeth can go undetected and be transported downstream in the excavated ore where they can obstruct crushers.  An obstructed crusher is a serious safety issue for any mine due to the tremendous amount of stored energy.  Researchers at the National Institute for Occupational Safety and Health found that incidents involving crushers are the second most common cause of fatalities caused by stationary machinery at mines in the US.
Break down barriers
Motion Metrics has been at the intersection of mining and technology for years and we have identified common pitfalls driving this disconnect include ease of use, unclear implementation, perception of costs, and a lack of communication.
Solution providers need to design products that are both intuitive and powerful, and miners need to treat innovation initiatives with the same level of attention and detail that they would any other aspect of their operation.  This is new ground for both mining and technology companies, and we can't wait to see the future that we'll create together.