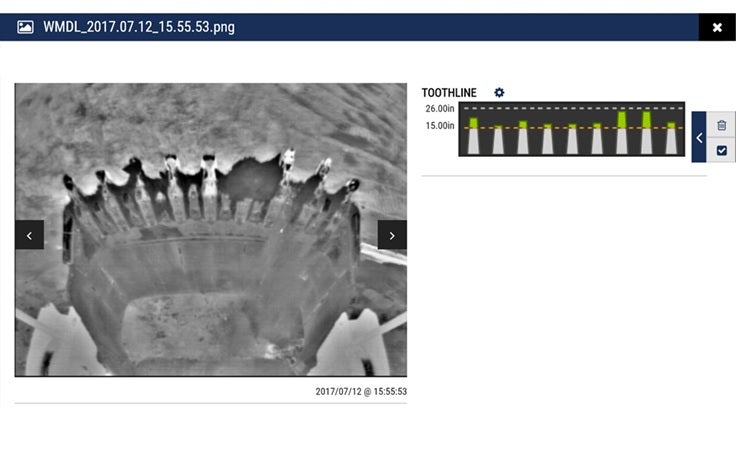 Using the latest in artificial intelligence and machine learning, ShovelMetrics™ prevents costly unplanned downtime by providing Missing Tooth Detection and Tooth Wear Monitoring to shovels. The system has been deployed on more than 300 pieces of equipment worldwide, and is our most popular product to date. Now, we are pleased to announce an exciting new addition to our ShovelMetrics product line: ShovelMetrics Oil Sands Edition.
Until recently, unique environmental challenges have prevented Motion Metrics from offering ShovelMetrics as a viable monitoring solution for oil sands extraction operations. Although open-pit oil sand mines share much in common with their traditional hard-rock counterparts, their shovel buckets encounter much harsher conditions due to the softness of the bitumen deposit.
Oil sand is a viscous, sticky substance that can accumulate in the GET components of shovel buckets as they dig. This buildup obscures the bucket teeth and lip shrouds, making it difficult for the visible light camera packaged with our conventional ShovelMetrics system to capture useable images for analysis.
In response, we have developed and patented a rugged thermal imaging system that can identify shovel teeth even when they are hidden by debris. The developed novel technology indeed looks to find and lock on top of each tooth, very similar to how humans decide about the health of the teeth. During the digging cycle, friction causes the shovel teeth to heat up; by continually monitoring the tooth tips with its ThermalDetect™ technology, ShovelMetrics™ can leverage the DeepAccuracy™ machine learning algorithm to swiftly identify missing teeth.
Like our flagship product, ShovelMetrics Oil Sands Edition can also monitor tooth wear to help the GET crew at the mine predict and schedule change-outs. By connecting ShovelMetrics embedded computer to our MetricsManager™ Pro system for analysis, mine management can optimise their operations for maximum efficiency and safety.
To learn more about ShovelMetrics Oil Sands Edition, please contact our sales team.
Caitlin McKinnon, Motion Metrics, provides an overview of shovel monitoring solutions and the potential they have for increasing safety and efficiency at mine sites.
We provide a range of camera and sensor-based solutions for mining shovels, loaders, conveyor belts, and portable devices.
Image-based rock fragmentation sensing in mining and quarry applications includes an important rock boundary delineation step, which is commonly referred to as rock segmentation. This...