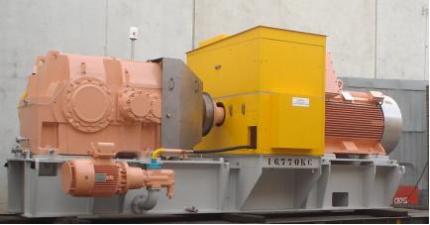 For more than 90 years, Hansen Industrial Transmissions (HIT) has operated in the forefront of power transmission technology and has grown to become a world leading manufacturer of industrial gear units. The company offers complete drive solutions from grid connection to machine shaft for a wide variety of applications and complete servicing for all brands of industrial gear units.
HIT is committed to being the most dedicated and reliable partner, providing industrial gearbox solutions by creating and supplying high-quality products and offering a first-class after-sales service throughout the lifetime of customer applications. HIT therefore enhances the talent and passion of its people to enable long-lasting partnerships.
Worldwide, the skilled HIT staff, business and authorised service partners strive for reliable excellence in industrial gearbox solutions offering a wealth of experience and expertise: the result of years of close and interactive cooperation with a distinguished record of customers.
Reliable gear drives and complete drive solutions
Renowned worldwide for the design, manufacture, sales and service of its top quality gear products and complete drive solutions, HIT also tailors its products to customer needs such as standard and design-for-application products for mining equipment and material handling.
Hansen Industrial Transmissions
Numerous projects across the world have been entrusted to HIT due to the compactness and lightweight nature of its industrial gearboxes, as well as the company's shortened lead times and its ability to supply all drive components as complete packages.
Standardised industrial gear unit – Hansen P4
HIT's main industrial product line, the Hansen P4 standardised industrial gear unit, is available from 6kNm to 1,100kNm and offers the highest power rating in the market for a given size.
The P4 range excels in low noise and low vibration levels, as well as its minimum weight: for a given output a P4 gearbox accounts for only one-fifth of the weight of its 1950 predecessor. P4 gear units are also at the heart of the product range for bulk material handling applications. For vertical, horizontal, parallel and right-angle shaft arrangements, P4 units offer top quality, economical solutions with an exceptional flexibility to customer specifications and required options.
For material handling applications in the lower torque ranges, Sumitomo Drive Technologies provides a range of Paramax speed reducers.
Flexible drive solutions for large conveyors, travel drives and bucket elevators
Mine sites often have space constraints, which lead to typical configurations of travel drives. The P4 range has been extended with a design allowing for horizontal mounting of the motor by a scoop mount or a lantern. P4 can be installed vertically with flange or foot motors.
HIT offers conveyor drives in a wide range of configurations. A wide range of solutions can be provided depending on the customer's preference and the requirements of the project, such as an inclined installation of the conveyor, environment or serviceability.
A variety of drive package arrangements are available for bucket elevators: different motor assemblies (lantern, motor base, bed plate), backstops and auxiliary drives are all part of the HIT range.
Invertible gear unit for conveyor applications – Hansen I4
The Hansen I4 invertible gear unit, in conjunction with the optional rigid flange coupling and motor lantern, is highly suitable for conveyor applications. The I4 alleviates the past requirement of using separate drives for left and right-hand orientation of gearbox drives on multiple-drive conveyors. The innovative gearbox can be inverted, i.e. turned 180°, for either handing. The result is a reduction in the number of spare gearboxes that need to be kept in stock for possible breakdowns, leading to significant cost and space savings.
Hansen UniMiner gearboxes answer the needs of mining and bulk material handling applications by offering a rugged, sealed design that is alignment-free and easily adaptable to a variety of mounting configurations. The UniMiner design incorporates carburised and ground gearing, grease purgeable seals and heavy duty bearings, to ensure longevity in the harshest of environments.
As with all Hansen Industrial gearboxes, UniMiner offers all common motor, shaft and mounting options, and can be easily accessorised for unique applications.
About Hansen Industrial Transmissions
Since 2011, HIT has been part of Sumitomo Heavy Industries' Power Transmission & Controls Group and combines the strengths of both Hansen's industrial gearboxes and Sumitomo Drive Technologies' gear drives. As such, HIT acts as a single source for two of the world's most reputable brands in reliable and durable industrial gear drives.
Long-standing customer relations, a continuous strive for product and technology leadership and keeping pace with today's market requirements enables HIT to shape and implement this complementary product merger.
The Hansen P4 Heavy-Duty Single Stage Gear Unit is available in four different sizes, in various parallel horizontal configurations.
Hansen Transmissions commits to be a pioneering innovator. The production of high performance gear units stems from an interactive partnership with our clients, the end users and the actively engaged manpower of our global enterprise.
The Cannington silver mine is located in north-west Queensland, 200km south-east of Mount Isa, near the township of McKinlay.
Bearing Man Group (BMG) has received unconditional approval from the South African Competition Commission for the purchase of 100% of Hansen Transmissions South Africa Proprietary Limited.
Hansen Transmissions International NV
Leonardo da Vincilaan 1
B-2650 Edegem
Belgium