The trial pit used to obtain bulk samples for process testwork in 1996.

The refinery complex.
Grade control sampling in the open pit.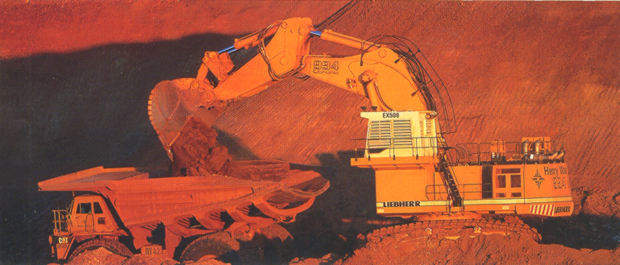 Ore mining during the pre-production phase.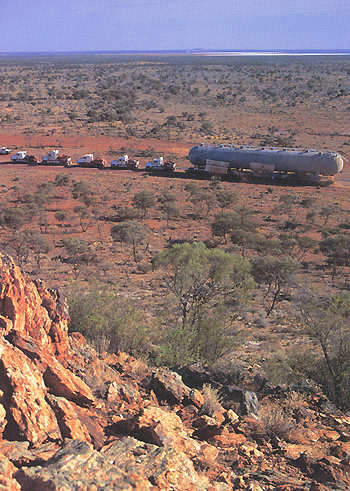 Transporting one of the autoclaves to the mine site.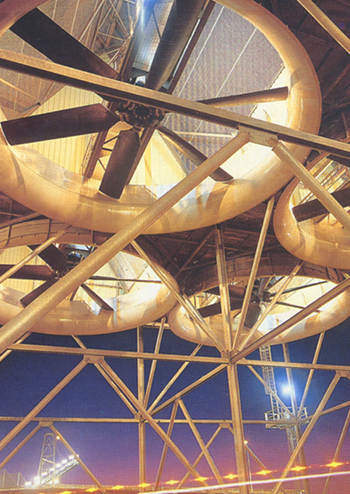 View through the giant fans at the Murrin Murrin power station.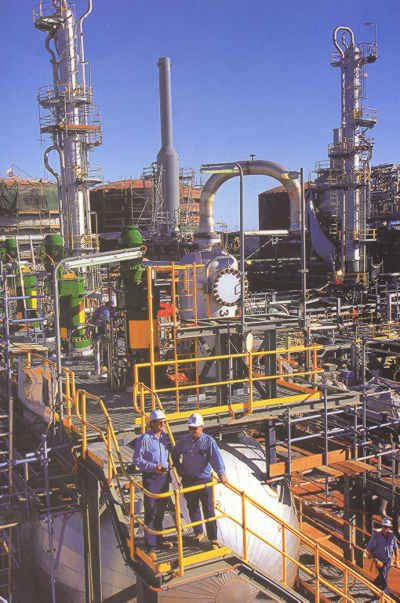 Acid leach autoclave with the slurry heating tower behind.
The Murrin Murrin nickel-cobalt project, 60km east of Leonora, was commissioned by Anaconda Nickel Ltd. The project is now a joint venture between Murrin Murrin Holdings Pty Ltd, a wholly owned subsidiary of Minara Resources Ltd (60%), and Glenmurrin Pty Ltd, a wholly owned subsidiary of Glencore International AG (40%).
It is based on the mining and processing of lateritic ore for the production of up to 40,000t/y of nickel and 2,500t/y of cobalt briquettes with a design cash cost of $2.00–2.40/lb of nickel, making it one of the world's largest and lowest-cost nickel producers. Stage 1 of the project was commissioned in 1999 at a cost of A$1,030m. Total production costs for 2006 were around $8.25/lb of nickel..
Minara Resources has approx. 1,000 employees and contractors at its Murrin Murrin operations, making it one of the largest single-site employers in Western Australia.
Geology and reserves
The laterite-hosted orebodies are typically 20m in depth with 10m of overburden. At the end of 2005, the project had total resources of 334Mt and total reserves of 145Mt grading 1.07% nickel and 0.085% cobalt. Based on current reserves and resources, Murrin Murrin has sufficient ore for 40 years of operation.
Mining methods
Opencast mining at Murrin Murrin benefits from favourable stripping ratios, which allow low mining costs. The mining fleet consists of Hitachi hydraulic excavators and Komatsu haul trucks. The average grade of high-grade ore is 1.34% Ni, 0.091% Co and 4.6% Mg, allowing the mine to meet or exceed autoclave feed requirements.
Development of a new mining area – Murrin Murrin South – began in 2004.
Processing
Murrin Murrin is a world-class hydrometallurgical project, using sulphuric acid in high-temperature, high-pressure autoclave vessels to aggressively leach nickel and cobalt from low-grade lateritic (oxidised) ores. Hydrometallurgical processing offers significant environmental benefits compared to traditional pyrometallurgical processes, such as smelting, and much of the energy, heat and consumables used in the Murrin Murrin are recycled.
Sherritt International pressure acid leach (PAL) technology recovers nickel and cobalt in a Fluor Daniel designed and engineered plant. Slurried, crushed ore is pressure leached with sulphuric acid, and metals recovered by further leaching. The slurrying mill discharges into a classification screen and undersize is pumped to the autoclave feed slurry storage tanks. Oversize is stored in the tailings dam.
The PAL area receives slurried feed, heats it to 225°C and mixes it with hot concentrated sulphuric acid inside four titanium-lined autoclaves. Nickel and cobalt are leached into solution. Precipitated iron and aluminium tailings are washed and stored in the tailings dam. The autoclaves discharge leached slurry to the counter-current decantation (CCD) washing area, where it is mixed with flash-steam heated water, producing a clear solution of nickel and cobalt in preparation for hydrogen sulphide precipitation of mixed nickel/cobalt.
Locally produced finely ground calcrete is used to neutralise the residue before it is stored in the tailings dam. The nickel/cobalt sulphide produced is leached in an autoclave by pure oxygen, producing a metal sulphate solution.
"Opencast mining at Murrin Murrin benefits from favourable stripping ratios, which allow low mining costs."
Iron, copper and zinc impurities are removed, cobalt is separated and a concentrated cobalt solution feeds the cobalt hydrogen reduction area.
The remaining nickel solution feeds the nickel-hydrogen reduction area. The metal sulphate solutions are hydrogen-reduced in parallel autoclaves. The resulting powders are dewatered, dried and packaged for sale or briquetted and sintered to form pillow-shaped briquettes.
Alterations to the plant since it was commissioned have included the installation of larger capacity pre-heaters and a third calcrete mill, upgrades to the neutralisation circuit, and modifications to the sulphide circuit equipment and the acid plant.
Production
In 2006, Murrin Murrin produced 31,524t of nickel and 2,096t of cobalt, with nickel production considerably higher than the 28,240t produced in 2005 while cobalt output was just 63t higher. An output of between 32,000t and 35,000t of nickel is predicted for 2007. Constraints in the acid plant and ductwork corrosion affected the plant's availability during 2006, with a new acid demister being installed to help reduce corrosion.
Current projects
An A$25m heap-leach demonstration plant was built at Murrin Murrin during 2006, with an output of 2,000t of nickel and 150t of cobalt anticipated for 2007 if the technology is successful. Some 75,000t of ore are being acid-leached in the trial. If this is the case, it provides the project with a separate source of output from low-grade ores that are currently uneconomic, as well as from low-grade stockpiled material.
Murrin Murrin's other major recent project has been the development of the Grey Mare borefield which, once operational, will supply around one-third of its annual water process requirements.