Escondida mine is located in northern Atacama Desert of Chile. Credit: Kabelleger / David Gubler.
The Los Colorados concentrator was replaced in 2015. Credit: Bpierreb.
The mining fleet consists of nine Bucyrus 495-B Erie loading shovels. Credit: Municipalidad de Antofagasta.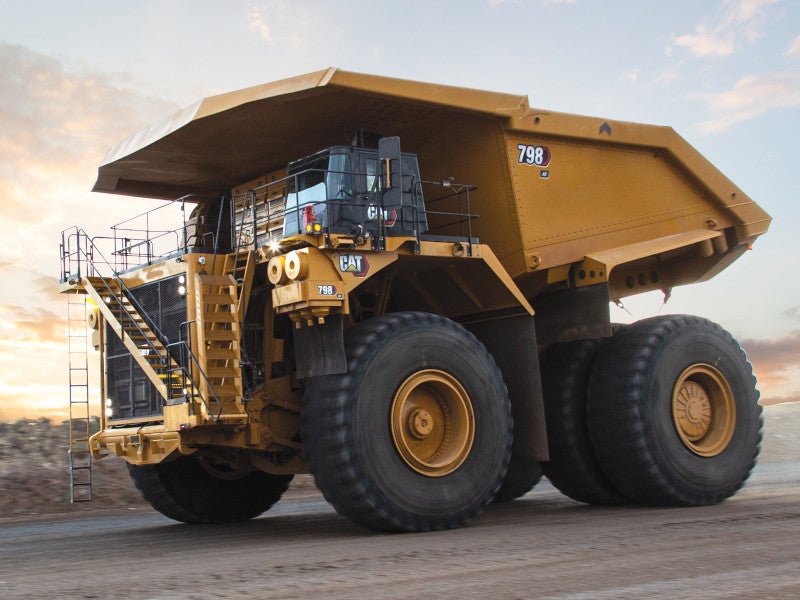 BHP plans to replace the entire haul truck fleet at the mine within ten years starting in 2023. Credit: Finning International.
The Escondida mine in northern Chile is the largest producer of copper cathodes and concentrates in the world. The project was started in the late 1990s and has a 40-year mine life.
The mine is owned and operated by a joint venture of mining companies, including BHP (57.5%), Rio Tinto (30%) and JECO (12.5%). The mine received the Copper Mark, a symbol of ethical production practices, in November 2021 after undergoing an independent assurance process.
The copper production in the first half of 2022 was 824.4 kilotonnes (kt), an increase of 12% compared to H1 2021.
The mine is moving towards 100% renewable energy by using the abundant solar and wind resources of Chile, which is in line with the country's Energa 2025 power policy that calls for 20% of all Chilean energy to come from renewable sources by 2025.
Location of the Escondida mine
The Escondida copper-gold-silver mine is located in Chile's Atacama Desert, 160km south-east of the port of Antofagasta, at an elevation of 3,050m above sea level.
Escondida geology and ore reserves
Escondida is related geologically to three porphyry bodies intruded along the major Chilean west fissure fault system. Primary hydrothermal sulphide ore grades at between 0.2% and 1% copper.
Subsequent weathering and uplifting created a barren, leached cap, up to 180m thick, over a high-grade supergene-enriched ore, both overlying the primary sulphides. Primary sulphide mineralisation includes pyrite, chalcopyrite and bornite, with covellite and chalcocite in the enriched zone.
The combined proven and probable ore reserves of Escondida and Escondida Norte as of mid-2004 were: 2,018 million tonnes (mt) of copper sulphide ore at 1.24% total copper; 1,701mt of low-grade copper sulphide ore at 0.55% total copper; and 290mt of copper oxide ore at 0.73% acid-soluble copper.
Production and expansions of the Escondida mine
The 1993 and 1994 expansions increased capacity from the initial level of 320,000tpa of copper-in-concentrates to 480,000tpa. Further expansion in 1996 took output capacity to 800,000tpa. In November 1998, concentrator expansion was completed, increasing capacity to 127,000t/d of ore. A new oxide ore processing plant then began operation, reaching its design rate of 125,000tpa of electrolytic copper metal in mid-1999. The $1.044bn 110,000tpd Phase 4 concentrator was completed in September 2002 using retained earnings.
The project partners invested $400m in opening the Escondida Norte pit, 5km north of the existing mine. By the end of 2004, 126mt of material had been moved during pre-stripping operations, and the first production started in 2005. Ore is moved by conveyor to the existing treatment facilities.
The Escondida sulphide leach project designed to produce 180,000tpa of cathode copper cathode required an investment of $870m. The process uses bacterially assisted leaching on low-grade run-of-mine ore from both the Escondida and Escondida Norte pits, with solvent extraction and electrowinning to produce the copper. Production at the plant began in 2007.
In 2012, a further investment was announced in two projects at Escondida. The $3.8bn Organic Growth Project 1 (OGP1) was undertaken to increase production. Construction began in February 2012 and was commissioned in May 2015.
The third copper concentrate plant with a capacity of 152ktpd was inaugurated in 2016. The plant increased the overall copper processing capacity to over 422ktpd. The mine presently includes three concentrator plants and two leaching operations (oxide and sulphide).
The Escondida Water Supply Expansion (EWSE) project was launched to bring water from the ocean located more than 161km away to the mine. The EWS project involved the construction of a new seawater desalination facility in the Atacama Desert that is connected to the mine site by two 170km pipelines that were built on the Pacific coast at Coloso Port in Antofagasta.
Four high-pressure pump stations move water across the Atacama Desert from the port to a reservoir at the mine at a height of more than 10,000ft. The EWS project was completed in 2017 and is providing 2,500 litres per second (lps) of water to the mine every day.
The Escondida water supply expansion (EWSE) project was initiated to expand the EWS project and provide the mine with 100% desalinated water, eliminating the need for groundwater. The project began in June 2017 and completed in December 2019. The EWSE project increased both the water production and conveyance capacities by 833lps and 1,438lps, respectively.
Escondida open-pit mining operations
Escondida is a conventional open-pit operation processing sulphide and oxide ores.
The mining fleet consists of nine Bucyrus 495-B Erie loading shovels fitted with 50yd³, 53yd³ and 55yd³ buckets, 24 Caterpillar 793B, 28 Komatsu 830-E and 23 Caterpillar 793C dump trucks, each with a 218t capacity. Escondida uses eight Bucyrus 49-R and 49-RII electric drills plus an Ingersoll Rand DMM2 diesel drill. Bulk ammonium nitrate-fuel oil (ANFO) explosive is used for blasting.
Run-of-mine ore is hauled to two semi-mobile, in-pit crushers for a primary reduction before being conveyed to the coarse ore stockpiles. The stripping ratio will average around 1.7:1 over the full life of the project.
BHP announced the replacement of the complete 160 haul truck fleet at the mine in August 2022. The first trucks are planned to be delivered in the second half of 2023, and the balance trucks will be delivered during the next ten years.
Ore processing
The sulphide concentrator employs crushing, milling and flotation circuits. Cleaning of the bulk sulphide concentrate is achieved using 12m-high, 4m-square column cells. The concentrator uses 94 Wemco 160m³ cells for rougher and cleaner flotation.
The separate oxide ore plant uses solvent extraction-electrowinning technology to produce cathode copper metal directly from leached ore. Oxide ore is crushed and sized then heap leached, the dissolved copper being recovered directly by electrolysis.
Concentrate transport and handling
Copper concentrates from the Escondida mill are pumped through a 170km-long, nine-inch-diameter pipeline to the coastal port of Coloso where concentrates are dewatered and dried for export.
Concentrate dewatering employs three Larox style PF and four ceramic hyperbaric filters, which reduce the moisture content to an average of 9% after arrival at the pipeline discharge. Effluent is treated before discharge deep into the Pacific Ocean.
A Trommel Maintenance Robot was employed in 2018 for changing screens in the trommels.
Contractors involved
Caterpillar, a construction equipment manufacturer, and Finning International, an industrial equipment supplier, will supply the new haul trucks for the mine, under an agreement signed in August 2022.
In-pit truck dispatching and monitoring are handled by a system from mining equipment supplier Wenco International Mining Systems while project materials, maintenance and cost control is achieved using software and services company Mincom's mine information management system.
The pipeline for transporting copper concentrates was constructed by PSI-JRI Ingenieria, a pipeline engineering and construction company.