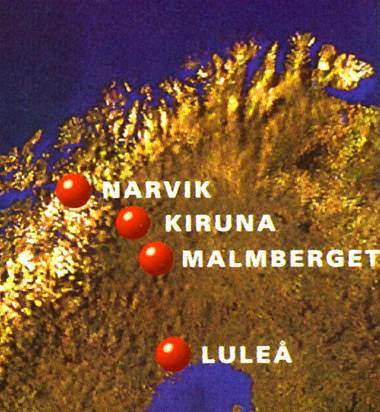 Location map of Malmberget iron ore mine.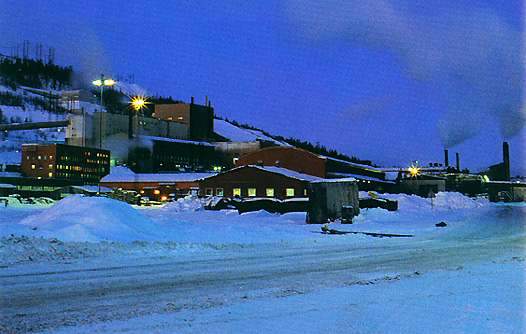 Malmberget at night.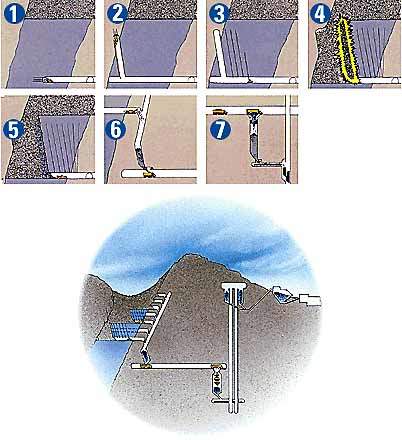 Mining process diagram.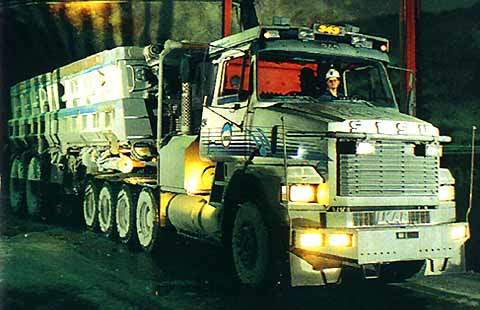 To move the ore, the Malmberget mine uses Finnish built Sisu Mammut trucks.
Bison electric wheel drive loaders, the buckets of which are also made of Hardox 400.
LKAB's Malmberget (ore mountain) iron ore mine, located at Gällivare, 75km from Kiruna, contains 20 orebodies spread over an underground area of about 5 by 2.5km, of which 10 orebodies are currently being mined. Mining began in 1892 and since then over 350Mt of ore have been won. LKAB employs around 1,000 people at Malmberget, of whom 900 work in mining, processing and administration.
In 2009, Malmberget produced around 4.3Mt of pellets out of LKAB's total production of 17.7Mt of iron-ore products.
Geology and reserves
Malmberget's ores are hosted in Precambrian volcanic rocks that have largely been metamorphosed to gneisses.
Containing apatite-bearing iron ore, the entire deposit complex has been strongly folded and now consists of a number of ore sheets that may have originally been connected.
Most orebodies lie within the 6.5km-long main ore zone.
Magnetite is the principal iron ore mineral, although some areas contain significant amounts of haematite. Apatite contents vary considerably from orebody to orebody, with the average phosphorus content lower than 0.8%. As of the end of 2009, Malmerbeget's proven and probable iron reserves totalled 350Mt at 43.8% (proven) and 37.8% (probable). Measured, indicated and inferred resources were 73Mt, with the orebodies remaining open at depth.
Mining
Due to presence of many orebodies, mining at Malmberget is conducted at different levels. The main haulage levels are at 600m, 815m and 1,000m.
"Output from the plant will be used to supply domestic markets, releasing pelletising capacity at Kiruna for exports."
Large-scale sub-level caving, developed in Malmberget, is the predominant mining method. As at Kiruna, electric-powered, remote-controlled drilling and loading equipment is used, allowing very high labour productivity. Wassara water-hydraulic in-hole hammers and Atlas Copco Simba 469W production jumbos are used, the ore being handled by 25t-capacity Bison electric-drive wheel loaders.
Broken ore is trammed to orepasses that run from the production sublevels to the haulage level, located since 1989 at 815m. Here, the ore is transported by 120t-capacity Sisu Mammut (mammoth) trucks to the underground crusher stations. Vehicle haulage is used in preference to a rail system to give better control over the blending of ore from each of the seven operating areas. After primary crushing underground, the ore is skip hoisted to surface for processing.
Because of the abrasive nature of the ore, the Mammut truck bodies are constructed from SSAB Oxelosund's special wear-resistant steel, Hardox 400. The Bison loader buckets are also made of Hardox 400, with Hardox 500 cutting edges.
Processing
All of the ore mined at Malmberget is crushed and screened and is then upgraded using magnetic separation technology. Concentrator output is then processed to give sinter fines, olivine pellets or concentrate for iron powder production.
In 2004, LKAB announced a $350m investment in a third pelletising plant for Malmberget. Designed and built by Outokumpu Technology, the new MK3 plant includes a BUV sinter unit, Metso Minerals' balling drums and filters, ABB power and control equipment, and Midroc electrical installations.
"Mining began in 1892 and since then over 350Mt of ore have been won."
The attached concentrator includes Outukumpu mills, Metso separators and Roxon belt conveyors. Commissioned in 2006, MK3 has increased Malmberget's pellet capacity by 2.5Mt/y, with the potential to increase this by a further 1.5Mt/y in the future, depending on market conditions.
Output from the plant is used to supply domestic markets, releasing pelletising capacity at Kiruna for exports.
The SSAB steel plant in Lulea takes one-third of the mine's production, with other main customers being SSAB Oxelosund and various Finnish steel mills.
Future projects
The completion of the KK4 pelletising plant at Kiruna in June 2008 resulted in Malmberget becoming LKAB's sole producer of iron-ore fines.
The main haulage level, M1000, lies at a depth of 1,000m. The first mine hoist was delivered by ABB in November 2007. It is scheduled for commissioning in 2011.
In July 2010, LKAB awarded ABB a contract for the second mine hoist. The hoist will be installed at the new haulage level M1250 that is under construction as of April 2011.
The first and second mine hoists will be used to transport the ore from the M1250 level. The second mine hoist is expected to begin operations in 2013.