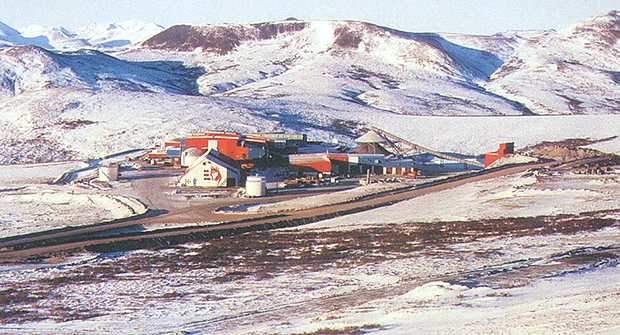 Red Dog occupies a very small 'environmental footprint' in the Alaskan wilderness. Red Dog's capacity has recently been uprated from treating 2.5Mt/y of run-of-mine ore to 3.2Mt/y.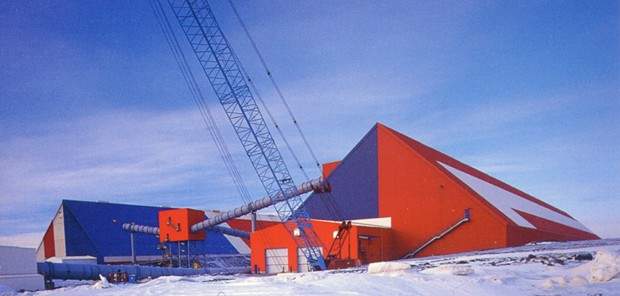 Construction of the new concentrate storage buildings at Red Dog's port.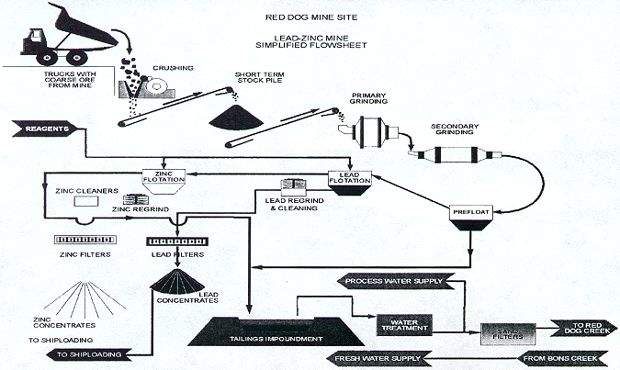 Red Dog mill flowsheet.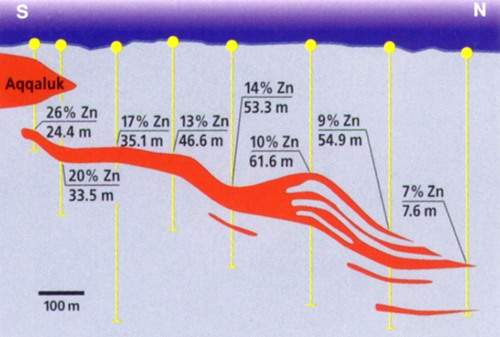 Cross-section through the Aqqaluk and Paalaaq deposits, where exploration is continuing to increase Red Dog's reserves.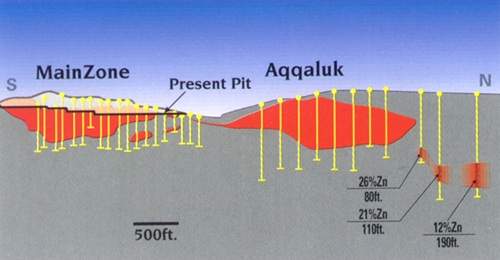 Cross-section showing the location of the present pit.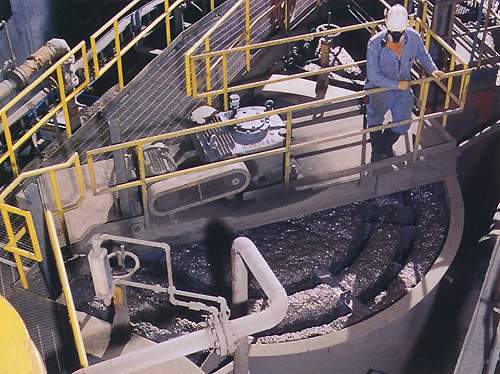 The zinc flotation circuit at the Red Dog mill.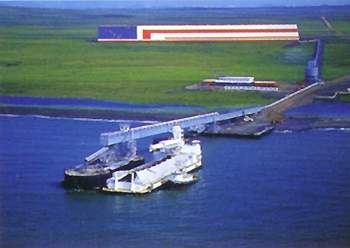 Loading concentrates during the brief shipping season.
Red Dog lead/zinc/silver mine is in the De Long Mountains, western Brooks Range, Alaska, 145km north of Kotzebue. The largest single zinc producer in the world, the property is owned by the Northwest Alaska Native Association NANA Regional Corporation and is leased to Teck Cominco Alaska Inc., which owns and operates the facilities. Red Dog mined 3.1Mt of ore in 2005, grading 21.7% zinc and 5.6% lead, with an output of 568,000t of zinc and 102,300t of lead that contributed C$325m to Teck Cominco's operating profits. The mine also produced 1.97Moz of silver in its lead concentrates.
GEOLOGY AND RESERVES
Red Dog consists of four separate deposits – Main, Aqqaluk, Paalaaq and Qanaiyaaq – that are hosted by black, siliceous shale and chert of the Mississippian-Pennsylvanian Kuna Formation, and recent exploration has identified further deposits at Su-Lik and Arjarraaq, a few kilometres away. The stratabound accumulations consist of silica rock, barite and a main sulphide zone, all of which contain sulphides. Major sulphides are sphalerite, pyrite, marcasite and galena.
Total proven and probable ore reserves as of end-2005 were 72.2Mt grading 17.7% zinc and 4.7% lead. The operation also had 37.9Mt of measured and indicated mineral resources at that time. Teck Cominco is continuing with exploration drilling in the Red Dog district, with specific targets including the Anarraaq, Aktigiruk, Paalaaq and Su Lik deposits.
MINING METHOD
Red Dog is an open-pit mine using conventional truck-and-shovel methods with special provisions for operating in the Arctic climate. High grades, low stripping ratio (0.8:1) and short haul distances result in the low mining rate of 10,000t/d. Bench heights are 7.6m and pit slopes vary depending on wall material.
Blasthole drilling involves Ingersoll-Rand and Drilltech rotary and in-hole drills with diameters of 90–165mm. ANFO is used in the drier areas of the pit and packaged slurry in the wet areas. A small fleet of mainly Caterpillar equipment consists of three 9.9m³ loaders, five 77t haul trucks, four dozers, two utility loaders, two graders and a water/sand truck.
PROCESSING
Red Dog incorporates several new techniques: modular construction, tower mills, column cells and pressure filters. A primary gyratory crusher and backup jaw crusher are sited at the exit from the pit. The ore is crushed to –150mm in the primary crusher. The mill grinding sequence consists of Fuller SAG and ball mills, which reduce the ore to 80% –65µm for primary flotation. Tower mills regrind to Zn 80% –22µm and Pb 80% –19µm. Treated water is used in the grinding circuit to minimize metal ions that inhibit flotation performance.
Flotation is carried out in Maxwell cells, retro-fitted with Outokumpu mechanisms, and in CESL column cells supplied by Canadian Process Technologies. On-stream analyzers, providing real-time assay information, control the flotation circuit. The result is a zinc concentrate at 55.2% Zn, 3% Pb and 137g/t Ag and a lead concentrate at 56.1% Pb, 11.7% Zn and 435g/t Ag. The concentrates are dewatered using pressure filters.
A $90 million, 18-month mill optimisation programme was completed in late 2001, involving the installation of a new zinc concentrate thickener and new 50m³ Outokumpu flotation cells. This increased the plant's capacity to 1.1Mt/y of zinc concentrates.
CONCENTRATE TRANSPORT
Concentrates are transported 83km by road to port facilities on the Chukchi Sea by Arrow Transportation using specially designed trucks. These haul 85t of concentrate in two side-dump trailers at an average of 50 loads/day year-round. At the port, two storage buildings are capable of storing 850,000t of concentrate from October to June. During the 100-day shipping season, Foss Maritime uses two barges to lighter the concentrates to vessels 5km offshore, owing to shallow inshore waters. Barge-based Caterpillar 988 loaders unload the concentrates. About one-third of the concentrates are destined for Cominco's trail smelter in British Columbia; the rest is divided between Far East and European customers.
ENVIRONMENT
Cominco gives a high priority to environmental protection and protecting the Arctic wildlife and lifestyle of the Inupiat people as well as improving the naturally toxic watercourses. Waste is minimised through the replacement of toxic with non-toxic materials, recycling and bio-remediation. In 2005, Teck Cominco began exploring for natural gas resources in the Red Dog district, with the aim of using gas as a replacement for increasingly expensive diesel fuel for power generation at the mine.