Image courtesy of LKAB Minerals AB.
Kiruna produced 14.7Mt of iron ore products in 2019. Image courtesy of LKAB Koncernkontor.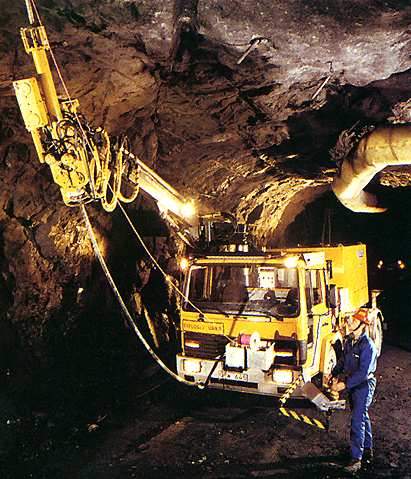 Kimit pump charging explosive at Kiruna.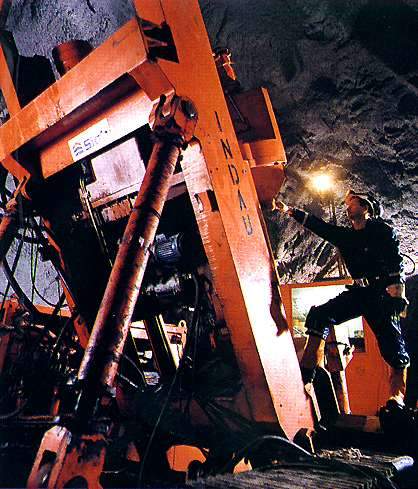 SIAB using Indau 500 raise borers for the vent shaft drilling programme.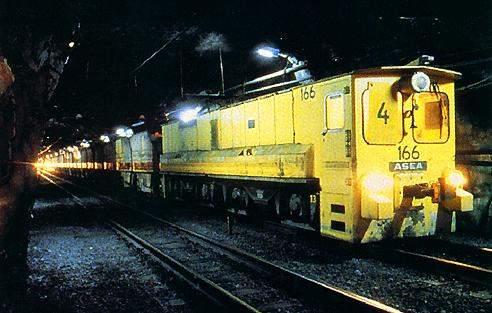 Automatic locomotives are being upgraded to handle 500Mt per train on the new main level.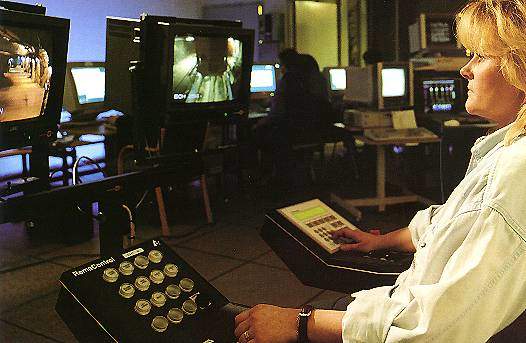 Remote control of trains on the 1,045m level from the control centre on the 775m level.
With an ore body 4km-long, 80m-thick and reaching a depth of 2km, LKAB's Kiruna is the world's largest, most modern underground iron ore mine located in northern Sweden.
Since mining began at the iron ore operation more than 100 years ago, Luossavaara-Kiirunavaara AB (LKAB) produced over 950Mt of ore, yet only one-third of the original ore body has been extracted.
Since mid-1999, Kiruna's haulage level at a depth of 775m has been replaced by the next level down at 1,045m and expansion is being carried out to increase the depth further, which will support production until 2030. The deepening requires relocation of the town and rail infrastructure.
On 28 October 2008, LKAB approved the decision to construct the new 1,365m haulage main level at the mine.
The main level is being developed with an investment of around $1.7bn. The operation currently employs 1,800 people, of whom 400 work in the mine.
In 2019, Kiruna produced 14.7Mt of iron ore products. The production in 2018 and 2017 was 15Mt and 14.8Mt, respectively. The mine produced 50,000t of ore feed material a day in June 2020. Mining at the site was briefly halted in 2019 after an earthquake of magnitude 4.1, the country's biggest-ever, occurred in May that year.
Geology and reserves of the Kiruna Mine
The Kiruna orebody was formed at around 1,600Ma following intense volcanic activity with the precipitation of iron-rich solutions on to a syenite porphyry footwall.
The ore bed was then covered by further volcanic deposits (quartz porphyry) and sedimentary rocks before being tilted to its current dip of 50-60°. The ore contains a very pure magnetite-apatite mix, containing more than 60% iron and an average of 0.9% phosphorus. Black ore contains less apatite than grey ore.
The original reserve at Kiruna was some 1,800Mt.
As of December 2019, the mine was estimated to contain 208Mt of proved reserves and 408Mt of probable reserves. The reserves decreased from the 2018 estimate of 624Mt of proven reserves and 62Mt of probable reserves due to the application of the Pan European Reserves and Resources Reporting Committee (PERC) reporting standard.
Mining and processing at Kiruna
The mine is divided into eight production areas, each containing its own group of ore passes and ventilation systems. Mining the ventilation shafts for the current production level was carried out by SIAB using Indau 500 raise borers while Skanska Raise Drilling developed a total of 32 ore passes between the 775 and 1,045m levels using Tamrock and Robbins raise borers.
Alimak developed two special units based on its RCM-6 system to reinforce the ore passes with cable bolts and shotcrete as necessary.
Ore is mined using sublevel caving, with sublevels spaced at 28.5m vertically. With a burden of 3.0m-3.5m per ring, this yields around 8,500t for each blast. LKAB subsidiary Kimit AB supplies the explosives and prepares the holes for blasting.
The main haulage level at Kiruna lies at a depth of 1,045m with the mine's ore-handling systems capable of handling 26Mtpa of run-of-mine rock.
Seven 500t-capacity shuttle trains, controlled from the 775m level, collect ore from ten groups of ore passes and deliver it to one of four crushing stations. -100mm ore is then skip hoisted in two stages to the 775m level and then to surface.
Electric-powered, remote-controlled drilling and ore handling equipment supplied by Atlas Copco and Tamrock is widely used.
After blasting, load-haul-dump machines (some of which are fully automated) carry the run-of-mine ore to the nearest ore pass, from which it is loaded automatically on to one of the trains operating on the 1,045m level.
After primary crushing, sampling using a Morgårdshammer automatic sampler to obtain the apatite and magnetite contents, and hoisting to surface, the ore is processed in Kiruna's complex of a sorting plant, two concentrators and two pellet plants to give pellet and sinter fines products.
Some ore is moved by rail to LKAB's Svappavaara plant for pelletisation. Products are hauled by rail to the ports of Narvik (Norway) or Luleå for shipment.
The current main haulage level at the mine is 1,365m underground. Ore processing takes place in three concentrating plants and three pelletising plants.
The mine produces more than 75,000t of iron ore a day. The processed iron ore products are transported to Narvik port via the Malmbanan and Ofotbanen mine railway lines.
Completed and ongoing projects at the Kiruna mine
Although the 1,045m haulage level was originally expected to serve the mine until at least 2015, higher production rates meant that a new level and shaft-hoisting system would be needed in future.
LKAB studied the options for this and constructed a main haulage system at a depth of 1,365m. The new main level deepens the mine by 320m.
New mine locomotives and cars were bought for a 1,435mm-wide track that is wider than the previous mine levels.
Ore is transported via remote-controlled shuttle trains to the crushing plant. The ore is then skip-hoisted approximately 1.4km vertically in two stages to the processing plant. Mining is carried out in ten production areas in stages between the current 1,045m level and the new 1,365m level.
Each area is equipped with an access road, ventilation and media systems, and multiple ore passes and rock chutes.
An estimated 615Mt of crude ore will be mined over its lifetime, resulting in nearly 375Mt of finished products including pellets and special products.
The new level (KUJ1365) is the seventh since underground mining started. It is being developed in five stages. The first stage involved the construction of three groups of shafts. The first sections of the new main level were commissioned in May 2013. The remaining four stages will add more production areas, groups of shafts, trains, crushers and skip hoists for the new level.
Based on a production capacity of approximately 19Mtpa of finished products, the operating life of the Kiruna mine will be increased by more than 20 years to 2030.
The company also invested $925m in a third pelletising plant at Kiruna that was commissioned on 17 June 2008. The project also included a concentrator and ancillary equipment. The world's largest grate-kiln pelletising plant, KK4 has an initial capacity of 5Mt/y of pellets, with the potential to increase its capacity to 6Mt/y.
With the contribution of the pelletising plants, the production capacity of LKAB increased by nearly 10Mtpa. Due to market slow down, one of the pelletising plants in Kiruna was closed in December 2009.
LKAB's aim is to make Kiruna a 'one-product' operation, with the focus exclusively on pellet production. As a result, it also invested in new flotation equipment for the Svappavaara concentrator that was inaugurated in May 2008.
The flotation enables it to produce pellet feed from some higher-phosphorus Kiruna ores. The project provides around 1Mtpa of additional output through efficiency savings. The company has been working on driving a 1,400m-long exploration drift northwards from the 1,365m level towards Luossavaara and the Per Geijer ores to the east of Luossavaara since November 2018. Several drill holes are planned to be drilled in 2020. LKAB expects to make decisions regarding a potential expansion involving a completely new production system in the mid-2020s.
Contractors involved with the Kiruna mine deepening project
Midroc Electro was contracted to provide fully automatic process control and train transportation systems for the new mining level. As a subcontractor to Mirdroc Electric, Bombardier Transportation is providing its fully automated driverless INTERFLO 150 train control technology to support the operations of the new level.