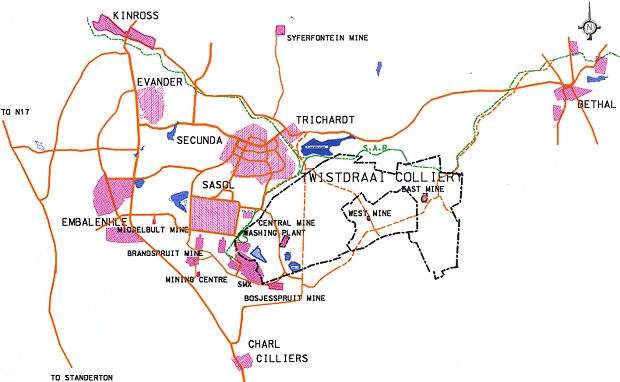 Twistdraai comprises the central, west and east Twistraai mine areas.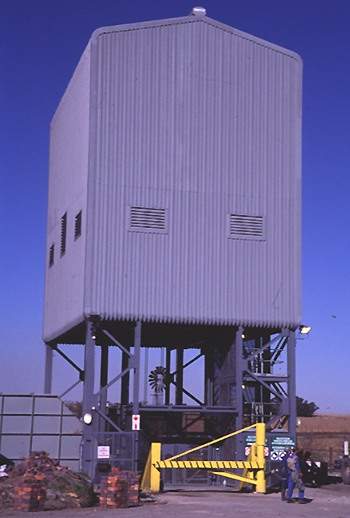 One of Twistdraai's three main shafts.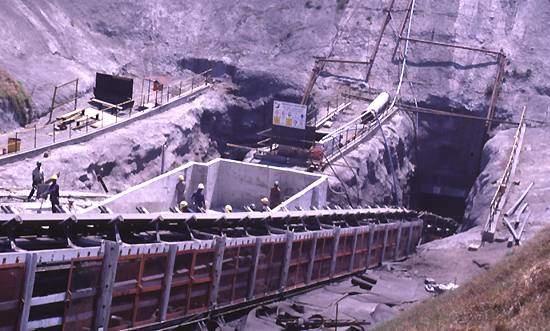 The conveyor drift at Tristdraai West.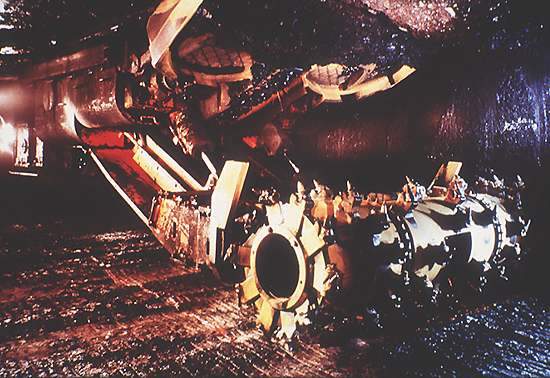 One of the mine's Joy HM-series continuous miners.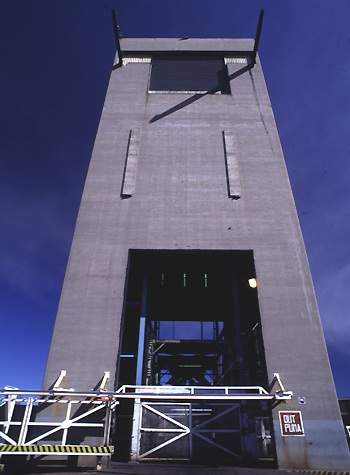 Men and materials use the shafts; coal is transported out of the mine by conveyor.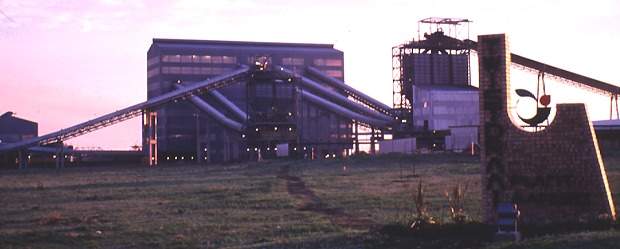 The washing system at Twistdraai.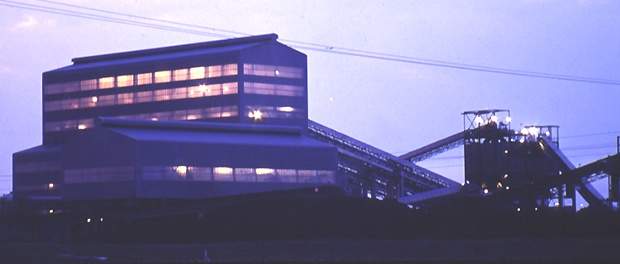 The secondary washing plant (foreground).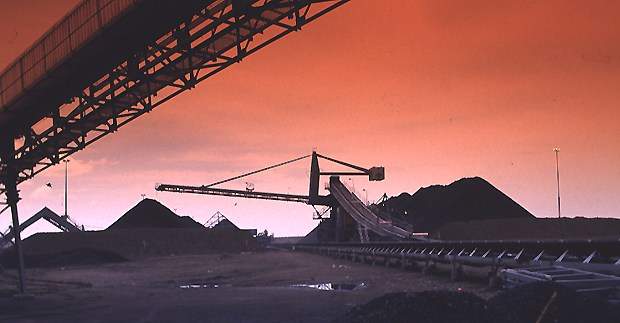 Twistdraai has stockpiling areas for both raw coal blending and for washed export product.
The Twistdraai mine and washing plant is part of Sasol Mining's Secunda Collieries complex. Lying in the Highveld coalfield, east of Johannesburg, the mine was opened in 1980 to produce coal for Sasol's Secunda synthesis plant, and since 1995 has been a three-shaft complex producing low-ash steam coal for the export market as well as a middlings product for Sasol feed. The three original shafts, Twistdraai, Twistdraai East and Twistdraai West, were augmented with a new ventilation shaft in late 2000.
In 2006, ownership of Twistdraai was transferred to a new Black Economic Empowerment (BEE) company, Igoda Resources, formed as a joint venture between Sasol Mining (65%) and Exxaro Resources (35%).
The new company has also inherited Sasol Mining's export allocation through the Richards Bay Coal Terminal, and plans to produce some 3.6Mt/y of export-quality coal, plus up to 4Mt/y of middlings for sale to Sasol. Sasol Mining, which produced 46.2Mt of coal in all its operations in the year to June 2006, will act as Igoda Coal's mining contractor and will handle the company's export marketing.
GEOLOGY AND COAL QUALITY
Twistdraai, located towards the east of the Secunda coal deposit, works permian (345–230Ma) seams of the Vryheid Formation. The Nos.3 and 4 lower seams converge into a single unit within the Twistdraai reserve area, forming the feedstock for the beneficiation process to produce a low-ash (10%) export product (dry basis). The raw ash content of the No.4 lower seam, the major contributor to production, varies between 18 and 36%.
The average thickness of the No.4 seam is 3.3m, ranging from 2.4m to 3.6m. Where the Nos.3 and 4 seams are mined together, their combined height averages 3.6m (range 2.7–4.5m). As of June 2005, the mine had a residual reserve of 79Mt of run-of-mine coal, equivalent to around 63Mt of saleable products at a typical yield of 80%. Igoda Coal plans to produce around 9Mt/y of raw coal over the next nine years, until the reserve is depleted.
PRODUCTION EQUIPMENT
Twistdraai is a room-and-pillar operation. The primary production fleet consists of two Voest Alpine AM85 roadheaders, two Voest Alpine AM 75s, 18 Joy 12HM31 continuous miners and one Joy 12HM21. A fleet of Joy shuttle cars and seven Long Airdox continuous haulages transports the coal from the primary production machines to Buffalo in-section sizers. Support utilises Rham Sascoal-type roofbolters.
A key thrust has been to increase the time each continuous miner spends actually cutting each shift, with a target of 2,000t per machine-shift. By 2002, the productivity had reached 1,540t per shift, with the mine reducing the number of continuous miners in operation from 13 to seven as a means of cutting costs.
COAL PREPARATION AND HANDLING
Raw coal is moved by belt conveyors from the mines to the coal export site for screening and crushing in a 2,200t/h plant. Crushed coal is then stacked on six 30,000t longitudinal stockpiles used as buffer capacity and for blending.
Coal is reclaimed from the stockpiles with a 1,500t/h bridge scraper reclaimer. This feeds the beneficiation plant, which consists of a three-500t/h-module primary plant for producing export product and a two-module secondary plant producing the Sasol factory feed product and discards. Coarse coal is washed for export using a bank of 18,800mm-diameter, gravity-feed, dense-medium cyclones, with finer material forming feed for the Sasol conversion plant and its on-site power station. The discard from the primary plant is cleaned in the secondary plant, again using cyclones, to produce synthetic fuels feedstock.
QUALITY CONTROL
Quality control is considered fundamental to Twistdraai's performance, the complete process having been designed around the quality control concept. In order to ensure export quality compliance, there are sample stations on the raw coal stockpile feed conveyor, the export product conveyor, the load-out conveyor and the Sasol feed conveyor.
The plant has an on-site laboratory, and on-line ash and moisture monitors for both export products and the Sasol feed are used for real-time information on the coal qualities leaving the plant. The use of pre-blending stockpiles for the raw coal and continuous sampling of the feed to each stockpile means that proactive action can be taken to ensure product quality and optimise the plant's operation.
PRODUCTION
Twistdraai produces coal for both Sasol's own use in synthetic fuels manufacture and for export thermal-coal markets, mainly in Europe. The mine's export output rose steadily, from around 2.7Mt in 1999/2000 to 7.8Mt in 2003, but was cut back to 3.6Mt in 2004.
"With limited reserves at Twistdraai, Igoda Coal is already evaluating the development of a new 10.6Mt/y underground mine as replacement capacity."
Conversely, the tonnage supplied to Sasol's synfuels plant has varied, depending on demand, ranging from 3.9Mt in 2002 to 9.1Mt in 2004. Sasol has also been investigating options for upgrading low-grade coal produced at Twistdraai Central to make a second-grade export product.
With limited reserves at Twistdraai, Igoda Coal is already evaluating the development of a new 10.6Mt/y underground mine as replacement capacity. The Rooipoort operation will be based on a 300Mt-plus reserve that lies near the Secunda Complex, with mining to take place in a single seam that varies from 2m to 5m in thickness. No commissioning date has yet been announced.
TRANSPORT AND PORT FACILITIES
The export product is stored on two 50,000t longitudinal stockpiles before loading at 4,500t/h into 100-wagon unit trains. These are marshalled at the Ermelo dispatch terminal for the 550km trip to the Richards Bay Coal Terminal. After tipping in one of four tandem tipplers, the coal is placed on the appropriate stockpile for that specific quality, with further sampling and analysis carried out by the independent South African Bureau of Standards (SABS) both during stacking and on reclaim for shiploading.