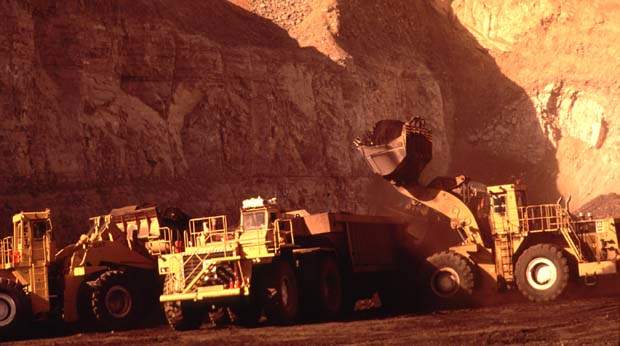 Coal loading using CAT 992 wheel loaders with bottom-dump haulers.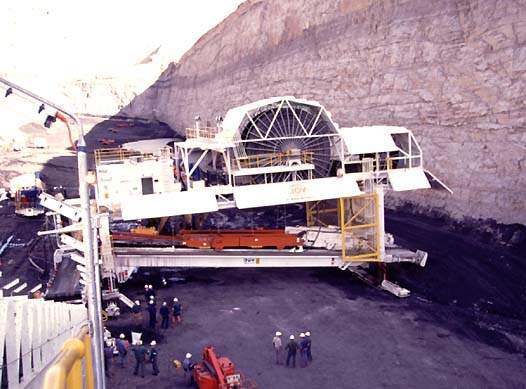 The ready-to-launch highwall mining system. The launch vehicle weighs 350t while the continuous miner weighs 70t and the addcars weigh 12.6t each. Credit: Anglo American.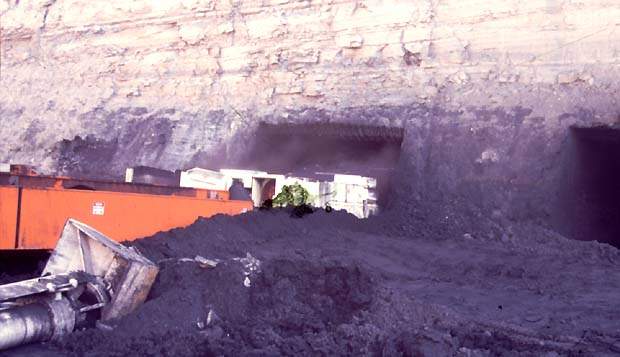 Holes are mined at regular intervals along the highwall, using a highly sophisticated HORTA guidance system. Credit: Anglo American.
The Dawson Complex is located 185km south-west of the Queensland port of Gladstone, Australia. It incorporates several earlier coal-mining operations in the area, including the Moura mine.
Coal has been mined at Moura since 1961, making this one of the oldest operations in central Queensland. Moura also hosts Australia's first commercial coal-bed methane recovery operation.
Originally operated by BHP Mitsui Coal, the mine changed hands in mid-1999 when Peabody bought a 55% holding from BHP.
Since 2001, ownership has changed again, firstly to Rio Tinto's subsidiary, Coal and Allied, after which Mitsui invoked its pre-emptive rights to buy the whole operation before selling a 51% share to Anglo American in mid-2002.
An $839m expansion project was completed in 2008 at the mine. The project included three separately identifiable mining areas sharing common infrastructure: Dawson North, Dawson Central and Dawson South.
Both surface and underground mining have taken place, as well as a high-wall mining system.
In 2019, the Dawson mine produced 3.9Mt of metallurgical coal. Approximately 1,300 employees and contractors are currently employed at the mine.
The coal mine is expected to have enough resources to support a remaining mine life of approximately 18 years.
The expansion plans for the operation include a proposed extension of the existing open-cut mining areas.
Geology and reserves at Moura mine
Moura lies in the Baralaba Coal Measures on the south-eastern flank of the Bowen Basin. The mine produces coal from Permian-age reserves contained in five major seams that average 3.5m–4.0m in thickness, and dip at 5°–12°.
As of December 2019, the Dawson Complex had total proved and probable ore reserves of 173.6Mt, total measured and indicated resources of 757.1Mt and inferred resources of 455.8Mt.
Mining methods
After blasting, primary waste stripping in the opencast is carried out by four draglines: a Marion 7901 equipped with a 30m³ bucket, a 47m³ Bucyrus-Erie (B-E), and two Marion 8200s equipped with 57m³ and 72m³ buckets.
Primary coal loading equipment is a fleet of six Cat 992C wheel loaders, equipped with 20t-capacity buckets that work with seven 135t Cat 776 bottom-dump hauliers and one 160t Cat 776C machine.
Highwall Mining
Moura's highwall mining system was commissioned in mid-1997, BHP has estimated that by 2012 there would be 127Mt of highwall reserves at the mine. Since over 80% are held in seams that dip steeper than 6°, conventional highwall mining equipment cannot operate satisfactorily.
The initial Mining Technologies Addcar highwall mining system has been replaced by a remotely controlled Joy 12CM12B continuous miner. A system using the Archveyor concept developed by Arch Coal was subsequently deployed. There are now two units in operation at Moura.
Coal preparation and transport
Raw coal from the opencast and from the highwall mining operation is transported 16km by an overland belt conveyor to the preparation plant area. Here, crushing in three, 2,000tph rotary breakers is followed by transfer of the crushed coal to the prep plant itself, where a multi-circuit (dense medium, spirals and flotation) washing system is used to give coarse, medium and fine coal products.
Washed coal is railed to Gladstone, and is shipped out through both the Barney Point (owned by BHP Mitsui Coal) and R G Tanna coal terminals.
Coal production and resources at Dawson Complex
Dawson is a brownfields expansion to increase production to 12.7Mtpa of saleable coal for the seaborne market to meet the increasing demand for high-quality metallurgical and thermal coals. Coal seams will be mined over a strike length extending from 10km north of the existing mine rail load out and 60km towards the south.
Dawson North has an identified coal resource of 34Mt, with the potential for an additional 20Mt and will produce 2.1Mtpa of saleable high-quality metallurgical coal. Dawson Central, which encompasses the existing operation, contains identified resources of 158Mt of coal, with potential for an additional 95Mt and will produce 5.0Mtpa of saleable metallurgical coal and 2.7Mtpa of saleable thermal coal.
Dawson South contains an identified resource of 89Mt of coal with potential for an additional 10Mt and will produce 2.9Mtpa of saleable high-energy thermal coal.
Coal quality
Coking coal quality parameters for Moura KCOAL:
Total moisture: 10.5%
Volatile matter: 32.0%
Ash: 8.3%
Sulphur: 0.42%
Crucible swelling number: 6
Quality parameters for Moura thermal coal:
Total moisture: 10.5%
Volatile matter: 30.5%
Ash: 10.0%
Sulphur: 0.50%
Heating value: 30.35MJ/kg (13,050BTU/lb)
Contractors
Leighton Contractors was contracted to carry out surface mining at the Dawson North area. Leighton was awarded a two-year contract worth $159m in November 2010. A $120m extension contract was also awarded in December 2011.