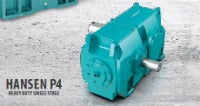 The Hansen P4 Heavy-Duty Single Stage Gear Unit is available in four different sizes, in various parallel horizontal configurations.
The unit has a power rating of up to 12MW, and reduction ratios of between 2.5 and 6.5. A dedicated pressure lubrication system is included in the unit, and the product features extension to a single stage offering.
Hansen Transmissions commits to be a pioneering innovator. The production of high performance gear units...