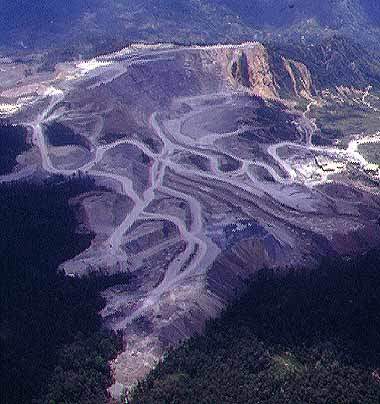 The open-pit mine at Pergora. Porgera is located in Enga Province about 600km north west of Port Moresby.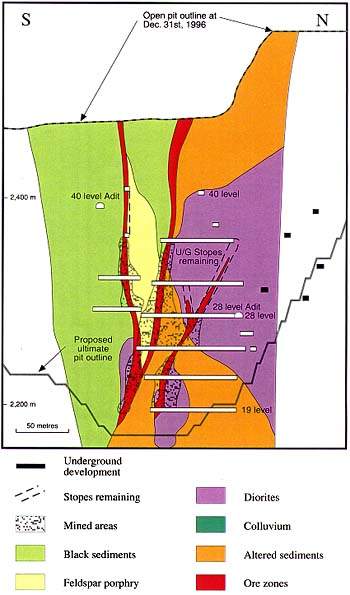 Cross-section of underground deposits.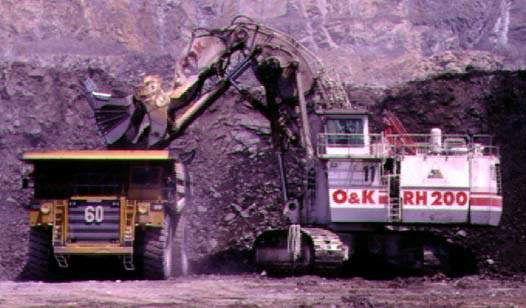 The open-pit truck and shovel fleet was expanded with larger equipment in October 1995 to increase production rates.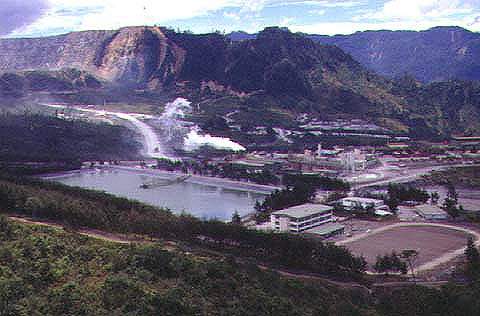 The plant at Pergora. Mineralisation occurs within the Porgera intrusive complex.
The Porgera gold mine is located in Enga Province, about 600km north west of Port Moresby. The mine is operated by a joint venture between Placer Dome (75%), Orogen Minerals Ltd (20%) and Mineral Resources Porgera Pty. Ltd (5%), the latter two representing the state of PNG and local landowners.
In early 2006, Barrick Gold Corp acquired Placer Dome in a US$10.4bn takeover, thereby acquiring its interest in Porgera, in which Placer had increased its own holding from 50% during 2002 following its take-over of Aurion Gold Ltd. Porgera was initially an underground operation, with open-pit mining becoming increasingly important from 1993 onwards. Underground production ceased in 1997, but was resumed in 2002. In 2005, 11% of the mine's output came from underground, with the remainder sourced from open pits and low-grade ore stockpiles.
Using an additional secondary crusher and treating higher ore grades, Porgera upped gold output by 20% in 2004, producing 1.02Moz at a cash cost of US$192/oz. However, its output fell again to 835,000oz in 2005, with open-pittable resources nearing depletion. For the remaining life of the mine, production will be obtained from residual underground resources and from stockpiled low-grade ore.
GEOLOGY AND RESERVES
Mineralisation occurs along the margins of the Porgera intrusive bodies. The Porgera Zone VII orebody is an epithermal style orebody hosted within thermally metamorphosed sediments of the cretaceous. The four precious metal associations are: auriferous pyrite, sphalerite and galena; coarse euhedral auriferous pyrite; fine anhedral auriferous arsenical pyrite; gold and electrum. The majority of gold occurs as submicroscopic gold associated with pyrite.
As of December 2004, proven and probable reserves totalled 58.37Mt grading 3.9g/t and containing 7.31Moz of gold, plus measured and indicated mineralisation containing a further 3.16Moz. Exploration by the joint venture continues to identify medium and low grade extensions to the north of the Main Zone.
MINING
"In 2005, 11% of the mine's output came from underground, with the remainder sourced from open pits and low-grade ore stockpiles."
The open pit has been mined in five stages, with final-stage overburden removal taking place during 2001. Ore is currently mined in the Stage 5 pit, as well as from underground.
The open-pit truck and shovel fleet was expanded in 1995, with an O&K RH200 shovel and five Caterpillar 789 trucks. It was again expanded in 1997 to increase production rates from 150,000t/day to 210,000t/day. The mine now handles more than 210,000t/day of ore and waste, with a target supply to the mill of 17,700t/day of ore. Material-handling requirements in 2005 totalled 6Mt of ore and waste.
ORE PROCESSING
Run-of-mine ore is crushed and ground, free gold is recovered in a gravity circuit and flotation is used to recover a sulphide concentrate. This is then oxidised using autoclaves, producing feed for conventional carbon-in-pulp cyanide leaching to recover the contained gold.
Low-grade stockpile and open pit ore are crushed using a gyratory crusher. Coarse ore is conveyed from the stockpile to two parallel SAG mills. The discharge is pumped to three clusters of cyclones in closed circuit with three ball mills. Coarse SAG mill discharge is crushed in two cone crushers and returned to the SAG feed. The slurry is then pumped to the flotation circuit. A Knelson concentrator gravity separation circuit, installed in 1997, has improved recovery of free gold prior to flotation.
Flotation concentrates, thickened to 50% solids, form the feed for the oxidation process. Autoclave feed is pumped through three closed stainless steel carbonate reaction tanks in series, the concentrate being mixed with recycled oxidised slurry. The autoclaves operate at 1,725kPa pressure and 197°C, producing feed for the leaching and CIP circuits. Combined leach and CIP recovery is 90–95% of the contained gold. In 1999, a floatation expansion was installed and additional oxygen capacity was added to increase autoclave throughput.
GOLD RECOVERY
Thickener overflow is percolated upwards through one of two series of five carbon columns, each containing a static bed of 1.5t of activated carbon. Recovery of gold from solution exceeds 99%. The elusion (ion exchange) circuit consists of two pressurised vessels each holding 10t of carbon. Pregnant carbon is eluted using 15 bed volumes of eluant at 140°C and 400kPa pressure. 10t/d of carbon are stripped.
During electrowinning, gold and silver metal is precipitated on to steel wool. It is then pressure filtered in a plate and frame press. The resultant 'cake' is smelted in a 1,000kg induction furnace to produce bars of doré bullion averaging 88% gold.