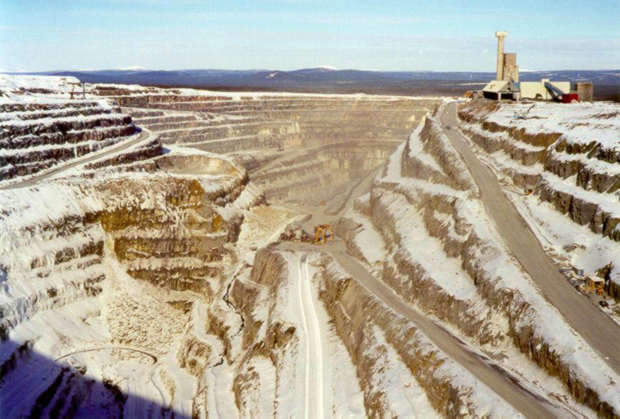 The Aitik open pit is scheduled to reach an ultimate depth of 400m in the northern section by 2012.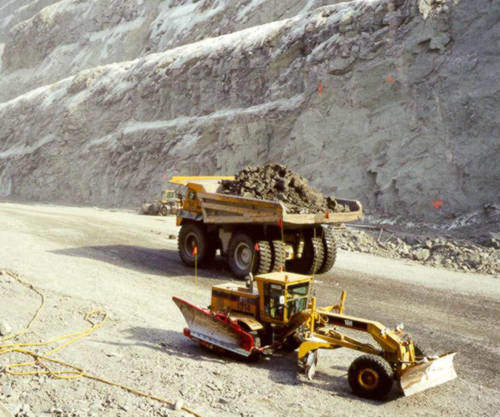 Succesful operation of trucks in Aitik's Arctic climate requires thorough grading of the haul roads.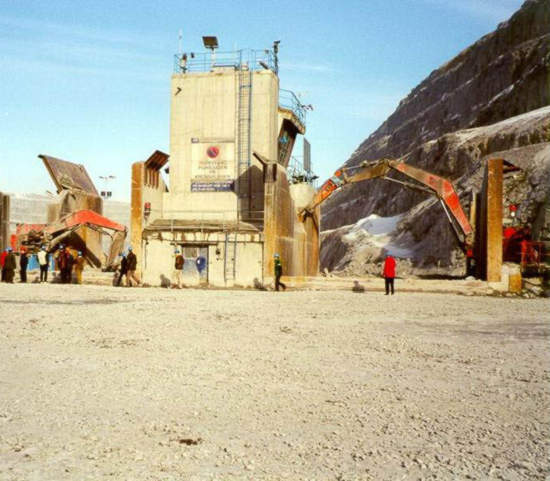 The two Rammer pedestal-mounted hydraulic breakers reduce large chunks of the difficult-to-blast Aitik ore.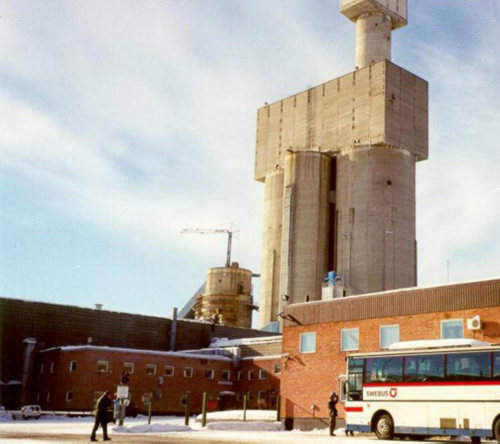 Aitik is a major employer in the Gallivare municipality.
Aitik copper mine is one of four mines owned by Boliden. Located near Gallivare, northern Sweden, the low-grade Aitik copper deposit was discovered in the early 1930s.
Bulk-mining technology made exploitation feasible in the 1960s and mining at Europe's first large, low-grade open pit copper mine started in 1968 at a production rate of 2t a year of ore. Since then, a series of pushbacks have increased output to approximately 19t a year. The concentrator, which expanded in parallel, ships over 200,000t a year to the Ronnskar smelter.
Aitik copper mine development and output
Aitik has been wholly owned by Boliden since the consolidation of Outokumpu's copper and zinc mining and smelting activities into New Boliden in January 2004.
Boliden approved the investment of Skr5.2bn ($790m) for the expansion of the operations (Aitik 36) in 2006. The project was completed in the second half of 2010 at a cost of Skr6.1bn ($865m as per 29 September 2010 exchange rates).
"Once the expansion is complete, Aitik will double its annual production to 36t."
On average, ore is mined at a rate of 1t per man hour. Production at Aitik was 43t man hours. With the completion of the expansion, it is expected to increase to 55t man hours, doubling its annual production to 36t.
The expansion is expected to reduce life of mine cash costs from $0.80 per pound to $0.43 per pound. The expansion will also extend the mine's life from 2016 to 2029, while increasing copper, gold and silver production and adding new production of molybdenum. By lowering costs, ore reserves have doubled.
Before the expandion the mine employed 430 people, of which 280 were in the mine. After the expansion the employee count will increase to 580.
Aitik copper mine expansion project
The Aitik expansion project involved the installation of new crushing and conveying systems, the construction of a new concentrator and the acquisition of new mining equipment, including a new P&H 4,100C mining shovel and a fleet of nine Cat 795 haulers.
A new rail link connecting the mining area to the main line was also constructed as a part of the expansion.
Aitik mine geology and reserves
The Aitik mine's orebody is hosted by a basin of volcanic rocks surrounded by granitic intrusions within a supracrustal metamorphosed shear zone of Precambrian age. Biotite schists in the volcanic sequence contain disseminated chalcopyritic mineralisation averaging less than 0.40% copper, as well as gold and silver values.
Mining at Aitik started on the basis of a 50t reserve, but by 1998 the mine had yielded 300t of ore. As of November 2009, ore reserves were 747t grading at 0.25% of copper, 0.14g per tonne of gold, 1.7g per tonne silver, and 29g per tonne molybdenum.
Proven and probable ore reserves amount to 518t and 229t, respectively. Measured and indicated resources were estimated at 1.37t.
Open pit mining at Aitik
Aitik is a single open pit divided into a southern section, where mining reached a final depth of 250m, and a northern area where mining is proceeding towards an ultimate 400m.
The strip ratio is just below 1:1 – 1.8t per month of waste and 1.6t per month of ore in mid-2004.
"Mining started on the basis of a 50t reserve, but by 1998 Aitik had yielded 300t."
During the 1989–91 expansion, Roxon installed an in-pit crushing station, which is linked to the concentrator by underground conveyors.
Extraction starts with drilling 311mm holes bored by rotary rigs in preparation for Nonel blasting because Aitik is prone to violent thunderstorms.
Aitik reintroduced large electric rope shovels, with new rotary and DTH drills, as well as equipment obtained from the closed Los Frailes mine in Spain.
Supplementary drilling and clean-up around the main shovels is contracted out.
Ore processing plant
Autogenous and ball mill grinding is followed by conventional flotation, the system design being typically 'Boliden'. It was enhanced by the installation of Microcel flotation columns.
The new AG mills supplied by Metso are the largest in the world, each with a grinding capacity of 2,200t per hour. They are fed with run of mill sized minus 400mm that are delivered from a stockpile with a capacity to store 200,000t. The ore is transported via a 7km-long conveyor system.
About 3.5km of the conveyor runs underground from the old in-pit crusher and a new semi-mobile in-pit crusher installed at a depth of 285m within the mine.
Another semi-mobile in-pit crusher was installed on the surface between the Aitik pit and the Salmijärvi satellite pit where waste stripping is processed.
The Aitik mine's entire operations are controlled by ABB's 800xA automation system. The centrally located control system automatically regulates belt speed depending on the ore supply.
The expansion has raised the mine's throughput to match its higher output.
Pressure filtered concentrate is transported in purpose-designed containers to Boliden's Ronnskar smelter at Skelleftehamn on the Baltic coast, 400km from the mine site.
Production at Aitik
A new concentrator built as part of the expansion will see capacity doubled to 36t. All environmental permits were granted and operations at Aitik 36 commenced in 2010 after a four-year construction period. Boliden is producing at 33t annual capacity, which will rise to 36t in 2014.
"The Aitik entire operations are controlled by ABB's 800xA automation system."
Enhancing the economics of Aitik 36, the new concentrator includes a molybdenum recovery circuit, providing Boliden with a new metal revenue source.
Additionally, much of the stockpiled waste rock will become a commercial product in the future to be used in the construction of roads and as aggregate ballast. Attention is also focused on producing products from the waste rock, which will be more suited to the construction industry.
Around 100,000t a day of waste rock has been removed since operations began in 2010.
In 2006, concentrator throughput was 18.5t and 21.9t of waste rock was removed. At feed grades of 0.4% for copper, 0.25g per tonne for gold and 2.72g per tonne of silver in 2006, the mine produced 240,000t of copper concentrate. This concentrate contains 66,100t of copper, 35,700kg of silver and 2,340kg of gold.
Aitik contractors
In 2007, ABB was awarded a $27m contract to supply two 22.5MW gearless drives for the two autogenous grinding mills installed during the expansion.
In addition, the company also supplied two sets of 5MW drives for the secondary mills, 650 motors, 230 motor drives and transformers for increased power consumption, a gas-insulated high voltage switch gear, more than 200 low-voltage switchgear units and a harmonic filter system.
To guarantee efficient mining operations, in September 2010 Boliden also awarded a maintenance and service contract to ABB power and automation solutions.