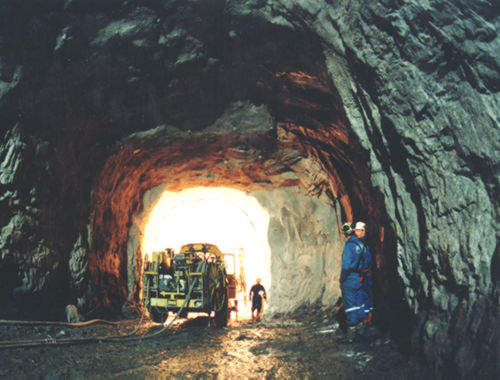 Underground development at Garpenberg North.
Development at Garpenberg North reaches the 1000m level.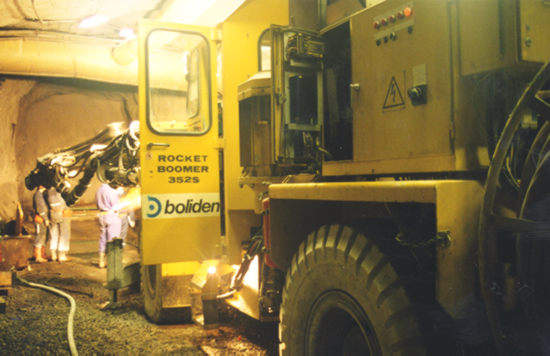 One of the Atlas Copco Rocket Boomer 352S jumbos.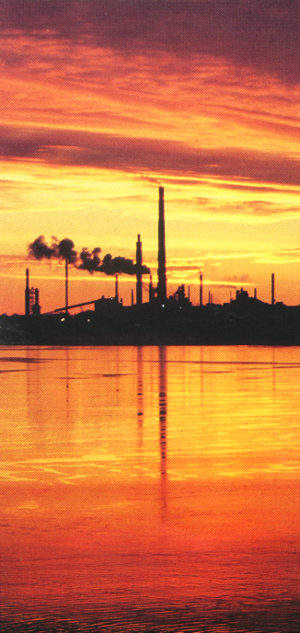 Boliden's Rönnskär smelter.
The Garpenberg silver and base metals operation is wholly owned by New Boliden, based in Stockholm, the entity created in January 2004 by consolidating the zinc and copper mining and smelting interests of Boliden AB and Outokumpu Oy. (See also the Aitik and Boliden mine profiles).
Located near Hedemora, in the historic Bergslagen mining district of central Sweden, the two mines and common concentrator at Garpenberg comprise the smallest of Boliden's mining areas. The company bought the Garpenberg mine and mill from AB Zinkgruvor in 1957, but exploration of a silver-rich area 3km to the north during the 1960s led to the development of a second mine, Garpenberg Norra (Garpenberg North).
Opened in 1972 with a hoisting shaft and a manshaft, this has been progressively deepened to 1,000m by the development of a 1:7 access ramp and the relocation of the primary crusher to the 800m level. In 2001–02, the 900m level was connected by driveage to the 800m level at Garpenberg, accessing more mineralisation and allowing more efficient use of the hoisting capacity, including the new Gruvsjö shaft completed at Garpenberg in 1997. Management of the two mines has now been fully integrated, with the whole operation employing about 280 people, with a further 70 working for contractors on site.
GEOLOGY AND RESERVES
The deposits of the Bergslagen district are believed to date from the middle precambrian but may have been re-mobilised later. The polymetallic mineralisation worked by the original Garpenberg mine is complex, with varying amounts and proportions of zinc, lead, copper and precious metals. The steeply dipping orebody at Garpenberg North is regarded as a zinc deposit with silver and lead. Here, the orebody widens at depth and extends over an 8,000m² area on the 630, 720 and 800m levels. The zinc grade at these depths is 4–4.5%, with 2% lead and 150g/t silver. Exploration of the Lappberget orebody between the two original mines and at Dammsjon has added significantly to available reserves, while a new orebody (named Kvarnberget) has still to be explored.
As of January 2006, proven reserves totalled 4.73Mt grading 6.0% zinc, 2.5% lead, 0.1% copper, 99g/t silver and 0.3g/t gold. Probable reserves added approximately 5.9Mt more.
Total Garpenberg area measured, indicated and inferred resources stood at 13.22Mt. Reserve tonnages are expected to increase further as exploration proceeds in orebody areas that have not yet been included in the published figures.
MINING
"In 2006, Garpenberg started rill mining, and prepared much of the Lappberget orebody for sublevel stoping."
Garpenberg has remained a shaft hoisting operation. The new Gruvsjö shaft has a 4.5t-capacity ABB single-drum production hoist, while the North mine added a ramp access below the shafts in 1986. Ramp development reached the 1,000m level in January 1999.
Mining is by cut-and-fill, taking 5m slices from stopes 50m to 300m long and up to 15m wide. The lowermost cut is filled with waste rock over a concrete floor where extra support is required; thereafter either plain or cemented tailings pumped from the surface are used and the water is drained off. The mines use a combination of Atlas Copco Rocket Boomer drifting jumbos and a variety of bolting and scaling equipment. Shotcreting, ore and waste haulage are contracted out.
In 2006, Garpenberg started rill mining, and prepared much of the Lappberget orebody for sublevel stoping using an Atlas Copco Simba M7C drill rig. The primary stopes will be backfilled with cemented paste made up in a new plant, on surface above the orebody.
ORE PROCESSING
In the early 1990s, the concentrator was upgraded by adding autogenous grinding, followed by staged flotation. It is able to treat ore rich in talc. The first float yields a lead-copper product, the second separates zinc concentrate (56% Zn) and the lead and copper are then separated into a 70% lead and a 22% copper concentrate. The plant's capacity is being increased by installing larger flotation cells and other equipment.
Recovery rates are approximately 90% for zinc, 77% lead, 62.5% copper, 71.5% gold and 76% silver. Copper and lead concentrates are trucked to New Boliden's recently expanded Ronnskär smelter, while the zinc mainly goes to the company's Odda refinery in Norway.
PRODUCTION
In 2005, the mine produced 1.1Mt of ore grading 5.75% zinc, 2.28% lead, 0.09% copper and 117g/t silver. 40% of the ore produced came from Lappberget. The mill output was 101,000t of 55.3% zinc concentrate, 29,000t of lead concentrate containing 1,800g/t silver, 2,800t of 15% copper concentrate with 40,000g/t silver, and 120t of precious-metal concentrates containing 65% lead, 40,000g/t silver and 400g/t gold.