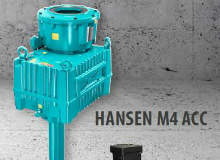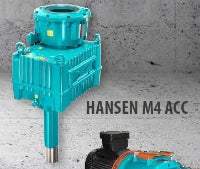 The M4 Acc Air Cooled Condenser Drive from Hansen features a monobloc housing, available in six separate sizes.
The torque power of the drive ranges from 20kNm to 70 kNm, andhas a wide range of reduction ratios.
The drive includes a helical gear design for maximum load capacity, and the unit complies with standard gear unit specifications form the Cooling Technology Institute.
An optional built-in backstop prevents the fan from 'windmilling', and low-speed shaft bearings allow for considerable thrust loads.