Dust Solutions Inc (DSI) engineers and manufactures dust suppression systems for a wide array of applications and industries.
We help clients resolve challenging fugitive dust and air pollution control challenges worldwide.
DSI draws on more than 30 years of experience to design systems configured to your existing infrastructure or as part of a new project or installation.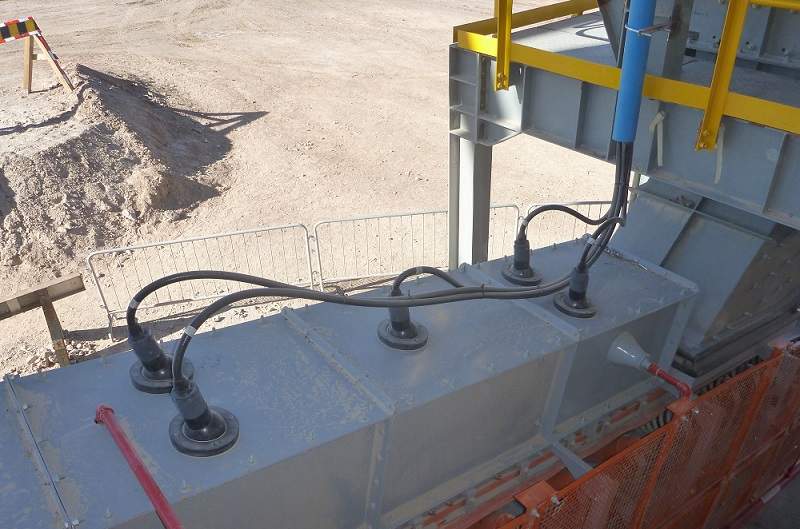 A conveyor transfer point at a copper mine.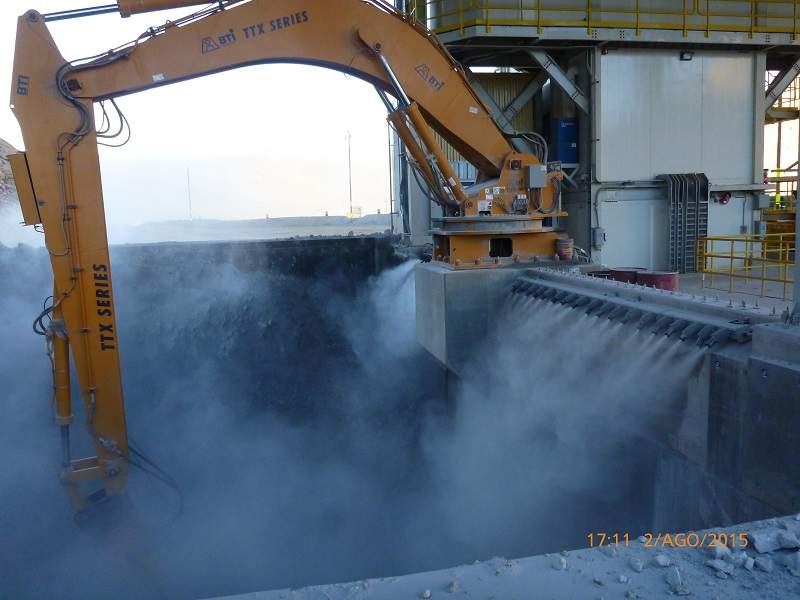 The image shows a fogging manifold on a primary crusher.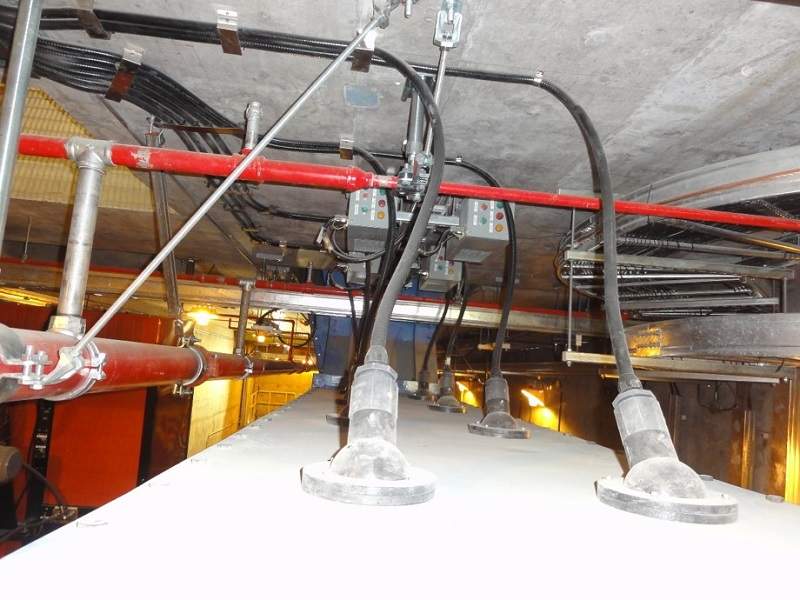 Nozzle adaptors are compatible with reclaim feeders.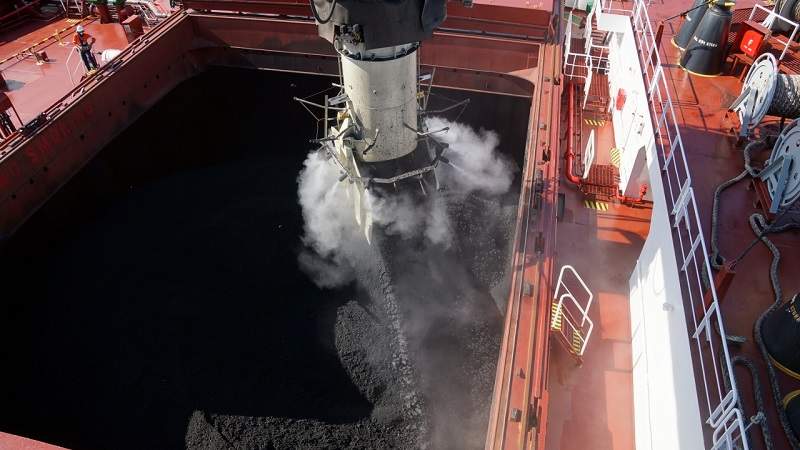 A dry fog dust suppression systems can be installed on coal terminal ship loaders.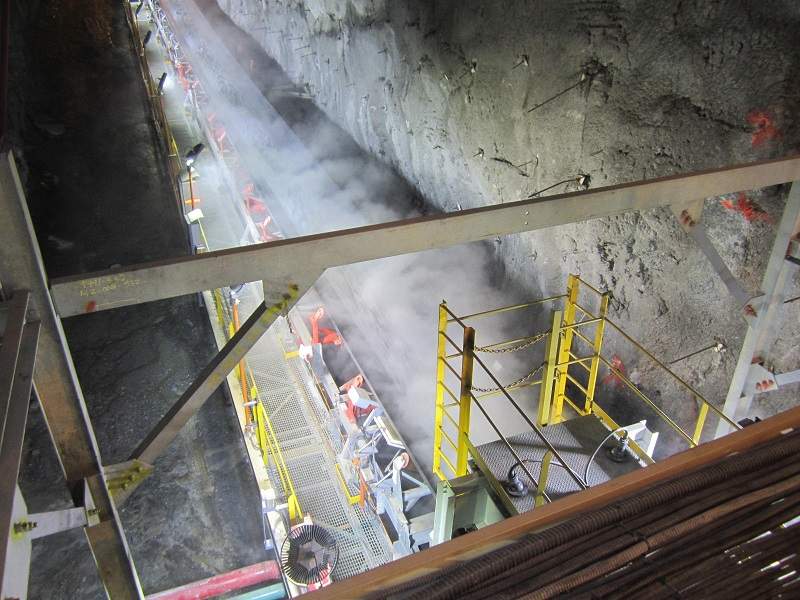 Our dry fog systems are suitable for underground copper mines.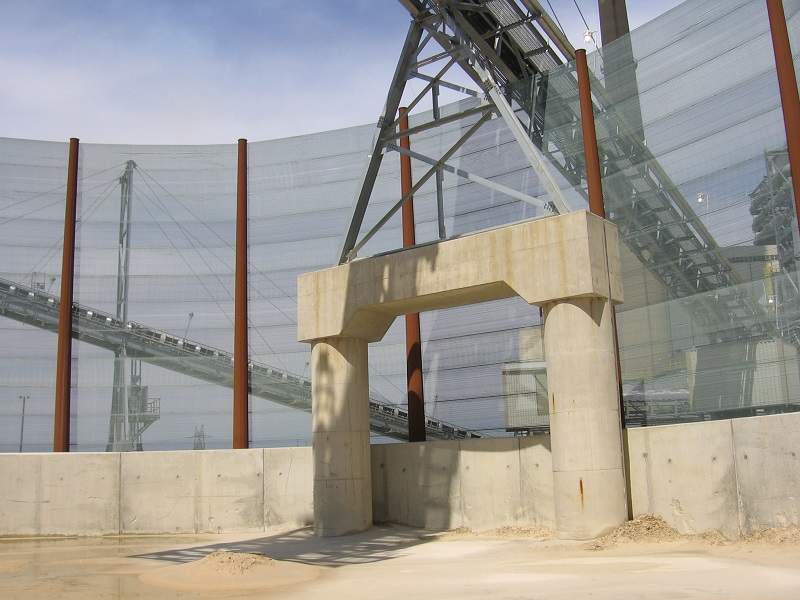 A DustTamer wind fence system installed around a stockpile.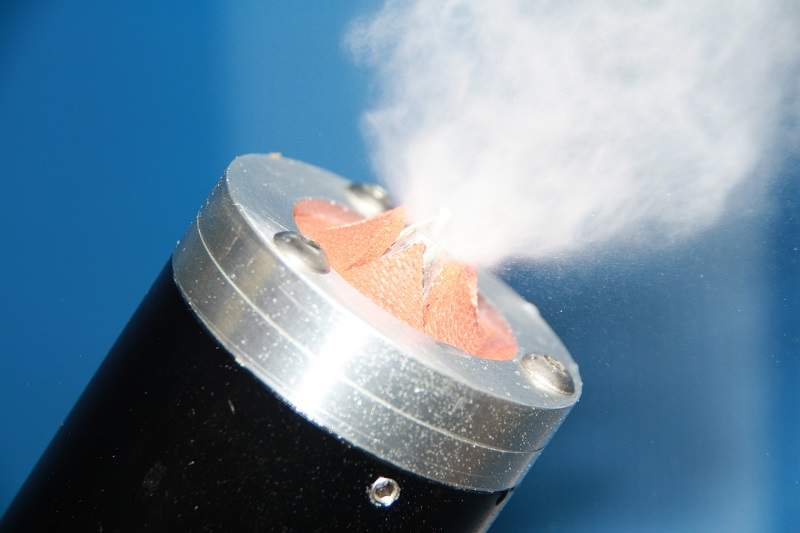 We supply Reno fogging nozzle adaptors.
Dry fog dust suppression systems for surface and underground mines
DSI dry fog systems have proven to significantly reduce fugitive dust from a variety of mining and material handling points such as truck dumps, rail dumps, reclaim tunnels, crushers and screens.
Our solutions are also suitable for stack outs, ship loaders, truck loading silos and conveyor transfer points.
Our technology uses a special type air-atomising nozzle that produces a very dry fog (with water droplets ten microns or smaller) to agglomerate and remove airborne dust particles from mining and processing operations.
These ultra-fine water droplets attach to similarly sized dust particles smaller than ten microns. The slightly wetted dust particles are subsequently heavy enough to be removed from the air by their additional weight and fall back into the process.
It is important to note that Dry Fog only wets the dust, not the material, unlike conventional water spray and chemical spray systems. This makes it an ideal solution to combat dust generated from moisture sensitive mined materials.
Dry fog is the driest form of dust suppression available. Moisture addition to the material is typically less than 0.05% by weight and is repeatedly undetectable.
DSI's dry fog systems are custom-designed to client specifications. We excel in surpassing client expectations in challenging applications and specialise in explosion-proof systems, portable systems and suppressing dust in adverse climates and environments.
High-pressure water spray systems
It is sometimes desirable to wet the process material by direct application of water.
NESCO high-pressure water spray systems are used at locations such as conveyor stack outs to storage piles, and in processes where adding moisture to process material is not an issue such as within the aggregate industry or quarries.
A number of systems come with modulating water regulators that are designed to maintain the proper ratio of material process flow to water.
DSI supplies all of the necessary components, including filters, pressure pumps, distribution modules and pressure regulation modules, as well as electrical control modules supply lines and nozzle manifolds.
Wind fence systems
DustTamer™ fabric is specially designed to exert a drag force on oncoming wind velocity and reduce wind speeds up to 75% within a sheltered area.
Users can regulate levels of particulate matter in the air by controlling wind speeds. This is achieved by DustTamer's unique porosity, which allows air to pass through and equalise the differential pressure inside the wind-sheltered area. When the wind velocity is less than the particulate uptake point yet over the stored material's threshold, the particulate is unable to be taken airborne.
This method differs from solid structures with the potential to worsen the problem. Even though a solid wall can help enclose the area, it creates a lower pressure zone at the dust source, which increases airborne particulate and wind speeds.
Used as a standalone system, DustTamer offers protection to material stockpiles, truck, rail or loader dump pockets, conveyor transfer points, stacker conveyors and loadout silos.
DustTamer wind fence systems are also often used in conjunction with DSI fogging systems to help the collection and settling of dust by controlling and containing substances at a fog application point.
DSI provides wind fence and column support design engineering services for turnkey solutions, depending on the client's requirements. We also supply DustTamer fabric, lock bars and standoff brackets, as well as all the necessary attachment hardware.
Wind fence modelling tools
DSI utilises computational fluid dynamics (CFD) modelling tools to conduct in-depth engineering analysis of complex air and dust flow patterns.
By simulating conditions and variables that you may encounter at your project site, we are able to design and plan for the most effective dust suppression and mitigation solution possible.
We analyse a variety of conditions when engineering your DustTamer fence system, including wind velocity, pressure, temperature, topography, and presence of existing structures.
Engineering optimisation of wind fence design includes factors such as structural height, placement, windscreen porosity and configuration.