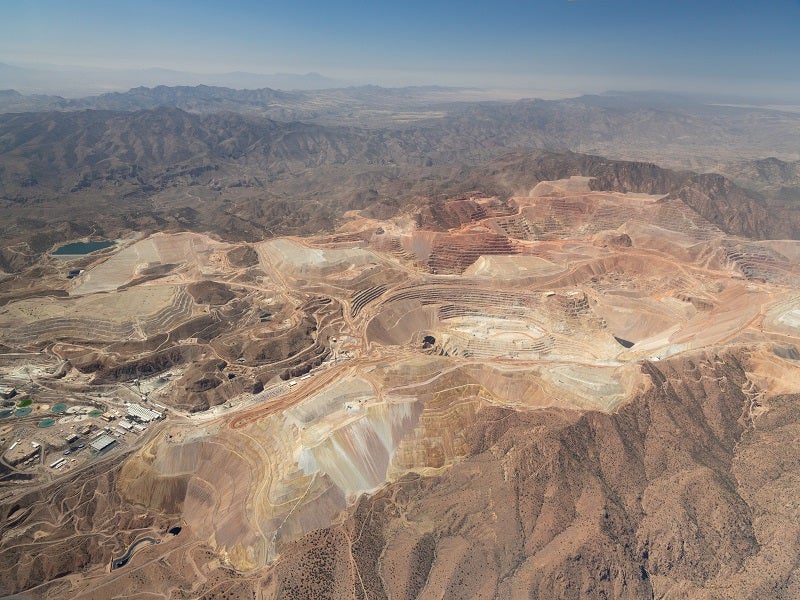 The Morenci mine, which is being operated by Freeport-McMoRan, is one of the biggest copper producers in North America. Credit: Kent Raney/Shutterstock.com.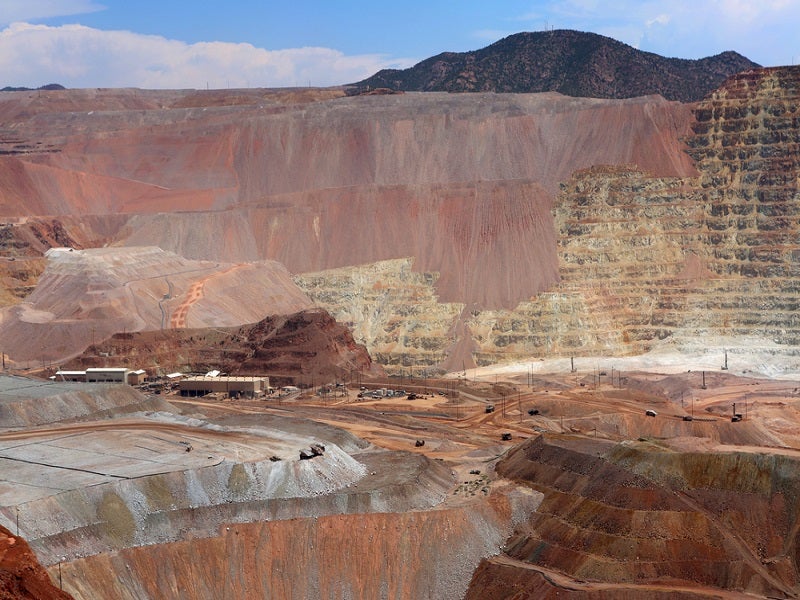 The Morenci mine is expected to have sufficient water resources, power, processing equipment, and permits to maintain operations throughout the mine life. Credit: GSPhotography/Shutterstock.com.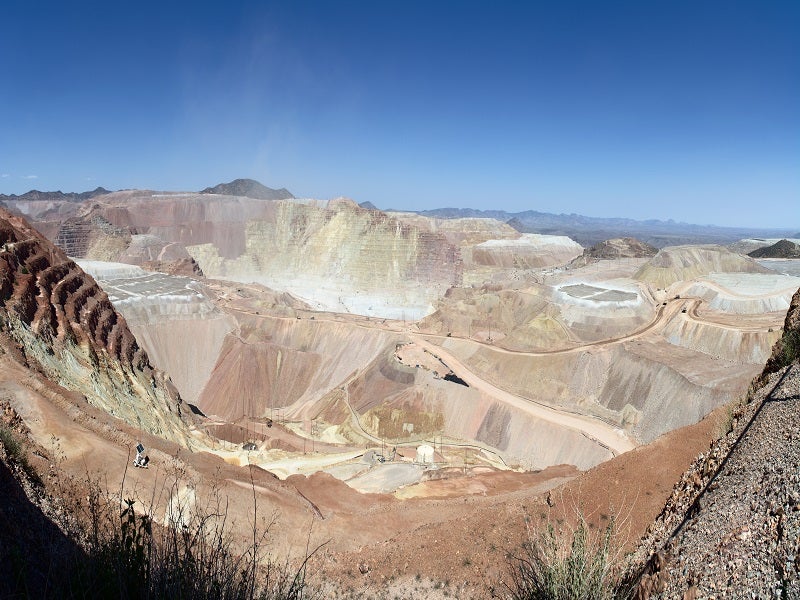 Ore from the mine is extracted using conventional open-pit methods. Credit: Gabriel Walter Farmer 1/Shutterstock.com
The Morenci copper mine is in Greenlee County, Arizona, in the southwestern part of the US. It is among the largest copper producers in North America.
US-based mining company Freeport-McMoRan (FCX) operates the Morenci project.
The company owns 72% of the project while the remaining 28% is held by Sumitomo Metal Mining's subsidiaries Sumitomo Metal Mining Arizona (15%) and Sumitomo Metal Mining Morenci (13%).
The mine area spanned more than 61,700 acres as of 31 December 2021. Operations at the open-pit mine are expected to continue until 2041. The mine employs 1,706 personnel.
History of Morenci copper mine
The Detroit Copper Company started mining at Morenci, 16km south of Silver City, Arizona, in 1872. Copper Queen Consolidated Mining bought the property in 1885, with the company name changed to Phelps Dodge in 1917.
Phelps mined underground until the 1930s, converting to an open-cut operation with rail haulage in 1937.
Phelps Dodge merged with Freeport McMoRan Copper & Gold, whose principal asset is the large-scale Grasberg copper-gold mine in Indonesia, in a $25.9bn takeover by Freeport, the smaller of the two companies, in March 2007.
Freeport-McMoRan sold a 13% stake in the Morenci mine to Sumitomo Metal Mining in May 2016.
Geology, mineralisation, and reserves of the Morenci mine
Geological findings demonstrate that Tertiary igneous intrusive rocks were deposited within Precambrian-era granite and on top of sedimentary rocks of Paleozoic and Mesozoic eras.
The porphyry copper deposit comprises copper oxide, secondary sulphide, and primary sulphide mineralisation.
Chrysocolla is the predominantly found oxide copper mineral while the most important secondary copper sulphide mineral is chalcocite. The dominant primary sulphide minerals found in the deposit are chalcopyrite and molybdenite.
The mineralisation extends 8km in a north-south direction and 6.43km in an east-west direction.
The proven and probable reserves of the mine were estimated at 11.13 billion tonnes, grading 0.24% copper, with 13 billion pounds of recoverable copper and 155 million pounds of molybdenum, as of 31 December 2021.
Mining at Morenci copper project
The Morenci mine employs a conventional open-pit, truck and shovel operation. The operation includes drilling, blasting, loading, and hauling.
The mine fleet includes 154 trucks, 14 blast hole drills, 13 electric rope shovels, and five front-end loaders.
The operations are supported by ancillary equipment such as track dozers, motor graders, wheel loaders, backhoes, and water trucks.
Processing at Morenci copper mine
Ore extracted from the Morenci mine is processed through hydrometallurgical or concentrating facilities.
The hydrometallurgical process comprises crushed and run of mine (ROM) leach pads, stacking equipment, a concentrate leach plant (CLP), four solution extraction (SX) plants, and three electrowinning (EW) facilities to produce a high-quality copper cathode.
The concentrating facilities process primary and certain secondary sulphide ores. The concentrating operation comprising two concentrators and a molybdenum processing facility produces copper and molybdenum concentrates.
Production plan details of the Morenci mine
The life of mine (LoM) plan calls for an increase in output to achieve an average mill production rate of 150,000tpd of ore by 2024 and maintain it through 2036. The production rate is expected to decrease to an average of 90,000tpd during the final years of operation.
FCX also aims to achieve an average daily crushed leach production rate of 90,000t of ore by 2023.
Infrastructure details
The paved route along US Highway 191 leads to the Morenci mine, which is located 80km north-east of Safford, Arizona. The mine site is also linked to a railway line that supports the transportation of metal products and supplies.
The property is situated at an altitude ranging between 2,750ft and 6,560ft above sea level.
A townsite at the operation features residential facilities, retail stores, restaurants, banks, schools, libraries, recreational facilities, and healthcare facilities.
The operation is supported by additional accommodation facilities for mine workers and supplies in Clifton, Tucson, Safford, and Phoenix in Arizona; and Silver City, Lordsburg, and Deming in New Mexico.
FCX subsidiary Morenci Water and Electric Company (MW&E) provides electricity to meet the power demand for the operations. Natural gas-fired turbines with a total generation capacity of 24MW are also located on-site.