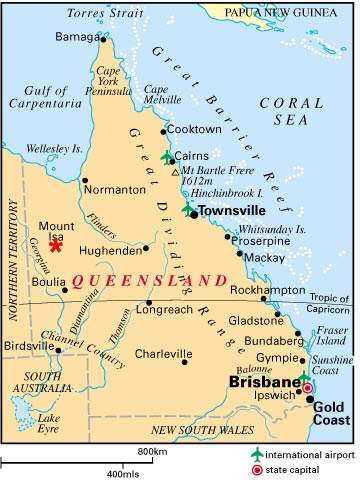 Map of Queensland showing Mount Isa.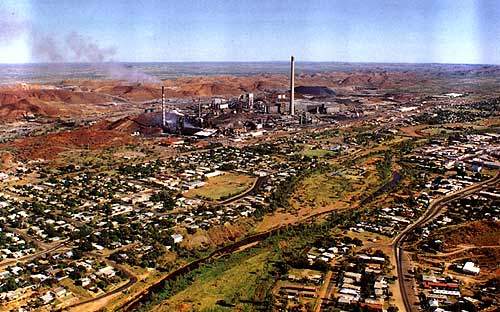 Aerial view of the Mount Isa complex, located in northwestern Queensland.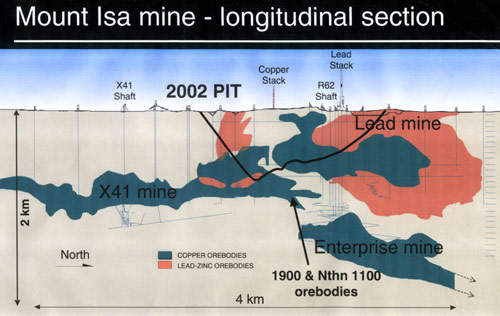 Section through the Mount Isa ore zone, showing the separate copper and lead/zinc orebodies.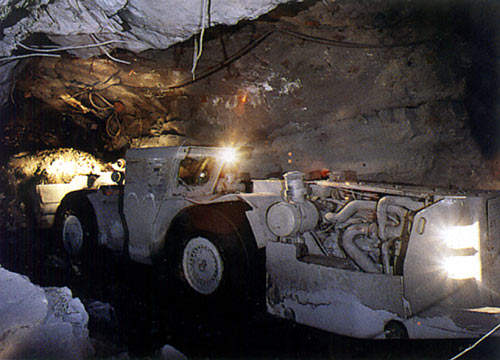 An Atlas Copco Wagner LHD carrying ore underground.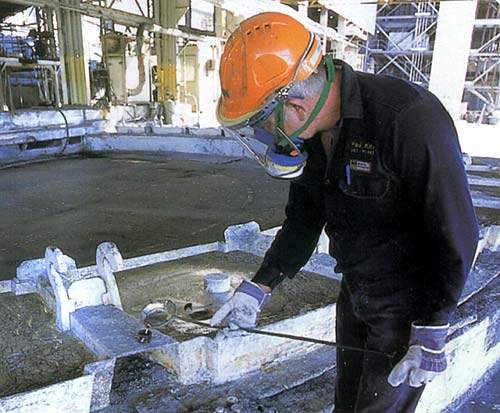 Sampling molten lead during pouring at the Mount Isa smelter.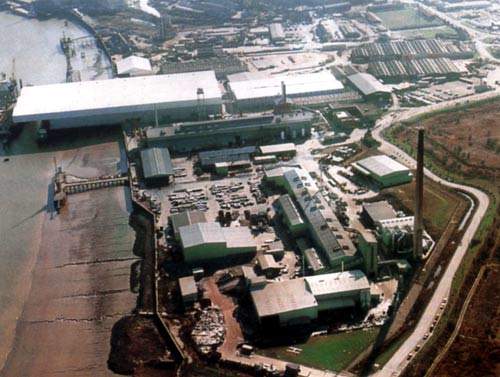 The Northfleet metals refinery in the UK, where Mount Isa's lead and silver are refined.
A 1923 silver-lead ore discovery in Queensland, Australia, lead to the formation of Mount Isa Mines and the development of one of the world's great mines. By the 1960s, Mount Isa was the hub of a lead, zinc, silver and copper supply network, including smelting, refining and recycling facilities in Europe.
In 1970, MIM Holdings succeeded Mount Isa Mines but, while diversifying in the 1970s and 1980s, management seemingly neglected Mount Isa. Revitalisation started in the late 1980s. The rising cost of processing Australian intermediates led MIM to withdraw first from copper and then lead-zinc smelting activities in Europe. These, plus improvements at MIM's coal operations, encouraged Xstrata to make an offer for the Group which took effect in mid-2003. Swiss-based and and partially owned by Glencore International, Xstrata has widespread ferroalloy, zinc and coal interests, to which it added world-class nickel and copper assets with its take-over of the Canadian company, Falconbridge, in 2006.
GEOLOGY AND RESERVES
Today, the 320km² Mount Isa lease encompasses not only the Isa operations but also the George Fisher mine. The ore mineralisation is stratiform, occurring in the 1,600 million-year-old Lower Proterozoic Urquhart Shale sequence. At Mount Isa, the sequence is 1km thick and dips at 65°. The orebodies lie within the upper 650m and are bounded by the Mount Isa fault on the west and by volcanic greenstones to the east. Comprising galena and sphalerite with pyrite and pyrrhotite, the lead-zinc-silver orebodies are concordant with carbonaceous dolomitic sediments, interfingering with the silica-dolomitic mass hosting copper. Over 20 ore zones are mineable, each up to 1.4km long by 800m deep and from 4m to 48m wide.
As of mid-2005, Xstrata reported that the underground Isa lead mine had proven reserves of 0.4Mt grading 5.9% zinc, 4.7% lead and 140g/t silver, and measured resources of 1Mt at approximately 7.3% Zn, 6.3% Pb and 180g/t Ag. The Black Star open-pit mine is based on reserves of 23.9Mt grading 5.1% zinc, 3.1% lead and 60g/t silver. Outside the Black Star project, the Mt Isa area has an open-pit mineable resource of 84.5Mt grading 4.1% zinc, 3.5% lead and 82g/t silver.
MINING
"Xstrata has widespread ferroalloy, zinc and coal interests, to which it added world-class nickel and copper assets with its take-over of the Canadian company, Falconbridge, in 2006."
The Isa mine, concentrator and crude lead-smelting operation started in 1931. Today's lead mine has one 1,144m-deep shaft (R62) providing the main service access to nine levels between 611m and 1,076m below surface and skip ore hoisting from the crushing system on Level 20. Two rail systems, one on Level 15 and the other on Level 19, dump ore and waste to the crushing station. Level 19 trains also haul from the X41 copper mine to crushing stations at the base of the U62 hoisting shaft. In 2002, MIM installed a Micromine mine control system.
Large stable sections are open-stoped from sub-levels; below, weaker parts of the hanging wall slices up to 12m wide and 250m long are mined by bench stoping, which replaced cut-and-fill in the early 1990s, reducing costs and increasing productivity. MIM invested in flexible mobile equipment from competing suppliers and introduced centralised tele-remote ore loading. Various fill formulations based on combinations of process wastes, rock and cement, stabilise the voids.
The new 2.3Mt/y Black Star pit, sited above the Lead mine and based on 25Mt of reserves, started production early in 2005 and yielded 1.4Mt of ore by the year-end. Mining should continue for 11 years.
ORE PROCESSING
The present lead mine concentrator was built in 1966 with rod and ball milling, lead-silver flotation, zinc flotation and low-grade middlings recovery circuits. In 1982, MIM added heavy-medium separation to pre-concentrate the mill feed. Later enhancements have included column cell flotation. To process the George Fisher ores, Isa increased the plant's capacity to 2.5Mt/y in mid-2000, adding ISAmills for ultra-fine regrinding and improving the cleaner flotation and thickener operations to increase the recoveries, concentrate grades and throughput.
A blast furnace converts sintered lead-silver concentrate to lead-silver bullion for subsequent refining at the Northfleet refinery in the UK. Zinc concentrates are currently exported and low-grade middling concentrates go mainly to Imperial Smelting Process plants.
PRODUCTION
Performance improved again in 2005. The mines delivered 4.78Mt of ore, of which 4.4Mt were treated, yielding 231,000t of zinc in cencentrates, 160,000t of lead-in-bullion and 11.36Moz of silver in crude lead. The cash cost after by-product credits was US$0.329/lb of zinc.