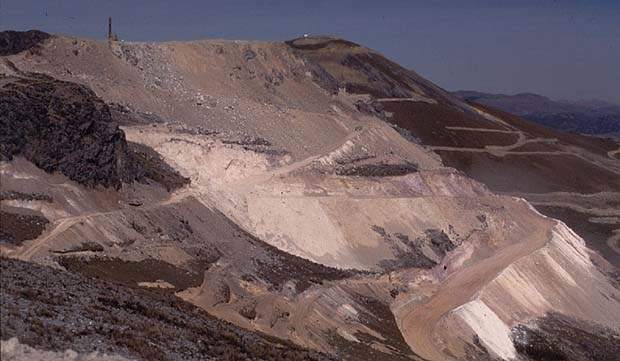 Some 45km from Cajamarca in northern Peru, at an altitude of 4,700m, Minera Yanacocha operates a complex of five gold mines and two processing facilities. Not only was this the first significant foreign investment in Peruvian mining for 20 years, but the project was undertaken in an area where guerillas were active, so the operation had to be heavily protected without antagonising local residents.
The first gold was poured in August 1993 and by 1996 Yanacocha was producing over 800,000oz/y. Subsequent investment and improved operating practices enabled the company to raise sales progressively to a record 3.04Moz in 2004, followed by a further hike to 3.3Moz in 2005. However, during 2004 Minera Yanacocha responded to growing local concern about the intensity of development by relinquishing its exploration permit for the Cerro Quilish deposit.
Following claim-staking by Cedimin, a joint venture between France's BRGM and Peru's Buenaventura group, US-based Newmont Mining entered into an exploration agreement with Cedimin in 1984. Minera Yanacocha was established by BRGM Peru, Cia de Minas Buenaventura, Newmont Gold Co and the International Finance Corp. Newmont manages the project. Subsequent changes give Newmont Gold a 51.35% stake and Buenaventura 44.65%, with the IFC retaining a 5% holding. In 2000 Newmont and Buenaventura consolidated their land holdings within Yanacocha, increasing the mining rights area from 100 to 535 square miles.
GEOLOGY AND RESERVES
The Yanacocha gold district is a 10x4km zone of altered rocks within a belt of tertiary volcanics that extends the whole length of Peru. Andesitic domes and dome complexes have been silicified and leached by epithermal gold-bearing solutions in at least nine distinct deposits. The mineralised sequences, which can also contain significant amounts of silver, are flanked by extensive argillitic alteration, and subsequent events have created siliceous breccia pipes with localised high gold grades.
"Costs applicable to the record gold sales in 2005 were up again, by 3.5%."
Year-on-year, Minera Yanacocha has usually been able to extend its oxide ore reserves faster than ore is being mined. By the end of 1998, proven and probable reserves had grown to 20.1Moz of gold and peaked at 36.6Moz by end-2000 (plus 350Moz of silver). By end-2005, the project had a proven and probable reserve of 1,142Mt grading 0.9g/t gold, for a total gold content of 32.6Moz.
MINING
Yanacocha produces ore from two open pits and is reclaiming three. First production came from the Carachugo pit, followed by Maqui Maqui in 1994 and the San José Sur pit during1996. Cerro Yanacocha, opened in 1997, and La Quinua, where production started during 2001, provide the current production.
Drilling, using Ingersoll-Rand DM45E and Atlas Copco machines and blasting are the responsibility of Minera Yanacocha. The ore is transported 2.5km or more to the leach pads using wheeled loaders and 85t-capacity trucks, and is heaped by stackers. The steady-state mining rate is 544,000t/d.
ORE PROCESSING
Since the ore is porous, run-of-mine ore can be heap-leached without crushing and the solution treated by the Merrill Crowe process. The EPCM project manager for the start-up facility was Minproc International. Cyanide solutions are rendered harmless by the Inco process. Subsequent pit development required three more leach pads and two more process plants, while working La Quinua necessitated adding a 120,000t/d crushing and agglomeration facility in 2001.
After recovery, the contained metal is smelted and cast as 400oz doré bars containing 75% gold and 20% silver. The UK-based refiner Johnson Matthey is responsible for shipping the bars.
PRODUCTION
Yanacocha mined 175.4Mt of ore and waste in 2004, compared with 185.8Mt in 2003. The plants processed solution from 121.1Mt of leached ore averaging 0.9g/t. Gold output was 3.02Moz at a total cash cost of $135/oz. The output during 2003 had been 2.85Moz, but total cash costs were only $120/oz. Costs applicable to the record gold sales in 2005 were up again, by 3.5%, at US$147/oz.