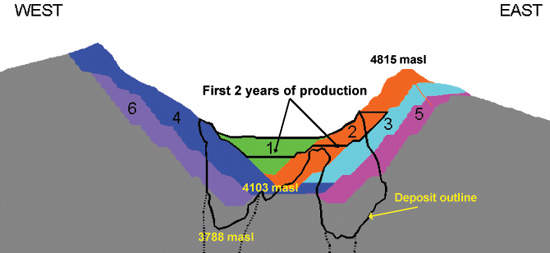 Cross-section through the Antamina deposit, showing the planned phases of mining.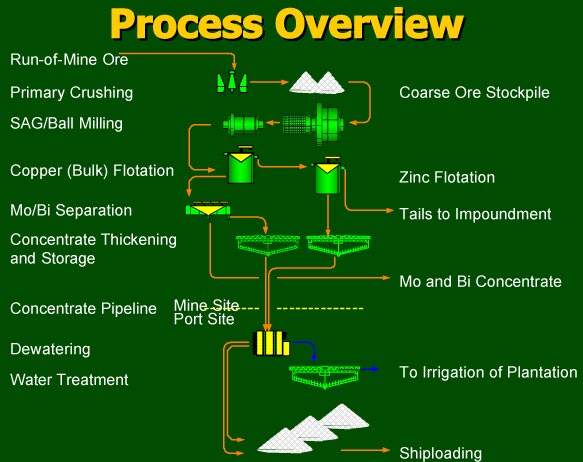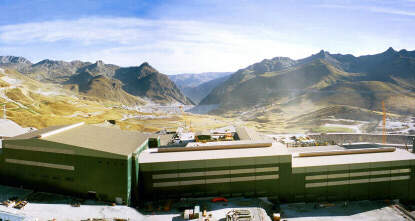 An overview of the ore-processing route at Antamina.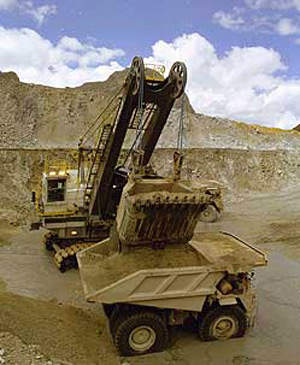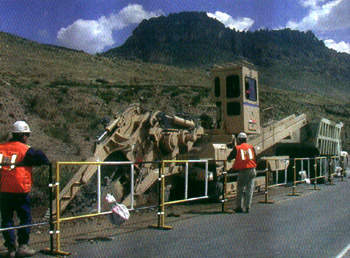 The Antamina concentrator contains the world's largest single-circuit milling plant.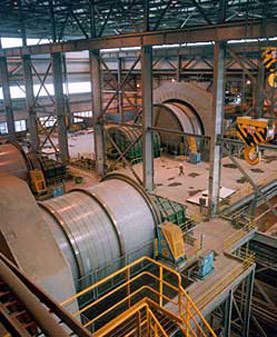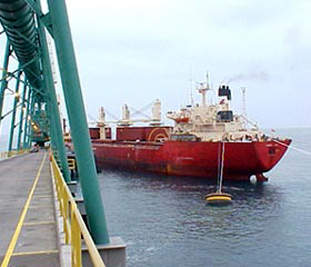 One of the mine's Bucyrus 495B shovels loading a Caterpillar 793 hauler in the open pit.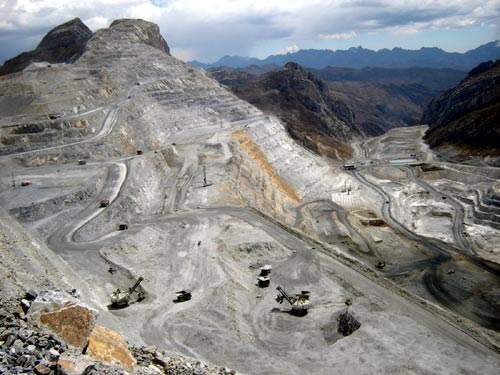 Contractor Spie Capag used a Tesmec trencher for cutting the trench for the concentrate pipeline alongside an existing highway.
The Antamina copper-zinc mine is located in the Andes Mountains of Peru, approximately 285km north of Lima in the Department of Ancash. The elevation of the mine is 4,300m above sea level.
The mine was brought into production by a joint venture comprising the Canadian companies, Noranda Inc (33.75%) and TeckCominco Ltd. (22.5%), Australian-UK-based BHP Billiton (33.75%) and the Japanese firm, Mitsubishi Corp. (10.0%). The subsequent merger between Noranda and its subsidiary, Falconbridge, and the acquisition of Falconbridge during 2006 by Xstrata has brought Noranda's holding into Xstrata's portfolio.
During the mid-1990s, the Antamina deposit was considered to be the largest undeveloped copper/zinc orebody in the world.
Construction began following the completion of a feasibility study in 1998, with Bechtel appointed as the principal engineering contractor for the project.
Following construction of the concentrator and other infrastructure, together with pre-production stripping of overburden (around 161Mt of waste was moved during 2001 alone), the mine was commissioned in December 2001, under budget and ahead of schedule.
Antamina geology and reserves
Antamina is a polymetallic skarn orebody with a regional structural trend parallel to the Andean Cordillera Trend. Major geological faulting and associated jointing was intruded by a multi-phased quartz-monzonite porphyry about 9.8Ma, resulting in a large area of intrusives being in contact with the older Jumasha limestone Formation.
The calcic skarn thus produced was mineralised by extensive hydrothermal solutions, forming at least six distinctive ore zones. Adjacent to the limestone contact, copper occurs mainly as chalcopyrite. Zinc and bismuth occur in any rock type but are generally found in the green garnet contacts with limestone, marble and hornfels, where lead is also present. Molybdenum is present in the intrusive core, with silver found in any of the skarn lithologies. As of January 2010, proven reserves at Antamina stand at 100Mt graded at 1.14% copper, 0.17% zinc, 8.7g/t silver and 0.036% molybdenum. Proven reserves of copper-zinc ore are 42Mt graded at 0.99% Cu, 2.30% Zn, 19.5g/t Ag and 0.009% Mo.
Probable Reserves of copper ore are 454mt at 1.05% copper, 0.17% zinc, 9.7g/t silver and 0.031% Molybdenum. Probable Reserves of Zinc ore as of January 2010 stand at 149mt graded at 1.05% Cu, 2.07% Zn, 17.9g/t Ag and 0.008% Mo.
Measured, indicated and inferred resources during the same time stood at 130Mt, 581Mt and 489Mt, respectively.
Silver is associated with both ore types, while copper ore also contains molybdenum. In 2007, a three-year programme of regional exploration began, together with an ore resource enhancement drilling project. As part of the project, drilling was conducted to a depth of 101,000m in 2007. An additional 115,000m of resource definition drilling was carried out in 2008.
Mining and processing
" In 2007 a three-year programme of regional exploration began, together with an ore resource enhancement drilling project."
Mining is done by conventional truck-and-shovel open-pit methods, with the ore being processed by grinding and flotation. Crushed ore is conveyed through a 2.7km-long tunnel to the concentrator stockpiles.
The concentrator has a milling rate of 70,000t/d and is the largest single-circuit SAG-milling operation in the world. The SAG mill provides feed for ball milling to produce flotation feed, with the ball mills featuring variable-speed drives to enable the mills to handle the range of different ore hardness found at Antamina.
Ore-control procedures are designed to allow mining of several ore types simultaneously but enabling one type to be sent to the concentrator at a time in order to maximise recoveries.
Before production began, ore grade-control guidelines were also established to include the definition of blasthole logging and sampling procedures, as well as daily geostatistical modelling of the active mining areas.
In November 2006 an incremental expansion to the concentrator was approved to provide a 10% increase in throughput capacity. By the first half of 2007, coarse ore conveying enhancements were completed and new pulp filters were installed in the SAG mill. A new pebble crusher, intended to increase production by around 10%, was commissioned in mid 2008 at an investment of $42.m.
By late 2008, a feasibility study to expand milling capacity by 38% was completed. The expansion was started following the approval of the plan in January 2010. The expansion will require an investment of $1.3bn and will boost production capacity from 94,000t to 130,000t a day. The expansion project started in 2010. The operations at the expansion project are expected to continue until November 2013. The expanded plant will meet its full production capacity in 2012.
Environment
Antamina is situated in an area of high rainfall (approximately 1.5m annually). A surface water-management system was set up for the principal Quebrada Antamina drainage. This receives discharge from pit dewatering, waste-rock dump runoff and seepage, and from the low-grade stockpiles as well as general runoff.
Antamina mine production
Antamina is noted for the high variability in the contents of individual metals in its ores. Thus in 2004, the mine came into an area of higher copper and molybdenum grades, with less zinc than in 2003. Metal production during 2004 was 362,100t of copper, 190,100t of zinc and 3,600t of molybdenum.
In calendar 2005, a total of 30.1Mt of sulphide ore was processed, at average grades of 1.36% copper and 1.15% zinc. This involved the movement of 128Mt of material in total, and led to the production of 361,500t of copper, 156,100t of zinc, 9.1Moz of silver and 6,720t of molybdenum.
"In 2004, the mine came into an area of higher copper and molybdenum grades, with less zinc than in 2003."
In 2006, ore production dropped by around 8% as a result of the need to use longer haulage distances than had been originally planned. In addition, although the total concentrator throughput remained much the same as 2005, its relative composition showed some changes.
Zinc concentrate production fell by around 15% due to a lower grade feed and harder rock forced a drop in the throughput for copper-zinc ores, although this was offset by higher milling-rates for copper-only ore.
In total, 2006 saw the production of 384,200t of copper, 156,100t of zinc and 7,730t molybdenum, from 30.25Mt of ore.
Copper and molybdenum head grades together with copper recovery rates have shown slight improvements year on year. Sales volumes of both these metals increased, benefiting from strong commodity pricing in 2006 with improved recoveries – some 8% higher that in the previous year – helping to drive molybdenum sales up by nearly 10%.
However, 2007 saw lower-grade ore cause a decrease in the mine's copper output; with the price of this metal having rallied by 25% over the year.
In 2009, approximately 11.3Mt of zinc ore was processed at Antamina, an increase of 10% over the previous year. Approximately 35Mt of ore and 370Kt of concentrate copper were produced during the same year. Production of zinc metal in concentrate was 154,000t, an increase of 31% over 2008. About 12.3Mt of ore was processed in 2010.