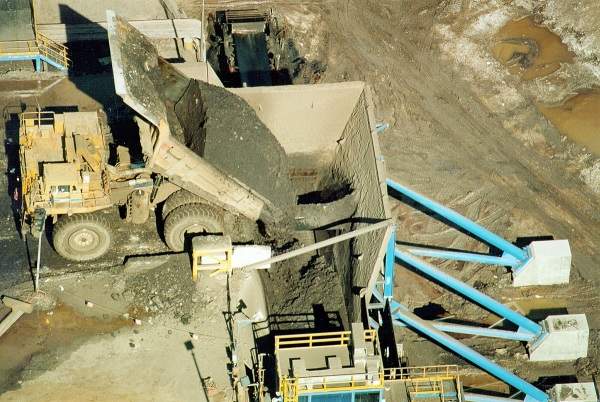 A heavy hauler unloads into a sizer at the Syncrude Oil Sands facility in Alberta, Canada.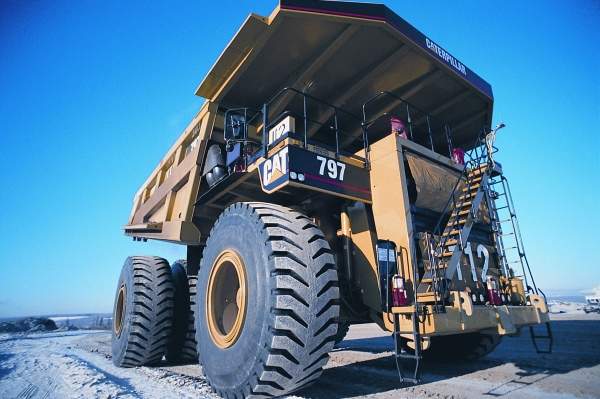 An example of the open pit mining that takes place on site.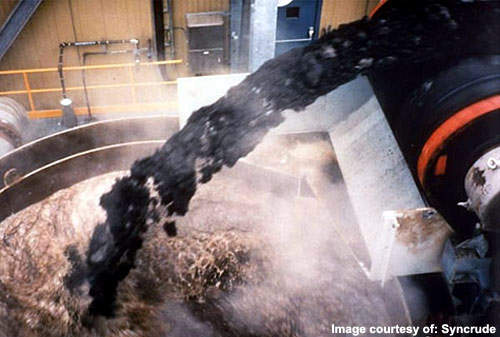 Syncrude's facilities have the nameplate capacity to produce nearly 375,000 barrels a day when operating at peak capacity and under optimal conditions
On-site product tanks are used to store oil sands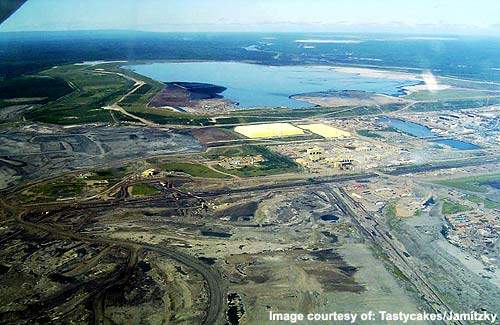 The oil sand feed to the cyclofeeder (North mine).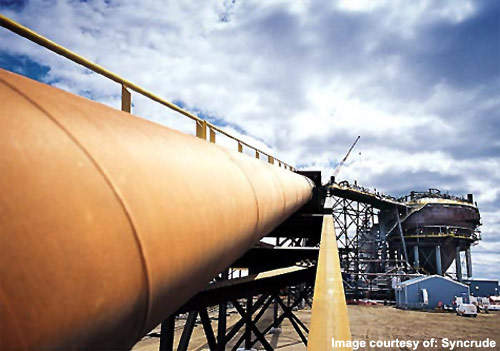 Inside a flotation cell at the Aurora extraction facility.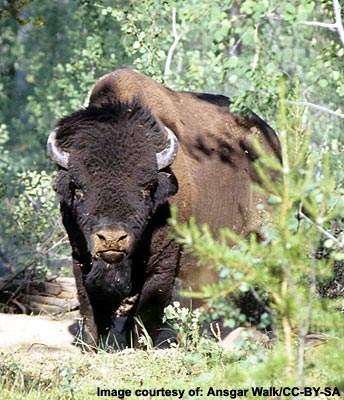 The Mildred Lake facility. The yellow structures in front of the tailings pond are sulphur stockpiles; the extraction plant is just to the right of this photograph and most of the mine lies to the left.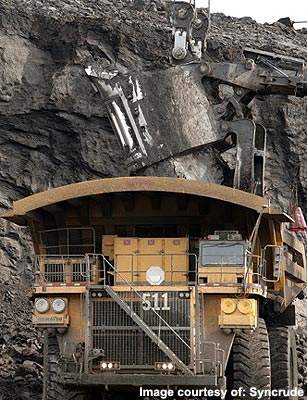 The hydrotransport pipeline leads to the primary separation vessel (Aurora).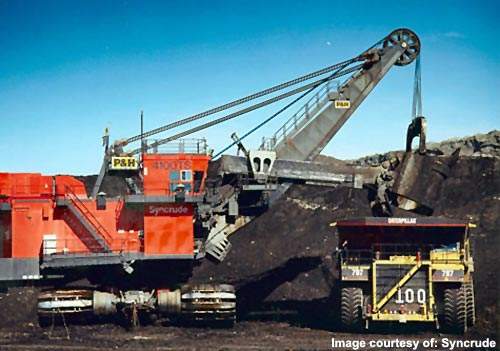 Wood bison – over 300 live in habitats developed by Syncrude in partnership with the Fort McKay First Nation. The company plans to leave regenerated lands once mining ends.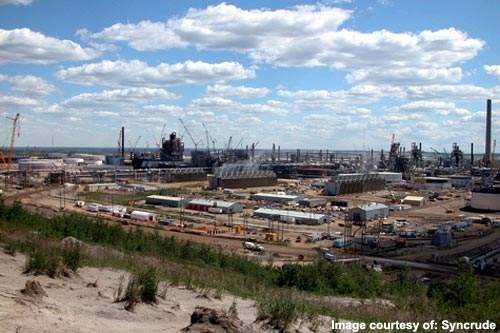 Komatsu Heavy Hauler (North mine).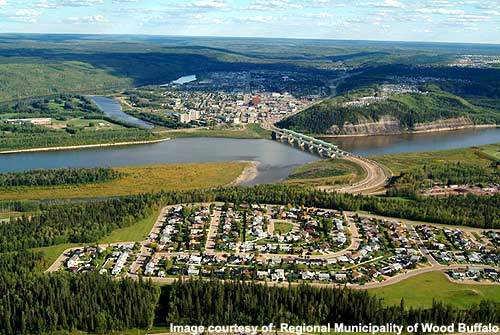 P&H electric cable shovel loads a CAT 797 haul truck.
Syncrude – a joint venture of oil and gas companies mining the Athabasca oil sands – holds eight leases covering 258,000ha, 40km north of Fort McMurray. It is ranked as the world's largest producer of synthetic crude from oil sands and the biggest single source in Canada.
The consortium runs three separate mines – the original Base Mine and the North Mine, both near to Mildred Lake on lease 17, together with the Aurora mine some 35km to the north. The upgrader facility, also located on lease 17, treats oil sands from all three.
Syncrude Canadian Oil Sands Partnership
The participants are Canadian Oil Sands Partnership #1 (36.74%), Imperial Oil Resources (25%), Suncor Energy Oil and Gas Partnership (12%), Sinopec Oil Sands Partnership (9.03%), Nexen Oil Sands Partnership (7.23%), Mocal Energy (5%) and Murphy Oil (5%), trading as individual partners, rather than directly as Syncrude.
Having produced its first synthetic crude oil in 1978, the operations have been expanded on several occasions. A CA$8.4bn expansion – the Syncrude 21 Stage 3 – was completed in 2006. The expansion included the launch of operations of the Aurora Train 2 and the initial two-stage expansion of Syncrude's Mildred Lake upgrade.
Athabasca oil sands – Canada's largest oil sand reserves
The oil sands typically consist of around 10% bitumen contained in a mixture of 83% silica sand, 4% water and 3% fluvial clay, in a layer 40–60m thick lying beneath clay, sand and a surface layer of muskeg (water-logged peat).
In the area to the north of Fort McMurray, the overburden is relatively shallow – often less than 75m – which makes surface mining possible.
The Athabasca resource is thought to have come about as a result of the north-easterly migration of light crude from southern Alberta driven by the same geological forces that formed the Rocky Mountains.
"Ranked as the world's largest producer of synthetic crude from oil sands, it produces nearly 350,000 barrels a day."
Over time the original crude was then gradually transformed into more viscous bitumen and the deposits accumulated in incised valleys within Devonian strata, which were subsequently modified by the rising sea levels of the early Cretaceous.
Syncrude's mining activities concentrate on the McMurray Formation, which is a lower Cretaceous oil-bearing quartz sandstone, underlying the marine clays of the Clearwater Formation and overlying the Devonian limestone of the Beaverhill Lake Group.
The original mine areas are mainly exhausted now, and have been replaced by the current North and Aurora mines.
The company is the largest single holder of oil sands leases in the Fort McMurray area (lease holdings 10, 12, 17, 22, 29, 30, 31 and 34), with proven and probable reserves totalling 4.9 billion barrels of synthetic crude oil within potential resources that could reach 9,000Mbbl.
Contingent resources are approximately 5.4 billion barrels while prospective resources are 2.2 billion barrels. Typically, 2t of oil sand are needed to produce 1bbl of synthetic crude oil.
Syncrude surface mining
Syncrude's original mining method, using draglines and bucket-wheel reclaimers, has largely been replaced by shovel-and-truck mining, which gives greater flexibility. The company has a fleet of P&H 4100 mining shovels supported by Terex/O&K RH400 hydraulic excavators
Run-of-mine oil sand, dug directly from the pit faces, is hauled to in-pit crushing stations, and is then slurried and pumped to the bitumen extraction plants. Developed by Syncrude, this hydrotransport system has revolutionised materials handling in the district's mining operations.
Bitumen extraction
Syncrude separates the bitumen from the sand using a warm-water extraction process at the Mildred Lake facility, which processes oil sand together with oil sand slurry from the North mine and Aurora froth, which arrives via the hydrotransport system.
Oil sand is mixed with hot water and caustic soda in tumblers, forming a slurry and conditioning it for bitumen separation. It is subsequently discharged onto vibrating screens where large material is rejected and the blended slurry is fed into four primary separation vessels – bitumen froth floating to the top, while the sand sinks and settles.
The middlings are pumped to tailings oil recovery vessels and the resulting froth recycled to the primary separation vessels, then processed through a secondary flotation plant before being combined with the primary bitumen froth to be de-aerated, heated and further treated.
The mixing that takes place during slurry transport from the mine to the plant is sufficient to begin the separation process, which recovers over 90% of the bitumen resource. The resulting bitumen froth then forms the feed for upgrading to synthetic crude oil.
Upgrades
Raw bitumen is upgraded to synthetic crude by either vacuum distillation or in a coking process that removes part of the carbon content of the feedstock, producing hydrocarbon gases, naphtha and gas oils. An alternative route is to add hydrogen to the feedstock, so reducing the tonnage of surplus petroleum coke produced. Further treatment and blending gives Syncrude's principal product, Syncrude Sweet Blend crude oil, a high-naphtha, low-sulphur synthetic crude which is then sent to refineries in both Canada and the United States.
Syncrude production
Syncrude's facilities have the nameplate capacity to produce nearly 375,000 barrels a day when operating at peak capacity and under optimal conditions. Under normal conditions, however, with the required downtime also considered, the capacity of the Syncrude facility stands at 350,000 barrels a day on an average.
The Base Mine capacity is 7,250t/hr, North 7,500t/hr and Aurora 11,000t/hr; the processing capacity at Mildred Lake stands at 230,000 barrels/day. In 2006, 94.25 million barrels of synthetic crude were produced. Syncrude currently provide 15% of Canada's petroleum needs and have recently developed a new improved product called Syncrude Sweet Premium.
Environmental impact
The development of the oil sands industry in northern Alberta has inevitably had a major impact on the natural environment, which consists mainly of boreal forest. Sand tailings from the separation process have been stockpiled, while fine tailings are retained in large ponds.
"Syncrude has also successfully introduced a herd of native wood bison to its reclamation areas."
Syncrude has developed a system for stabilising the surface of these ponds that enables revegetation to begin, and some 3,000ha of the company's older waste piles have been returned to pasture and forest.
Syncrude has also successfully introduced a herd of native wood bison to its reclamation areas, managed in conjunction with a local First Nations community.
Current practice is for overburden and tailings to be returned to worked-out pit areas as part of the land reclamation process.
The future
Syncrude will be advancing into the next stage of expansion which will enable the project to achieve full production of up to 500,000 barrels a day. Currently under planning and cost estimation, the next phase will include construction of two additional trains in undeveloped leases known as Aurora South.
In addition, Syncrude's SO2 reduction project announced in September 2008 and operational at the end of 2011 helps in cutting emissions by 60%.