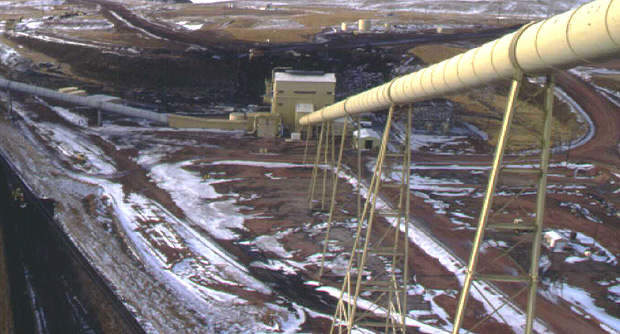 Cordero Rojo seen from high up on one of the mine's loading silos.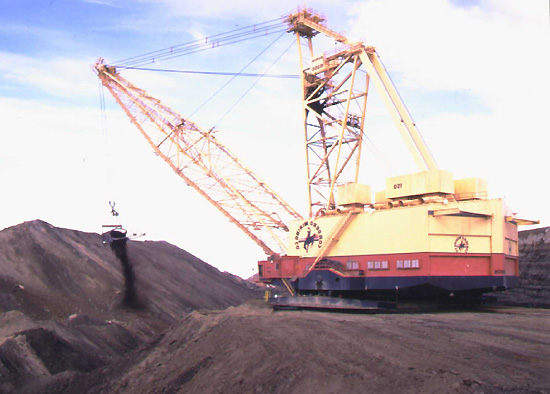 Draglines are the main stripping tool at Cordero Rojo.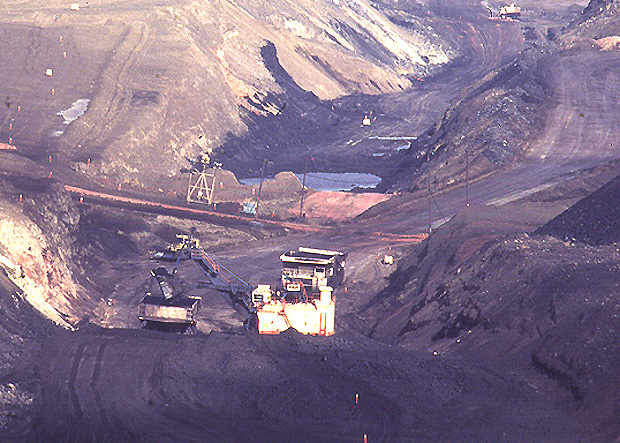 Looking along one of the operating pit areas.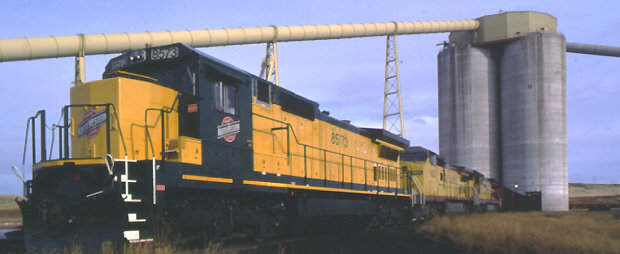 Unit trains carry Cordero Rojo coal to Midwestern US customers.
Kennecott Energy's Cordero Rojo operation is located some 40km south of Gillette in Wyoming's Powder River basin. The mine was formed by the amalgamation of the adjoining Cordero and Caballo Rojo properties, acquired by Rio Tinto in 1993 and 1997 respectively.
Cordero Rojo supplies thermal coal to utility customers in the US Midwest and in Texas. Output in 2006 was 36.1Mt, compared with 34.2Mt in 2005 and 35.2Mt in 2004. Cordero Rojo was overtaken as Rio Tinto's largest single US coal producer by the company's Jacobs Ranch operation, also in the Powder River Basin, which produced 36.3Mt Licensed to produce up to 60Mt/y, Cordero Rojo achieved its maximum annual output to date in 1999, at 41.5Mt.
The mine lies at an elevation of 1,400m in the Wyoming prairies. Annual temperatures range from -40°C to 45°C while annual precipitation is low at 356mm. The operation employs 430 people.
Geology and coal quality

Cordero Rojo is based on reserves held in the Palaeocene Wyodak seam, which runs between 16.7m and 21.3m thick across the property. The coal is sub-bituminous with the following as-received quality parameters:
Moisture: 30.0%
Ash: 5.25%
Volatiles: 32.4%
Fixed carbon: 32.1%
Heating value: 19.5MJ/kg
As of the end of 2005, Cordero Rojo had mineable reserves totalling 321Mt of thermal coal.
Open-pit mining

Before the amalgamation of the two mines, both were worked as separate dragline stripping operations. Cordero Rojo now has a Marion 8750 dragline with an 88m³ bucket and two Marion 8200 units. The second 8750, purchased second-hand from Texas Utilities in 1997 but never previously erected, was commissioned in mid-1998 in the Cordero section.
The maximum mining depth is 90m, the draglines being used to strip the bulk of the overburden, which averages between 45 and 55m thick. Since amalgamating the two earlier properties, the mine has reduced its operations from four separate pits to three. Cast-blasting is used in three of the pits, with 25–35% of the overburden being moved directly to its final dump site using this method. Overall, the stripping ratio averages 2.5 bank cubic metres per tonne of coal mined.
P&H and Gardner-Denver rotary rigs are used to drill 220mm–270mm diameter holes in the overburden, which consists of sandstone, siltstone, mudstone and carbonaceous shale in varying proportions. Blasting uses ammonium nitrate/fuel oil (Anfo) and bulk emulsions, the explosives being supplied and charged by a specialist contractor.
Coal recovery is carried out by a fleet of six P&H and Bucyrus mining shovels, loading into 20 218t-capacity haulers. The coaling fleet of Euclid and Haulpak 830E trucks transports the coal from the pit to the process planthoppers, a distance of between 2km and 5km.
Coal processing

Both the Cordero and Caballo Rojo sections have their own coal-handling facilities, using Gundlach roll crushers and Pennsylvania ring granulators to give a –50mm final product size.
Coal storage facilities consist of 65,400t-capacity in six silos, plus 91,000t-capacity in a slot stockpile system that allows coal from the different pits to be blended and provides short-term storage to accommodate peak shipping demands.
Rail shipments

Crushed coal is transported to utility customers by the Burlington Northern and Union Pacific rail networks, both systems using 100 to 135 aluminium-bodied-car unit trains. Two of these can be loaded simultaneously at each of the Cordero Rojo plants, taking an average of 75 minutes to load around 10,000t of coal.
Restoration
The state of Wyoming imposes stringent restoration criteria on all the coal mines in the Powder River basin. At Cordero Rojo, stripped overburden is levelled and regraded to approximately the pre-mining contours. Stream beds are reinstated and the restored land is reseeded to recreate the original prairie landscape.