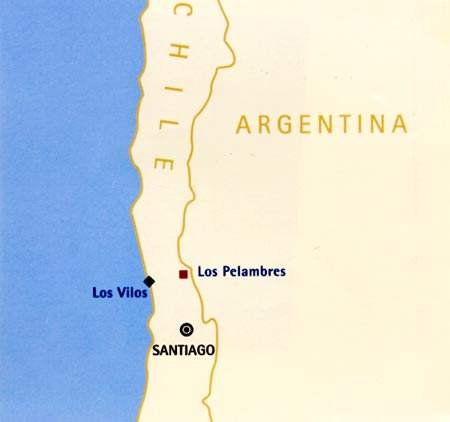 Los Pelambres is located at an altitude of 3,200m in the mountains to the north of Santiago.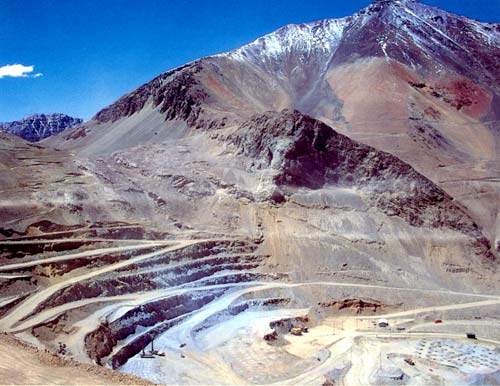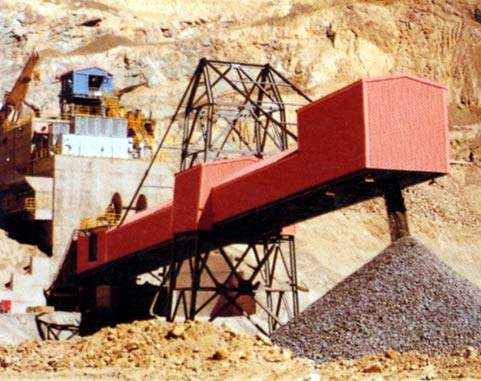 The open-pit at the time of early stage of development.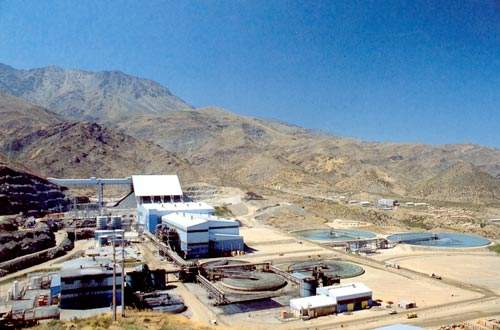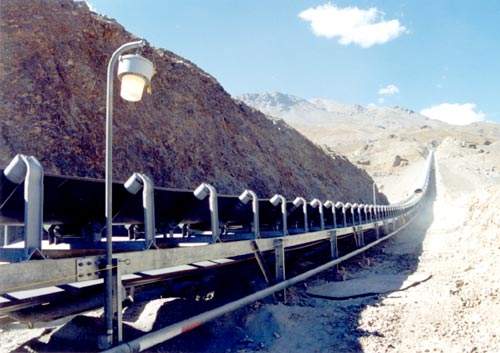 The primary crusher at the mine feeds the main conveyor to the concentrator plant.
The Los Pelambres deposit, located 200km north of Santiago and 45km east of Salamanca in Choapa Province, was discovered in the 1920s by one of Chilean copper's founding fathers, William Braden. Antofagasta Holdings started the project in the 1990s, and the mine has become one of the biggest copper mines in the world.
In late-1997, Antofagasta sold a 25% stake in Minera Los Pelambres to a Japanese consortium and a 15% holding to another.
With partner project finance loans secured, mine development started immediately and production began in December 1999. Fresh water supply is drawn from three mountain streams, but is carefully recycled.
Antofagasta owns 60% and manages the operation, which employs 521 people, via Antofagasta Minerals SA. One partner consortium comprises Nippon Mining and Metals (15%), Marubeni Corp. (8.75%) and Mitsui & Co. (1.25%), while Mitsubishi Materials (10%) and Mitsubishi Corp. (5%) constitute the other.
Nippon Mining & Metals and Mitsubishi Materials planned to take delivery of approximately half the concentrate output.
Los Pelambres reserves
The Los Pelambres mine is estimated to contain 1.2 billion tonnes of proven and probable ore reserves grading 0.06% copper, 0.020% molybdenum, and 0.05% gold, as of 2017.
Los Pelambres project expansion
The Los Pelambres mine will undergo a two-stage expansion, which is estimated to increase the copper production by an average of 60,000t a year over the first 15 years of operation.
Antofagasta submitted the environment impact assessment (EIA) for the phase one of the project in 2017 and the same was approved in February 2018.
Construction of the expansion project is expected to be start in 2019, with first production anticipated in the second half of 2021.
Referred to as Complementary Infrastructure Project (INCO), the first phase is estimated to cost $1.3bn and anticipated to increase the current ore processing capacity from 175,000tpd to 190,000tpd.
The expansion is expected to increase Los Pelambres' production by 55,000t a year. Annual copper production from the mine is anticipated to increase from 40,000t in the first year and will reach 70,000t towards the end of operations.
The project includes the construction of a 400l/s reverse-osmosis (RO) desalination plant and a water pipeline with an estimated investment of $520m. The plant is expected to serve as a back-up water supply source and also help in further growth phase.
Expansion work will also include the construction of an additional semi-autogenous (SAG) mill, ball mill, and a corresponding flotation circuit with 24 additional cells.
The second phase of expansion is expected to increase the throughput rate to 205,000t of ore a day with a mine life of additional 15 years.
EIA for phase two is underway and the regulatory approvals are expected by the end of 2018. The phase two is anticipated to increase copper production from the mine by 35,000t a year, starting from 2022. The phase is also expected to increase the capacity of Mauro tailings storage facility and mine waste dumps.
Copper mining
The mine is an open-pit sized 2.5km x 2.2km at the surface, which is at an altitude of 3,100m above sea level (asl).
Three Ingersoll-Rand electric rotary rigs drill blastholes, two initial P&H 4100AS mining shovels and a LeTourneau L-1800 wheel loader, as well as a 4100XPB shovel added later, were used with a haulage fleet of five 329t-capacity Caterpillar 797 haul trucks to shift waste and ore in equal proportions. The mine is operated in two 12-hour shifts.
Copper processing
Trucks feed an FFE Minerals 60in x 110in primary gyratory crusher, while a sophisticated overland conveyor system engineered by ThyssenKrupp transports the ore 13km to the stockpile at the concentrator, which is down at 1,620m asl.
"In 2017, Los Pelambres produced 343,800t of copper concentrate and 10,500t of molybdenum concentrate."
Two 17,000hp FFE Minerals 36ft x 19ft SAG mills work with four 9,500hp FFE Minerals 21ft x 33.5ft ball mills, giving a throughput of approximately 85,000t/d. In 2001, Los Pelambres decided to install pebble crushing to improve the SAG mill performance, and Bechtel designed an upgrade programme to raise the throughput to 114,000t/d.
FFE supplied a redesigned SAG discharge system for the project. The pebble crusher was installed in August 2003 and had an immediate positive effect.
Concentration and separation are performed in two steps in a bulk flotation plant and a molybdenum plant. Bulk flotation involves rougher, scavenger and cleaner flotation with associated concentrate regrind stages and is optimised by the Metso Minerals VisioFroth system.
Bulk copper-moly concentrate goes to a thickener prior to treatment in the molybdenum plant. Flotation tailings go to tailing thickeners and roughly 70% of the process water is recycled.
The concentrate slurry is piped via Salamanca and Illapel to the purpose-built port of Los Vilos (Punta Chungo) where it is dewatered for shipment. Los Pelambres treats the water extracted for use in irrigating a nearby eucalyptus plantation.
In April 2004, the Chilean Government approved an environmental impact statement covering a second tailings disposal site, Mauro. Construction of the Mauro tailings dam was completed in December 2008 at a cost of $600m.
Production
In 2017, Los Pelambres produced 343,800t of copper concentrate and 10,500t of molybdenum concentrate.
The production is forecasted to be between 345,000t and 355,000t of copper, 60,000t-70,000t of gold, and10,000t-11,000t of molybdenum in 2018.
Infrastructure facilities at Los Pelambres
SunEdison is supplying power to Los Pelambres mine from its Javiera solar photovoltaic project, under a long-term power purchase agreement (PPA) entered in 2015.
Contractors involved
Ferrocarril de Antofagasta a Bolivia (FCAB) is responsible for rail and truck services at the mine, while Antofagasta Terminal Internacional (ATI) is undertaking the port operations.
HighService Engineering and Construction (HSIC) was awarded the contract for conducting industrial assembly work, mainly mechanics and structure, at the project.