The Cobre Panama mine is located approximately 120km west of Panama City.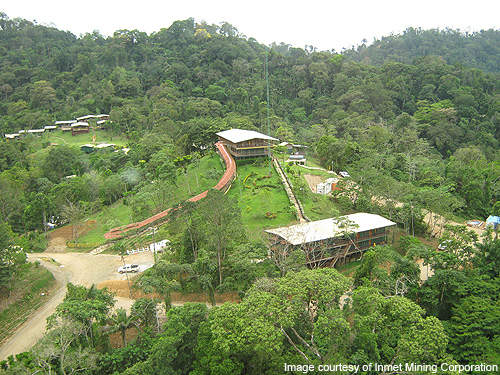 Top view of Colina camp at the Cobre Panama copper mine.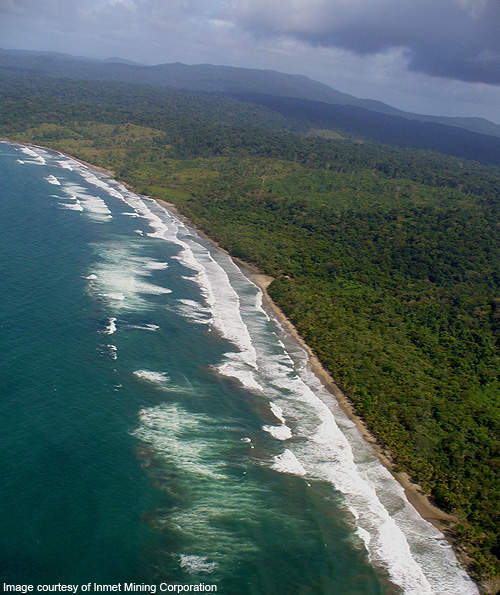 Future plant and port at the Cobre Panama copper mine.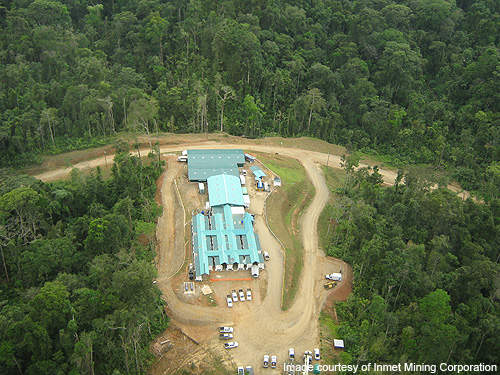 Inmet Mining owned the Cobre Panama copper mine through its subsidiary Minera Panamá.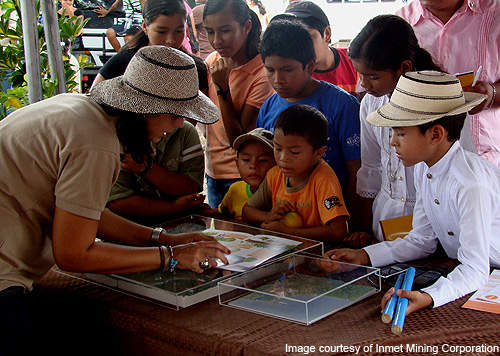 Minera Panamá outreach at the copper mine.
Cobre Panama is a large copper porphyry deposit located approximately 120km west of Panama City in the Donoso District in Panama.
"Porphyry style mineralisation occurs in granodiorite, feldspar-quartz hornblende and adjacent lying andesitic volcanics."
Spread across 13,600ha, the mine includes four concessions and is owned by Inmet Mining Corporation through its wholly owned subsidiary Minera Panamá (MPSA). First Quantum Minerals acquired 92.74% of Inmet's shares in April 2013 thereby assuming an 80% equity interest in Minera Panamá.
The project was formerly known as Petaquilla Copper and acquired by Inmet in 2008. It is being developed with an estimated investment of $7.bn. Inmet approved the development of the mine in July 2011.
The project received approval in February 2018 for a 15% expansion to 85 million tonnes per annum (Mtpa) and upgrades to certain areas for a further increase to 100Mtpa after 2022.
The first shipment of copper concentrate was exported in June 2019. The mine will produce on average 0.32Mt copper, 100,000oz gold, 3,500t molybdenum and 1.8Moz of silver over a mine life of more than 40 years.
The average grade of copper is expected to be 0.5% for the initial ten years and 0.37% for the remaining mine life.
Cobre Panama mine reserves
As of August 2012, the mine hosts 3.18 billion tonnes (bt) of proven and probable reserves graded at 0.38% Cu, 0.07g/t Au, 1.3g/t Ag and 0.006% Mo.
Measured and indicated resources are estimated to be 3.6bt grading at 0.37% Cu, 0.07g/t Au, 1.3g/t Ag and 0.006% Mo. Inferred resources total 1.05bt graded at 0.26% Cu, 0.04g/t Au, 1.08g/t Ag and 0.005% Mo.
Geology and mineralisation at Panama's copper mine
The mine is hosted at the southern end of a massive mid-Oligocene aged granodioritic batholith. Botija, Colina and Valle Grande are the main deposits, with several smaller deposits also hosted, including Brazo and Botija Abajo. The deposits measure 9km in length and 4.5km in width and occur within a west north-west, east south-east oriented zone.
Porphyry style mineralisation occurs in granodiorite, feldspar-quartz hornblende and adjacent lying andesitic volcanics.
Several north dipping feldspar-quartz hornblende dikes intrude the granodiorite at Botija. Two roof pendants of andesitic volcanics are hosted in the central and eastern sections of the deposit. At Colina, mineralisation is associated with a 2.5km-long, 1km-wide, shallow north dipping feldspar-quartz hornblende porphyry sill and dike complex with an east south-east trend. The complex cuts the granodiorite and andesitic volcanics.
The Valle Grande zone is defined by south-east trending feldspar-quartz-hornblende porphyry lopolith. The lopolith is bound by andesitic volcanics and minor granodioritic dikes towards north and south. The dominant host rock at the Brazo and Botija Abajo include feldspar-quartz or feldspar-quartz hornblende porphyry.
Hydrothermal alteration along the Cobre mineral strike is mainly silica-chlorite interpreted to be a type of propylitic alteration. Potassic alteration is observed in the central sections of Botija, including salmon coloured potassium feldspar and secondary biotite. Argillic and phyllic alteration is observed in patches across the three primary deposits Botija, Colina and Valle Grande. Phyllic alteration becomes more widespread near the top of the deposits. At Brazo, widespread sericite, clay and pyrite are hosted, along with well-established quartz stockworks.
Hypogene sulphides across the property are hosted as fracture fillings, disseminations, micro-vienlets and quartz sulphide stockworks. Chalcopyrite is the dominant copper mineral, with trace amounts of bornite. Minor molibdenite is hosted commonly in quartz veinlets. Supergene enriched mineralisation, including chalcocite-coated pyrite and uncommon local copper, is found until a depth of 150m at Brazo. There are no major zones of supergene mineralisation at Botija, Colina and Valle Grande.
Processing at Cobre Panama mine
Mining at Cobre Panama will involve conventional open-pit methods. Ore processing will be carried out in a concentrator designed to treat ore at a head grade of 0.70% Cu and 0.013% Mo. The concentrator will initially process 150,000tpd of ore from Botija while ore from the Colina and Valle Grande pits will be processed later.
The processing plant will have an installed capacity of 70Mtpa for the first ten years. It will be further expected to be expanded up to 100Mtpa after the initial ten years.
"The mine will produce on average 0.32Mt copper, 100,000oz gold, 3,500t molybdenum and 1.8Moz of silver."
Ore will be separated from the minerals following a crushing and grinding process. Using froth flotation, the majority of the copper and molybdenum minerals will be separated from uneconomical minerals. The two will be separated from each other through differential flotations.
The design of the process plant will allow 15% daily fluctuations in throughput. In the tenth year, the rate of ore throughput from the concentrator will be increased by 50% to 225,000tpd, providing sufficient concentrate production during periods of falling head grade.
To meet the higher rate of ore treatment, the capacity of the crusher, grinder, bulk rougher flotation, and water and air systems will also be increased by 50%.
A tailings storage facility, ship loading port facilities and a facility to supply reclaimed water for the process will be constructed. A 300MW coal-fired power plant was constructed by GDF Suez Centroamerica at Punta Rincón.
Contractors involved with the Cobre Panama copper mining project
The $4bn engineering, procurement and construction management contract for the Cobre Panama Copper project was awarded to SNC-Lavalin Group-led joint venture (JV) in November 2010. The Joint Venture Panama JV includes GyM and Techint International Construction. Following Inmet's acquisition by First Quantum, the latter, however, ordered SNC-Lavalin Group to suspend their work at the Cobre Panama mine. The remaining work will be taken over by First Quantum.
Inmet's subsidiary Minera Panamá awarded the Cobre Panama mine's pre-stripping services contract to a JV comprising Salini and Impregilo in December 2012.
Contromation was awarded a contract for the design of a 1.6Mtpa material handling plant while Stracon was contracted to carry out mine pre-stripping, the construction of a tailing management facility (TMF), electric transmission line and related works.
Silverhorse Technologies supplied a commissioning management system for the project called Completions Connect while FLI France provided environmental services.

Related content
---
The Molejon gold project is about 120km west of Panama's capital Panama City and about 10km from the Caribbean coast.
La Mina is a porphyry gold-copper project located 45km southwest of Medellin in the Antioquia region of Colombia.
---