McElroy
Fusion Machinery for Joining Thermoplastic Pipes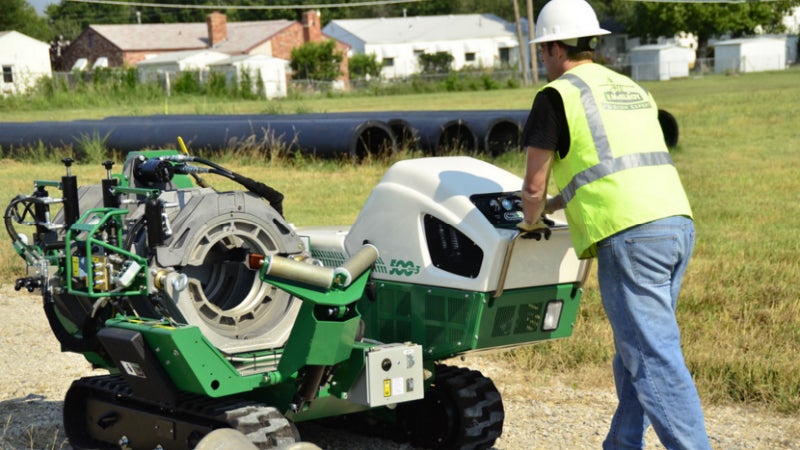 McElroy is a designer and manufacturer of fusion equipment for the joining of thermoplastic pipes, such as high-density polyethylene (HDPE), fusible PVC™ and polypropylene.
We also offer a comprehensive line of accessories that can increase productivity and efficiency on-site. We also operate an extensive training programme through McElroy University to ensure that operators and inspectors develop best practices in the quality and reliability of fused pipe systems.
Mining industry polyethylene fusion machines
The first McElroy polyethylene fusion machine was designed in 1969. Our line has since expanded to cover pipes from 0.5in to 2,000mm in size, one of the most expansive ranges of any fusion equipment manufacturer.
Our fusion equipment can accommodate specific jobsite requirements thanks to the various models available. Our TracStar® line offers unique fusion machines that are all-terrain, self-propelled and self-contained. Many of our machines can be configured for in-ditch use, but our Pit Bull® fusion machines are ideal when a compact solution is required.
Accessories to enhance jobsite productivity
Jobsite productivity can be significantly improved when implementing McElroy accessories and productivity tools. Two examples are the PolyHorse® and the MegaMc® PolyHorse® pipe handling systems, which include a series of adjustable racks to store and help move and align pipes on jobsites.
Using a PolyHorse provides a safer environment for handling pipe bundles, and can reduce manpower costs and enhance jobsite productivity by 150%.
Quality assurance and testing tools
Quality testing and assurance can be a significant boon to any jobsite. Our Guided Side Bend Tester and In Field® Tensile Tester are tools that allow for on-site qualitative testing of joint ductility, and are safer, faster, and easier safer than traditional bend tests.
The McElroy DataLogger® provides users with the ability to record key parameters of pipe fusion processes in order to determine whether proper fusion procedures have been followed. Data elements such as time, temperature and pressure are recorded on the hand-held device. On the DataLogger 5, our latest model, users can also capture photos and GPS coordinates.
Clients can also make use of the DataLogger Vault™, a secure server available on the internet that stores fusion joint data not only from the DataLogger 5 but also the DataLogger 3 and 4.
This new feature allows clients access to their fusion joints from any location with internet, and to utilise a variety of analytical tools.
Inspector and operator training courses
Our facilities in Tulsa, Oklahoma, are home to training provided by McElroy University, as well as at certified training centres throughout the country, and at customer locations upon request. Classes include inspector training, operator qualification, troubleshooting and rebuild.
Each class includes a mix of classroom and hands-on sessions, as well as testing after each class to ensure that students have fully understood the proper concepts and procedures.
Students who pass the course receive a McElroy University Operator Qualification training certificate and wallet card, valid for two years.
McElroy Manufacturing
PO Box 580550
Tulsa
OK 74158-0550
United States of America
Kristin Eeg, MBA - Marketing Services Assistant
+1 918 831 9241
keeg@mcelroy.com
www.mcelroy.com