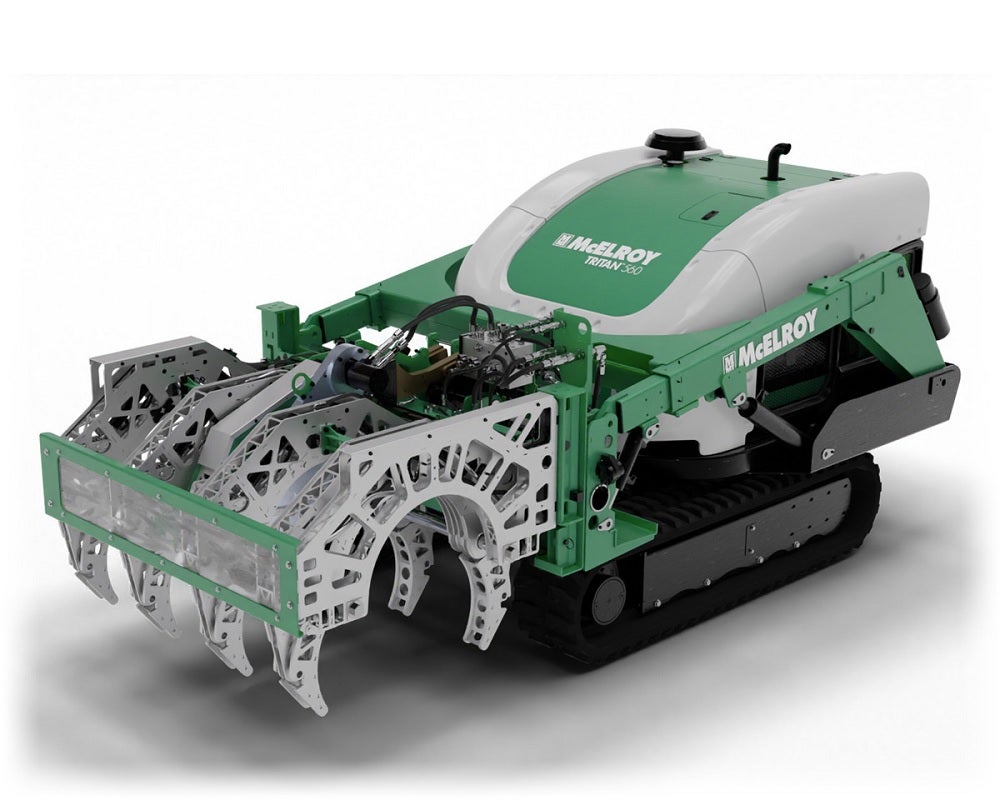 The Tritan™ 560 is the newest member of the McElroy lineup. It combines features of three of McElroy's most innovative machines: the rugged portability of the TracStar® iSeries, pipe loading capabilities of the Talon™ 2000, and the ability to meet the pipe where it lays, found in the Acrobat™ QuikFit® carriages. With a full 360-degree rotation and a boom that can raise, extend, and curl the carriage to approach and load pipe, the Tritan boosts job site efficiency and improves workplace safety by eliminating the need to top-load pipe into the fusion machine.
Meets the pipe where it lays
The Tritan™ 560 aids in pipe positioning, allowing for more flexibility and increased performance and productivity. With the same rugged, dual rubber tracks found on McElroy TracStar® machines, the Tritan offers all-terrain mobility for easily travelling across a variety of terrains and can be driven directly to and from the pipe itself. By building off the legacy and design of multiple McElroy® units, the Tritan minimizes the amount of time spent between fusions while also letting the machine work in tight areas.
Full 360° swing
Position, load, and fuse pipe from 12-inch (305mm) to 22-inch (560mm) with ease. The Tritan 560's full 360-degree swing lets operators fuse in front of the unit or parallel to the tracks on either side of the machine. An updated track motor allows the Tritan to achieve a top speed of 2.75 miles per hour in high-speed mode, boosting mobility on job sites and further decreasing the time spent between fusions.
Innovative carriage
The Tritan 560 offers a bottom-loading carriage that eliminates the need to lift pipe overhead and into the machine for standard fusions. Operators can load pipe quickly and safely in a number of configurations. The boom arms are able to raise, extend, and curl the carriage over a range of motion. This gives operators the ability to precisely adjust the carriage without having to move the vehicle itself.
In addition, the Tritan offers a removable carriage that can operate in a 2+2 or 3+1 configuration, in both a top-loading or bottom-loading setup.
Control vehicle & fusion functions
Wirelessly control all functions of the Tritan 560 with the DataLogger. No second remote is needed — all controls have been integrated with machine functions, allowing a single operator to control all parts of the pipe loading and fusion process.
No wireless signals allowed? No problem. The Tritan lets operators connect the DataLogger via a tether when necessary, allowing for operation in environments where wireless signals are restricted or unavailable.
Additional features
Self-contained, self-propelled, all-terrain
A top speed of 2.75 MPH allows for better mobility and less time between pipe joints
Powered by a 50 hp Stage V/Tier 4 Final Compliant Kubota engine
Heater power varies based on need — providing full power when heating up and lower power when maintaining temperature
Utilizes inserts to step down in pipe size along with new quarter-jaw inserts to help maintain pipe centerline
Carriage is removable and can be used in top-loading or bottom-loading configuration for in-ditch or special operations
Shipping Dimensions: 145″ (L) x 73.25″ (W) x 67.125″ (H)
Weight: 8,500 lbs