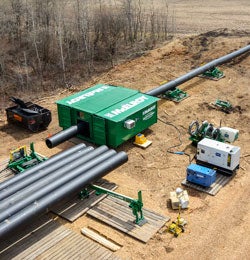 A new product by McElroy called the QuickCamp™ System was successfully tested recently at a jobsite in Canada, attracting area contractors and engineers who travelled there to get a first-hand look at the unique shelter and pipe-handling system at work.
The QuickCamp, designed to protect the pipe fusion operator and fusion joints from outside conditions, became available just as Knibb Developments was beginning construction on a ten-kilometre wastewater pipeline through the city of Red Deer using large-diametre, high-density polyethylene (HDPE) pipe.
Jason and Diane Knibb used the QuickCamp on their jobsite in May and found it to be the perfect application for fusing up to 36in pipe.
"We were able to set up the laydown yard, fusing equipment and the MegaMc® PolyHorse® to complete a 3,300m (11,000ft) stretch of 800mm (32in) HDPE. This process was completed in 20 days, a noticeable increase in productivity," said Diane Knibb.
Portable tents are typically used on jobsites when pipe is being fused. But tents are a challenge when it comes to climate control and wind. The QuickCamp is a lighted, insulated shelter with heating and air-conditioning and patent-pending pipe seals, which creates a much more workable environment.
"Despite our best efforts the wind blows right through the tent. It's not a very secure structure and it doesn't have a hard floor. We usually have to build a floor," said Jason Knibb. "Working in the QuickCamp is like working in a laboratory."
The Knibb's distributor, AH McElroy in Edmonton, provided the onsite technical expertise and answered queries from contractors and engineers who travelled to the jobsite to see the QuickCamp system perform first-hand.
"Past experience has shown us that fusion projects take far longer to complete in cold, inclement weather. The QuickCamp ensures project performance is maintained regardless of outside influences," said Ian Powell, president of AH McElroy.
Knibb's operator fused pipe within the QuickCamp on a McElroy 900 carriage. Sticks of pipe were guided and aligned through the shelter by remote control from the MegaMc® PolyHorse® and MegaMc Rollers which are a series of pipe racks and hydraulically-powered pipe stands strong enough to hold the amount of pipe fused in a day.
Deploying the QuickCamp, which arrived as a 20ft by 8ft cargo container, was also a unique process. It was easily unfolded into a 21ft8in by 24ft7in shelter, which also has room for an office, breakroom or storage.
"We think it's a good product and will become the standard for fusing equipment in the future," Diane Knibb said.