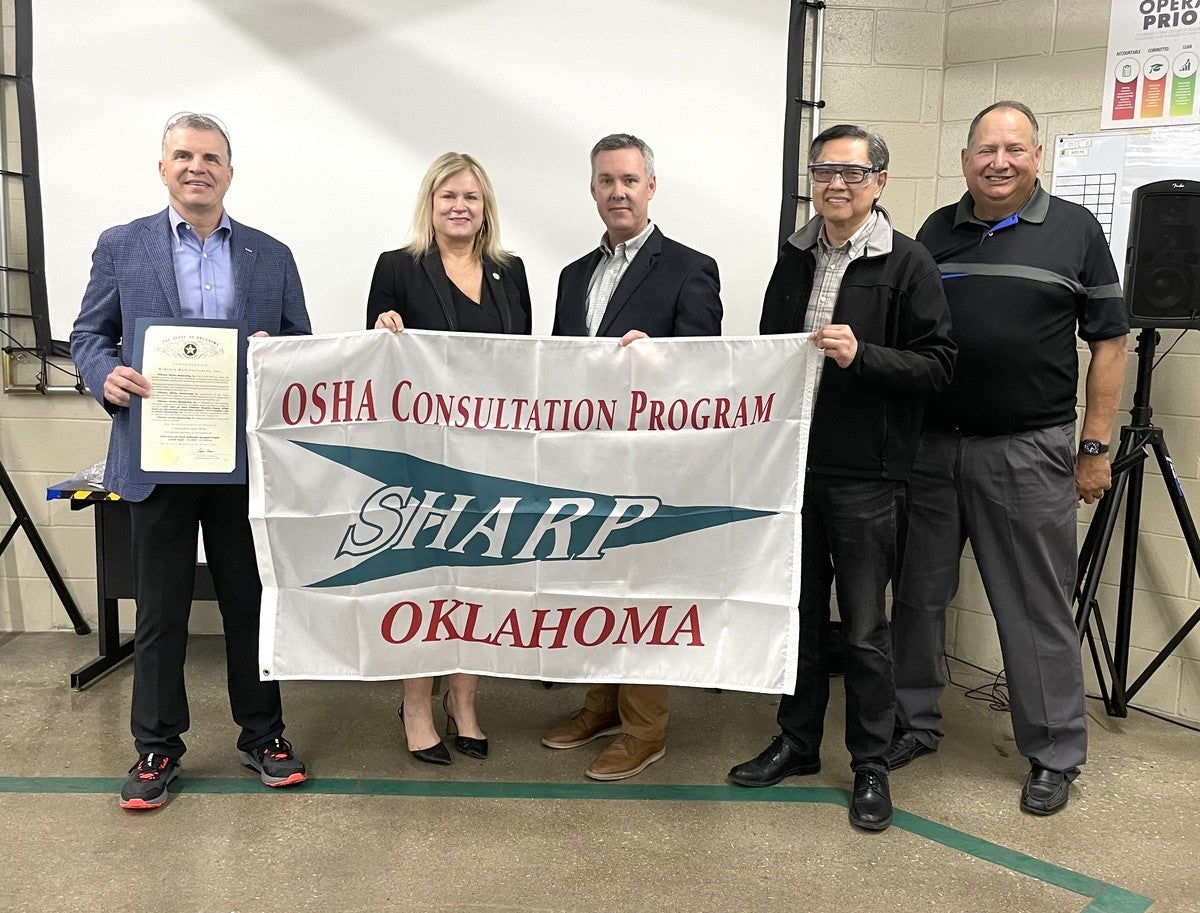 On Wednesday 15 February 2023, McElroy, the world's leading designer and manufacturer of thermoplastic fusion equipment, was recognised for its commitment to workplace safety and its participation in the Occupational Safety and Health Administration (OSHA) Safety and Health Achievement Recognition Program (SHARP).
Oklahoma Labor Commissioner Leslie Osborn presented the company with a proclamation commending leadership and employees at McElroy's 51st Street campus, located at 5124 S 100th E Avenue in Tulsa. She and OSHA Consultation Director Jason Hudson also presented company leadership with a flag announcing McElroy's SHARP-certified status.
McElroy Environmental Health and Safety Manager Tony Little said this year's safety designation is especially worth celebrating. In 2022, McElroy had zero recordable safety incidents, with more than 700,000 total hours worked.
SHARP is an on-site consultation programme that offers confidential occupational safety and health services to small and medium-sized businesses in the US, free of charge. Consultants from local agencies or universities work with employers to identify workplace hazards, provide advice for compliance with OSHA standards, and assist in establishing and improving safety and health programmes.
"We all can use another set of eyes to help make sure we're doing the right thing here at McElroy and providing a safe workplace for our team," Little said.
While addressing the crowd during the presentation, Osborn commended McElroy's continued emphasis on employee safety. McElroy, she said, has a long history of ensuring safe working conditions for the hundreds of team members who come to work each day.
To become SHARP certified, companies must first reach out to their local OSHA representatives for a consultation visit. During the visit, representatives study the company's entire workplace, doing walk-throughs of facilities, examining existing safety programs, interviewing employees, and going through the company's training records. The process is time and labour-intensive, and once completed OSHA representatives provide a report of their findings.
The company has a long history of dedication to workplace safety. In 1964, McElroy founder Art McElroy asked for OSHA to visit and help assure compliance with OSHA standards. This predated federal OSHA requirements and is a testament to McElroy's culture of safety.
"Even back in those days, Art knew that it would be good to have someone come in and help make the workplace safer for his team," Little said.
McElroy has been SHARP certified since 1999 and is one of 16 SHARP-certified workplaces in Oklahoma. This certification extends from December 2022 to December 2024.
"We are proud of this SHARP Award, but it's only a checkmark in our safety journal. The real value of the award is [employee] safety, day in and day out," said Paul Lui, McElroy's Vice-President of Operations.