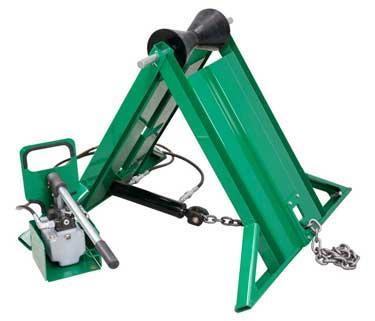 McElroy has brought hydraulic capability to its Pipe Stand line for 4in to 20in (200mm-500mm) pipe to help align thermoplastic pipe more efficiently on butt fusion jobsites.
The hydraulically adjustable pipe stand features hand-pumped hydraulic lifting, which gives the operator the ability to adjust the height of the stand while the pipe is still supported on the stand. The hydraulic adjusting feature eliminates the need to remove the pipe from the stand so that the chain and height can be adjusted by hand.
Like McElroy's other line of pipe handling tools, this further reduces the demand for extra equipment needed to manoeuvre and hold pipe in place which saves time and boosts productivity.
"Designing products to better serve the needs of our customers has always been the driving force behind McElroy," said Chip McElroy, president and chief executive officer of McElroy. "We're excited to offer this new innovation which will help streamline fusion operations involving long lines of pipe."
The hydraulically adjustable pipe stands are tough and durable with the ability to support 2,750lbs of pipe. It is a well-crafted tool featuring soft rollers to protect the pipe and reduce scratching.
McElroy pipe stands for 4in to 20in (200mm-500mm) pipe can be upgraded so that they are hydraulically adjustable as well by purchasing a cylinder kit and a hand-pump kit. Each hand pump can operate on up to five pipe stands by hooking and unhooking to the pipe stand cylinder. They are compact, lightweight and easily portable.