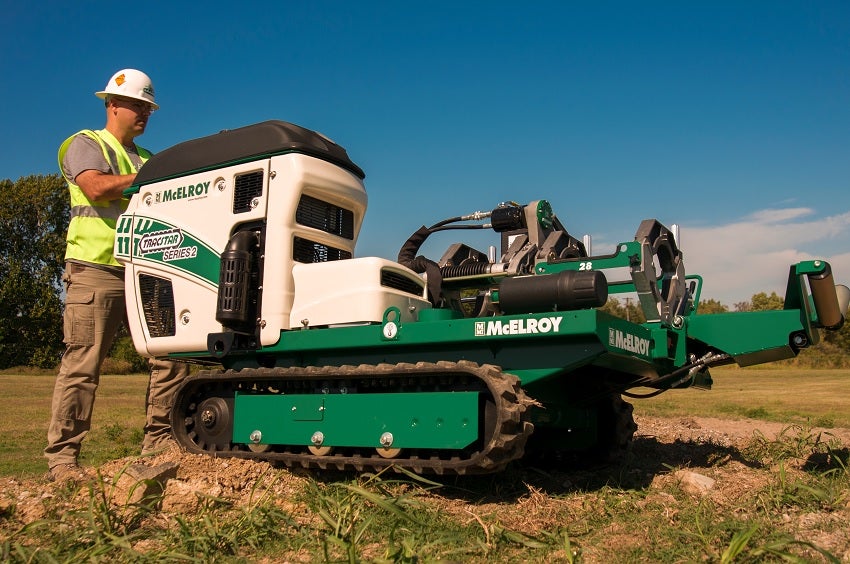 Please provide a brief, nontechnical overview of the TracStar® Series 2 line
The TracStar Series 2 pipe fusion machines are self-propelled vehicles equipped with a 4-jaw carriage that is used to butt fuse thermoplastic pipe by applying heat and pressure. A rugged, track system allows users to easily move the machine across rough terrain and inclines straight to the fusion site. They are also self-contained so that everything needed — including the power source — is on board and does not have to be hauled around separately. The carriage itself can be removed from the chassis for tricky fusions in tighter spaces.
How is this product different from previous fusion machines, both from your own products and across the industry?
McElroy's first fusion machines were manual fusion carriages and carriages mounted on wheeled vehicles that were pulled to the jobsite. Mounting the carriage on a self-propelled, tracked vehicle was a completely new concept when it was introduced in the late '90s. It was quickly embraced and revolutionized the way pipelines are built. Prior to the Series 2, each carriage was paired with a corresponding vehicle. But the models for small- and medium-diameter pipe now share a common vehicle that is interchangeable with our full line of machines for 2" IPS to 18" OD pipe. McElroy TracStars have a well-earned reputation for reliability and toughness that sets them apart from competitive equipment.
Can you elaborate on the key features of the product?
The Series 2 machines are now powered by self-contained, liquid-cooled or turbo diesel engines with fuel capacity for a full day's work. This is an added convenience since gasoline is often not permitted on jobsites. These engines are also more robust and feature advanced emission control technology that meets EU Stage IIIB and EPA Tier 4 standards, without the need for diesel exhaust fluid (DEF). We also redesigned the cowling to improve airflow and heat dissipation for demanding operating climates and provided better access to the engine for maintenance. We've updated the electrical system for better circuit protection and incorporated a standard battery disconnect for a maintenance lockout.
Why did you decide to develop this product?
We continuously focus on ways we can improve our products and services. That's part of the McElroy blueprint. We work hard to incorporate the most modern advancements into our machines to make jobsites more productive. Ultimately, this results in quality infrastructure that meets the needs of the people it serves which is our mission and our passion.
What was the research and development process like?
Our inspiration comes from the best source possible — the users of the machines themselves. Their first-hand experience plays a significant role in the advancements made to all of our machines. We work closely with our channel partners and end users in an effort to understand the unique situations they are faced with every day so that we can offer them a true jobsite solution that will allow them to work better and smarter. It is very rewarding to know that we are truly making a difference.
What industries or specific uses are you targeting? Is this a general-purpose or a niche product?
Fusible thermoplastic pipe has come into its own as a primary solution in a growing number of industries including natural gas, water, sewer, industrial and mining liquids, and irrigation. It is the material of choice for natural gas distribution, and now, with the failing infrastructure of our water systems, it offers a leak-free and corrosion-free solution that prevents contamination and conserves water. Our niche in the thermoplastic world is deeply entrenched all over the world. We play a unique role by engineering well-designed fusion equipment coupled with service and support and outreach efforts to promote trained operators and equipment maintenance through McElroy University.