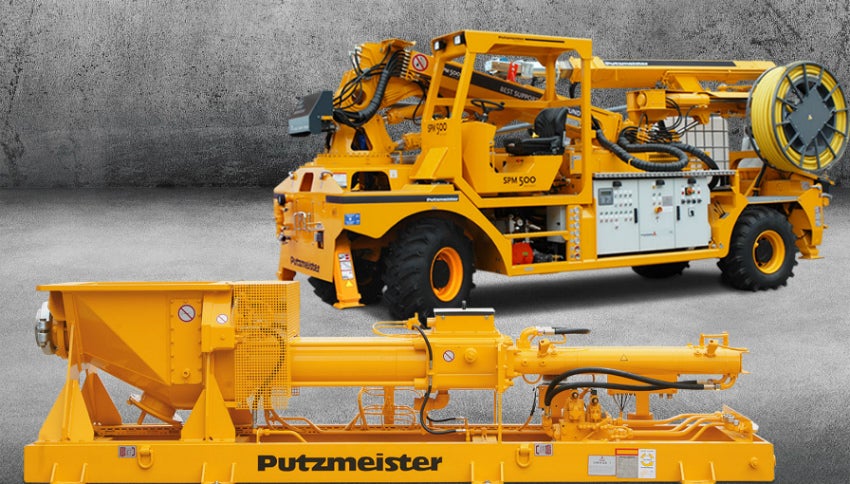 Putzmeister is a leading company in the development and manufacture of concrete pumping equipment for a range of applications, from construction work to civil engineering and mining.
The company offers integrated solutions in the application, transport and batching of shotcrete in mines; as well as the processing and conveyance of sludge and other high-density materials.
Concrete spraying work in underground mines and tunnel construction
Putzmeister's Underground division offers a variety of equipment for concrete spraying work in underground mines and tunnel construction.
The company's shotcrete equipment optimises the logistics of underground work, and includes mechanised concrete spraying machines, as well as concrete transport, batching plants, and equipment and personnel lifting and transportation vehicles.
Sprayed concrete has become the industry standard for initial and final support in underground construction, particularly mining and tunneling, as it provides a safe working environment for operators and significantly reduces material and time-related costs onsite.
A layer of mechanised, wet-mix shotcrete quickly secures the tunnel face, increasing safety while generating substantial savings in material and personnel-related costs, and significantly reducing project delivery times.
A shotcrete operator can control the equipment remotely from a secure, supported area, and the spraying arm can reach heights of 10m-17m, eliminating the need for scaffolding or platforms. Output rates can reach up to 30m³/h.
Features include:
High-precision additive dosing systems ensure the synchronisation of additive and concrete flow for high-quality spraying finish
All spraying systems are available with an on-board air compressor for autonomous shotcrete operation
Designed for the rough working conditions in mining and tunnelling, the vehicles are robust and durable
In order to achieve high-quality results, operators require comprehensive training in the efficient use of equipment, correct shotcrete mixture and spraying techniques.
Putzmeister courses are tailored to customers' needs, and can act as a learning path ahead of qualifying as 'Nozzlemen' under the European Federation for Specialist Construction Chemicals & Concrete Systems (EFNARC) certification programme.
Transporting and storing sludge and high-density materials
Putzmeister are experts in the design and construction of plants that employ sophisticated systems engineering. The key component of all such systems is provided by Putzmeister pumps, which are capable of pumping materials with a high-solids content.
In mining, Putzmeister pumps transport tailings to the dam / filter, or transport backfilling paste into underground mines. The pump system features a piston pump, a hydraulic power pack to drive the pump, and an electric cabinet with a programmable logic controller (PLC), control and operation panel.
These reliable and robust pumps can handle foreign bodies in material up to two thirds of the size of the pipeline's diameter. With an output of up to 150bar, they can pump over distances of up to 11km, and achieve effective pumping outputs of approximately 500m³/h. Other components are also used, in addition to silos, bunkers, mixing units, pipelines with accessories, and process controllers.
Safe, economic and environmentally friendly solid pumps
The core components of the Putzmeister delivery programme are S-transfer tube piston pumps (KOS), seat valve piston pumps (HSP), ball valve piston pumps (KOV) and ZX piping systems.
Special advantages of the Putzmeister pumping system include:
With paste transport, less cement is needed for underground disposal than for slurry transport
On the surface, the lower water content means rapid self-compaction, which prevents uncontrolled runoff
Environmental protection by saving water
Putzmeister Solid Pumps plans and engineers material conveying and transporting solutions that employ process technology; it delivers items of machinery, assembles and starts them up at the customer's premises, and offers a comprehensive service after handing the system over.
About Putzmeister
Putzmeister is a leading pump manufacturer headquartered in Aichtal, Germany. Set up in 1958, the group has been awarded several world records, including for vertical pumping during the construction of the world's tallest building, the iconic Burj Khalifa.
The company has a worldwide presence with subsidiaries in 13 countries and a sales service network spanning 47 countries. China's SANY Heavy Industries Co acquired Putzmeister in 2012, consolidating its position as the market leader in concrete pumping.
The BATCHKRET 20 simplifies site logistics by streamlining the concrete production process.
The MIXKRET 5 from Putzmeister - a low-profile concrete mixer for underground mining applications.
Safe and economic transportation of material.
Putzmeister Underground designs concrete spraying arms for high-performance and coverage.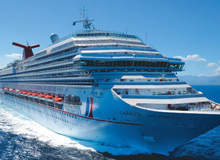 The Muga potash mine is located approximately 50km south-east of Pamplona, straddling the communities of Undués de Lerda and Urriés in Aragón Province, and Sangüesa and Javier in Navarra Province, Spain.
Putzmeister has established itself as a constructor of systems for handling solids. Hydraulic piston pumps and feed systems such as screw conveyors, silos and silo discharge technology as well as dosing and mixing technology. This has made the company into a system constructor for the storage, mixing and transportation of high-density substances.
Putzmeister Underground Division
Putzmeister Ibérica SA
Camino de Hormigueras, 173
28031 Madrid
Spain
Putzmeister Solid Pumps
Putzmeister Solid Pumps GmbH
Max Eyth Strasse 10
72631 Aichtal
Germany