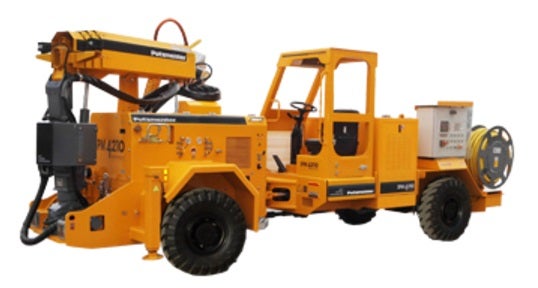 The SPM 4210 WETKRET series is ideal for small and medium section tunnels and galleries. Its spraying arm provides a 10m spraying reach. The dual cable and wireless proportional remote control permits easy handling of the arm movements, besides regulation of the concrete flow of 20m³/h and adjustment of the additive dosage.
The standard version of the SPM 4210 WETKRET series is operated electrically and is optionally available with an electric or diesel air compressor built into the chassis.
The Putzmeister concrete pump mounted on the equipment guarantees high-performance, low-pulsations and a long life for the wear parts. The proportional remote control permits full regulation of the concrete output as well as adjustments to the predefined additive dosage, to cope with the changing working conditions in underground mines. The synchronized additive pump is equipped with an automatic dosing device proportional to the concrete flow, thereby assuring spraying accuracy and quality. The heavy-duty chassis with state-of-the-art axles and a reinforced turning system provides great manoeuvrability.
Technical information
Length / Width / Height: 7,100mm / 2,000mm / 2,500mm
Minimum working section: vertical 2.5m / horizontal 3.3m
Maximum spraying reach: vertical 10m / horizontal 8m
Remote control: cable/radio (optional)
Maximum flow: 20m³ / h (variable 4m³ / h – 20m³ / h)
Additive pump: synchronized with concrete pumping
Engine / Engine power: turbodiesel, four cylinders / 55kW (74HP) at 2,600rpm
Steering: hydraulic, articulated steering
Air compressor: electric, 37kW, 7.5 bar
Putzmeister has established itself as a constructor of systems for handling solids. Hydraulic piston pumps...