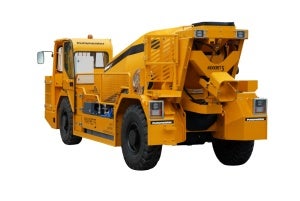 Putzmeister will be present at the 2014 EXPOMINA mining trade show in Peru, one of the most important specialised events in the mining products and services sector, being held from 10 – 12 September in Lima.
Putzmeister has been a leading provider of concrete pumping and placing equipment since its foundation in Germany more than 50 years ago.
With this know-how as a vantage point, Putzmeister has developed a range of mining and tunneling machinery, including shotcreting equipment and low-profile concrete mixers to complement the concrete spraying process and optimise shotcrete logistics.
Putzmeister Mixkret 5: low-profile concrete mixer for mining
At Expomina, Putzmeister will showcase its latest low-profile concrete mixer for mining, Mixkret 5, which offers a concrete mixing and transport capacity of 5m3. This new model in the Mixkret series has been launched this year and was presented for the first time at EXPOMIN in Santiago de Chile. The first unit was sold in Peru. With this new launch, Putzmeister offers a compact machine equipped with a powerful Caterpillar six-cylinder diesel motor (168kW / 225HP), providing great traction force and climbing ability.
The compact design with heavy-duty axles, both steering and driving, and the powerful motorisation endow Mixkret 4 and Mixkret 5 with a high degree of mobility and manoeuvrability in small-section galleries and tunnels. With the ICVD drive system without gear shift (integrated continuously variable drive), the motor power is fully used at all times without interruptions of the tractive force, increasing comfort for the driver.
Thanks to the automatic altitude compensation system (AAC) of the diesel motor, Mixkret 5 is able to operate at high altitude without loss of performance. This has been proven by the numerous Mixkret 4, which is equipped with the same system (diesel motor Caterpillar C6.6 with 130kW / 174HP), which are currently working in the toughest conditions at altitudes of up to 5,000m above sea level.
Putzmeister solid pumps: solutions for transporting and storing sludge and high-density materials
The solids pumps company of the Putzmeister Group manufactures high-density piston pumps for pumping slurries, sludges and pastes. In mining, pumps transport the tailings to the dam / filter or transport backfilling paste into the underground mines. The pump system features a piston pump, a hydraulic power pack to drive the pump and an electric cabinet with a PLC, control and operation panel.
Putzmeister piston pumps can operate with a solid content of up to 85%, depending on material composition. With an output of up to 150bar they can pump over distances of up to 11km and achieve effective pumping throughputs of approximately 500m³/h.
Technical information of Mixkret 5
Length / Width / Height: 7,340mm / 2,200mm / 2,500mm
Turning radius (exterior / interior): 6,000mm / 2,400mm
Concrete mixing drum, hydraulic operation: 5m³
Engine: Caterpillar turbo diesel, six cylinders
Power: 168kW (225HP) at 2,200rpm
Max. speed: 20km/h
Max. climbing capacity: 30%
Transmission: Integrated continuously variable drive (ICVD), without gearshift
Traction: 4WD / 4WS
---
Image: Putzmeister Mixkret 5 will be on display at the 2014 EXPOMINA mining trade show in Peru. Photo: courtesy of Putzmeister.