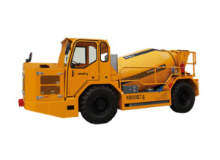 The low-profile concrete mixer for mining MIXKRET 4, with a 4m3 concrete capacity, completes the concrete spraying process. The 6-cylinder, 130kW (174HP) engine provides great climbing and driving power, as well as the possibility to work at great heights. The Diesel engine has an automatic altitude compensation (AAC) system that enables its operation at high altitudes, offering the same performance.
A compact design with heavy-duty axles, both directional and powered, offers great mobility and manoeuvrability through galleries and tunnels, with small cross sections. The integrated continuously variable drive (ICDV), with geared motor has electronically controlled continuous variation and ensures the correct relationship between engine torque and speed, reducing fuel consumption and noise levels. The service brakes in both axles are multidisc in oil bath, hydraulically driven with two independent circuits.
This system provides great braking power and a long work-life, even under the most demanding conditions. Additionally, the equipment includes a negative-coupling parking brake and a brake unblocking system to tow it if necessary.
Product information
Length / Width / Height: 6,595mm (7,340mm) / 2,200mm / 2,500mm
Maximum concrete capacity: 4m³ (5.2yd³) / 5m³ (6.54yd³)
Operation of concrete mixing: hydraulic
Engine / Engine power: diesel, six cylinders / 130kW (174HP) / 168kW (225HP) at 2,200rpm
Transmission: hydrostatic progressive system with continuous variation (ICVD), no gears to change
Driving and steering: four-wheel drive and four-wheel steering (4WD / 4WS)