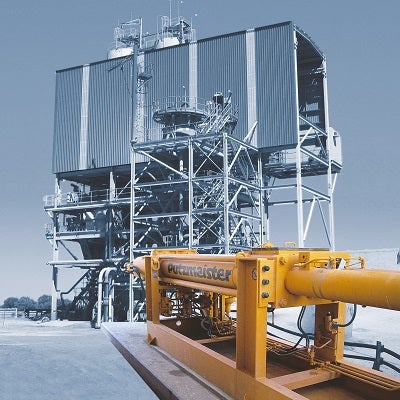 Putzmeister has established itself as a constructor of systems for handling solids. Hydraulic piston pumps and feed systems such as screw conveyors, silos and silo discharge technology as well as dosing and mixing technology. This has made the company into a system constructor for the storage, mixing and transportation of high-density substances.
Over the last few years, hydraulic piston pumps have been further developed at Putzmeister. The limits of what was previously achieved have been improved with regard to pulsation damping, power, and maximum particle size. Power, for example, has more than doubled.
Challenges to face for plants and hydraulic piston pumps are as follows:
Water requirement
Energy consumption
Discharge pressure
Delivery rate
Particle size
Wear costs
Pulsation
Basic principles
Transport of high-density substances
High-density substances are a mixture of liquid and solid components.
The operators of industrial plants are increasingly faced with the challenge of how to convey substances with a high content of solids over large distances to subsequent handling processes. It is easier to transfer high-density substances in a closed pipeline using high-density solids pumps. This technology is environmentally friendly The pipelines can be integrated into the existing plant, with space-saving and flexibility. Today, delivery lines of many kilometres can be implemented, for example for the transport of ash and slag to disposal sites.
Hydraulic piston pumps areused in a wide range of applications, including high viscous, high-solid content and extremely dry media.
Water requirement and energy consumption
For the conveyance of high-density substances to disposal sites, transportation, which uses a small amount of water has a number of advantages, especially for the disposal of fly ash, bottom ash and excavated material:
Reduced water requirement in comparison with slurries
Longer life of disposal site, same land requirement
Low amount of seepage water, which protects the groundwater
Low amount offree water at the disposal site
No requirement for dam.
Stabilisation of material by means of evaporation
Advanced reclaimation
Delivery pressure and delivery rate – long delivery sections
Due to development providing, increased delivery rates and pressures up to 150 bar at 250m³/h and 400m³/h at 100 bar are now available for the KOS and HSP pump series.
Machine technology – robust and reliable
High-density solids pumps have a simple construction with only a few moving parts therefore number of wear parts is low.
In the case of the KOS pump series, the material is placed into a hopper and then sucked into the delivery cylinder during the intake stroke. The delivery stroke pushes the material into the delivery line through the S-transfer tube. At the end of each stroke, the S-transfer tube is switched over within 0.5 seconds (change-over phase) by means of powerful plunger cylinders, so that the next stroke cycle can start.
The KOS pump is able to pump particle sizes of up to 60mm. This enables many possibilities for paste composition and improves cost-effectiveness.
The design of the S-transfer tube machine is characterised by a small number of wear parts. Thanks to the use of high-strength wear materials such as crack-free DURO 26 coatings, service life today can be several thousand hours, even in the case of extremely abrasive, fine-grain fly ash suspensions.
The HSP pump series has a pump head with hydraulically driven seat valves. The appropriate cyclical opening and closing of the valves controls the material flow from its intake up to the delivery line. The machine is suitable for fine-grain material with a high solids content, such as finely ground tailings.
Systems engineering
In addition to the pumping of high-density substances, a whole range of further processing steps and plant components play a significant part in the overall process.
Storage of high-density substances such as with silo systems
Preparation of high-density substances using centrifuges, mixers, or shredders
Pipeline systems with shut-off and diverter valves
Pressure fluctuation dampners
Equipment for pipeline cleaning
Instruments with measurement sensors
As a system provider, Putzmeister plans and delivers a complete system suitable for the delivery job at hand. The advantages are clear:
One supplier of a complete system using tailored components and machine technology
Reduced number of interfaces and contacts, fast implementation
Consistently matched control and electrical technology
Consistent implementation of standards, regulations, and customer specifications
One service partner for the entire plant
Pushing the limits of pumping
There is no other technology, which can rival this method with regard to meeting the combination of requirements- particle size, output, solids content and service life.
The traditional way to transport liquids and semi-liquid material generally uses a lot of water....