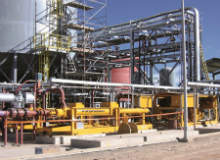 The seat valve pump is used for arduous applications. The HSP series is used with paste-like and highly viscous materials, and small particle sizes (less than 3mm).
Precise sealing of the valves means that extremely high pumping pressures can be achieved. The principle behind the design of the hydraulic and pumping pistons is the same as in the Putzmeister KOS and KOV series. This ensures maximum reliability and availability.
Two special features of the Putzmeister design are that not only is it a simple matter to replace the valves but the design also means a long service life for all wearing parts. Valve plates and valve seats are made of highly wear-resistant steels. Valves can be easily replaced without dismantling the delivery lines.
A pulsation-free conveyance can be achieved with the pressure constant flow (PCF) system (optional).
All of the familiar Putzmeister options and variations (ex-protection, materials) are available with the HSP series on request as well.
HSP pumps are mainly used where fine-grained sludges or slurries must be conveyed against high pressures:
Mineral solids (tailings) with small particle sizes and with a dry solids content of up to 80%
Fine grained backfill material with cement
Tailings transport above ground
Fluids containing abrasive material, e.g. pit water
Thick pastes of electro filter ash with low water content
Various chemical and organic solids
Sewage sludge with a high proportion of solids
Safe and economic tailings pumping over long distances with powerful HSP pumps
The flexibility in the way tailings can be transported is a good example at the Bulyanhulu gold mine in Tanzania. The ore extracted in civil engineering is processed by a flotation plant and the ensuing tailings are then pumped to the disposal site.
The paste-like material has a dry content of around 75%. The material is conveyed hydraulically over a distance of 2,500m by the two HSP 25100 HP pumps, with a delivery pressure of 80bar.
The decades of experience in concrete pumping ensure highest reliability and availability to the pump operator. Valve discs and valve seats are made of highly wear-resistant steel and ensure a long lifetime and reliable operation.