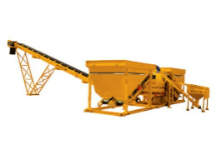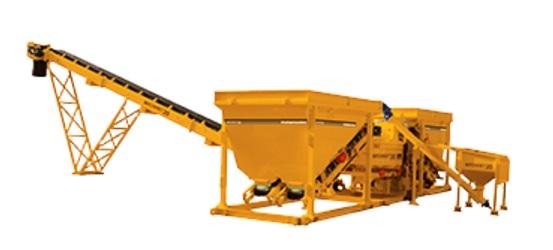 The BATCHKRET 20 brings concrete production to the heart of your mining operations, simplifying site logistics significantly. It comes with a 14m-long concrete conveyor belt, with aggregate storage hoppers (two/four) equipped with electric vibrators to facilitate the flow of material and steel plated belt feeders to ensure a uniform feeding system.
The pan mixer has a vertical axle and five mixing arms with spring shock-absorbers and two scrapers to ensure a homogeneous mix. The water-feeding system has a 1.1kW pump and a pressure control system, as well as a 500l capacity water tank.
The plant also includes a batching booth for station management, enhancing safety while protecting the control equipment from the challenging conditions common in mines and tunnels.
The batching plant can be set-up with three different feeding systems to best suit your needs. They include a silo with a maximum capacity of 23,500kg, a big bag with a maximum capacity of 1,500 kg and a bag-cutting hopper of 250 kg.
Optional elements include a dosing system for two admixtures, and a hydro-probe moisture sensor for sands designed to ensure consistent quality. The plant, which has a compact footprint ideal for underground worksites, can be fitted within a single 40'HC container.