Knight Piésold
Engineering, Infrastructure and Management Services for Mining Operations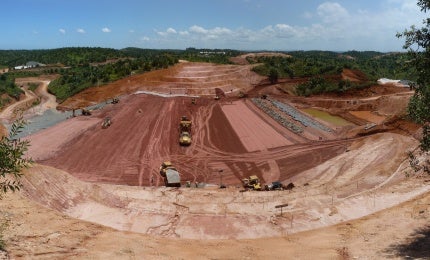 Knight Piésold is synonymous with quality engineering, environmental science and construction support for mine infrastructure. The company has used its expertise on hundreds of surface and underground mining projects worldwide and in all stages of permitting, project development, construction, operation and closure.
Knight Piésold has become a leader in the field due to its ability to research, design and implement pioneering solutions to challenges such as mining waste management and heap leach systems, as well as its specialist geo-mechanical evaluations for open pit stability and underground mine developments. Knight Piésold offers a broad spectrum of services, including:
Mine development
Heap leach pad design
Geotechnical services
Water management
Construction engineering and infrastructure
Tailings storage and waste management
Environmental management
Operation and monitoring
Mine closure and reclamation
Mine infrastructure development
Knight Piésold has extensive experience in topographical and geotechnical survey for mining and civil engineering projects throughout the world, with specialised skills having been developed in site investigation in both soils and rock. Comprehensive laboratory and interpretive services are offered in-house and through its associate company, Civilab, in South Africa.
Together with its international branches and extensive track record in the planning, design and implementation of engineering and mining projects, Knight Piésold offers fully integrated technical and financial services to the mining industry, including risk analyses, feasibility studies and bankable documents, environmental management and due diligence audits.
The company also offers full project management services for a variety of mining projects from complete mine infrastructure design and planning to assistance with specialist disciplines. These services include permitting procedures, quarry planning, transportation studies, procurement services and site supervision.
Heap leach pad design
Knight Piésold has extensive experience in the design of leach pads for all locations and sizes. Substantial expertise has been accumulated in satisfying stringent groundwater protection requirements with extensive use of synthetic membranes and natural and modified soils as lining materials. The company has partnered with process design specialists to provide a full design service.
Knight Piésold recognises that successful construction represents the proper implementation of the design and is as important as the design itself. The company has developed well-established quality control procedures and has extensive experience in quality assurance and quality control to ensure that construction practices are appropriate.
Tailings storage and waste management
Knight Piésold's experience in tailings facility engineering and the disposal of particulate mine waste dates back to the 1930s, with knowledge of all types of tailings management systems. The company pioneered the development of alternative tailings management technologies such as drained sub-aerial systems, cyclone wall raising, thickened / ultra-thickened / paste tailings disposal, and dewatered 'dry stack' tailings systems.
Knight Piésold established strong working relationships with specialist groups in order to provide complete and comprehensive design and operational expertise for tailings management through the full lifecycle. The company also specialises in design review and third party audits.
Water management system for mining projects
Knight Piésold has designed water management systems for mining projects throughout the world. It offers a full range of water management services to the mining industry based on international experience in hydrology, hydraulics, hydrogeology and hydrochemistry.
These services include surface water resources planning, hydrogeological investigations, river diversion, mine dewatering, water balance studies, water quality assessment and treatment.
Construction engineering and infrastructure
The company offers a wide range of construction design and supervision services to the mining industry, including:
Tailings facilities
Heap leach pads
Slurry and water pipelines
Water storage
Access and haul roads
Materials handling and storage facilities
Process plant facilities
Environmental management and assessments
Knight Piésold's environmental team has significant experience in methods to alleviate degradation associated with the mining industry. It offers a full complement of environmental and social expertise, integrated with Knight Piésold's mining project development services to ensure expedient acquisition of all required permits.
Services include assessment of water, acid rock drainage / metal leaching (ARD/ML) potential, air, biological and social environments. Additionally, the company's environmental and social studies will ensure compliance with lending institution standards.
Operation monitoring of mines
Commissioning and operation services are provided through operation monitoring, operating manuals / codes of practice, emergency response plans, training, statutory inspections, audits, engineering evaluations and asset valuations.
Mine closure and reclamation
Knight Piésold's integrated expertise in site and waste characterisation, engineering design, risk assessment, cost estimating and construction management combines to develop appropriate closure plans for new and existing mining operations that are compatible with the surrounding environment.
The scope of services provided covers remediation of infrastructure, waste dumps, rehabilitation, acid drainage mitigation and contaminated land remediation.
Geotechnical services
Knight Piésold has considerable experience in all aspects of rock mechanics, including rock classification and support systems. In the field of slope stability, the company is widely experienced in the design of embankments and open pit mining operations, including stability under dynamic earthquake loadings.
Press Release
Knight Piésold's Vancouver office has been named as one of British Columbia's Top Employers for the fifth consecutive year.
Read more
Knight Piésold – Cape Town
202 The Colosseum, Foyer 1
cnr Century Boulevard & Century Way, Century City
Cape Town 7441
South Africa
+27 21 555 0400
+27 21 555 0669
Knight Piésold - Durban
2nd Floor, Engen House
171 Roger Sishi Road (Blair Atholl Drive)
Westville North
Durban 3629
South Africa
+27 31 276 4660
+27 31 262 2950
Knight Piésold - Phalaborwa
Unit No. 8, Tambotie Office Park
Tambotie/Selati Streets
Phalaborwa
South Africa
+27 (15) 781 0839
+27 (15) 781 3788
Knight Piésold - Polokwane
2, West Block, Rampie Smit Building
41, Hans van Rensburg Street
Polokwane 0700
South Africa
+27 15 291 2048
+27 15 781 0882
+27 86 659 8406
Knight Piésold - Pretoria
The Boardwalk Office Park, Office Block 5
Eros Street
Faerie Glen
Pretoria 0081
South Africa
+27 12 991 0557
+27 12 991 0558
Knight Piésold (Pty) Ltd. (Botswana)
Unit 4F, Eagle Chambers
Gaborone International Finance Park
Gaborone
Botswana
+267 391 2089
+267 390 9426
Knight Piésold (Pty) Ltd. (Namibia)
Corner 45 Nelson Mandela and Hugo Hahn Streets
Klein Windhoek
Windhoek
Namibia
+264 61 307 297
+264 61 307 298
Knight Piésold (Pty) Ltd. (Swaziland)
Swaziland Supply Centre
Cnr. Sheffield & Makhosikhosi Roads, Industrial Site
Mbabane, Hhohho
Swaziland
+268 2404 3151
+268 2404 5041
+268 2404 3571
Knight Piésold Zambia Ltd
Corporate Park
Alick Nkhata Road
Lusaka
Zambia
+260 211 254 892
KPL2R – Madagascar
Villa Laura, Parcelle 14/21
Salazamay Nord
Toamasina 501
Madagascar
+034 08 560 54